Announcing our 2023-24 Season!
Apr 18, 2023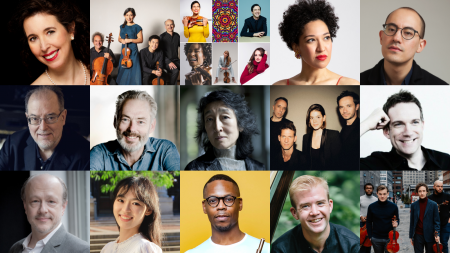 All of us at Shriver Hall Concert Series are delighted to announce our 2023-24 and 58th concert season!
The Subscription Series features performances by: pianist Angela Hewitt; Takács Quartet in the Baltimore premiere of a new work by Nokuthula Ngwenyama, co-commissioned by SHCS; Kaleidoscope Chamber Collective in its U.S. debut; soprano Julia Bullock in her Baltimore recital debut with Bretton Brown on piano; pianist Garrick Ohlsson; the Baltimore debuts of tenor Mark Padmore and pianist Mitsuko Uchida; Quatuor Ébène in its Baltimore debut; and cellist Johannes Moser with pianist Marc-André Hamelin.
SHCS's free Discovery Series, which spotlights emerging artists on the classical music scene, includes recitals by: pianist Yilun Xu, winner of the 2022 Yale Gordon Concerto Competition; flutist Brandon Patrick George with harpist Parker Ramsay in their Baltimore debuts; and the Baltimore debut of Isidore Quartet.
"We are truly inspired by the incredible lineup of artists and ensembles joining us next season," says Catherine Cochran, Executive Director of SHCS, "a stellar group of both established and fast-rising musicians we're unbelievably excited to welcome. They will bring beloved works from the classical repertoire to stand beside the less familiar, the reexamined, and the brand new in beautifully curated and thought-provoking programs. The artists returning to and debuting on the series present different perspectives, backgrounds, and explorations. We look forward to sharing the best of music with the communities of Baltimore and beyond, greeting familiar faces and warmly embracing new friends."
On Sunday, October 15, 2023 at 5:30pm, British-Canadian pianist Angela Hewitt returns to Shriver Hall for Bach's famed Goldberg Variations, the composer's crowning achievement for the keyboard, a masterpiece of deep ambition and dazzling creativity. Having been hailed by The Guardian as "the preeminent Bach pianist of our time", Hewitt is renowned for her landmark recordings of his work. Her interpretations have been praised for the "contrasts, clarity, and warmth she brings to [his] intellectual marvels" (The Times, London).
The Grammy winning Takács Quartet returns to Shriver Hall on Sunday, November 19, 2023 at 5:30pm. Described as "simply the best I have heard in concert" (The Guardian), the group presents a program inspired by the natural world. Featured is the Baltimore premiere of a new work by Nokuthula Ngwenyama – co-commissioned by Shriver Hall Concert Series – who is an American composer of Zimbabwean-Japanese heritage. Her piece is bookended by Haydn's "Sunrise" Quartet and Beethoven's Op. 59, No. 2 Quartet, the latter of which was conceived as the composer gazed at the stars while contemplating the harmony of the spheres.
Making its U.S. debut on Sunday, December 3, 2023 at 5:30pm is Kaleidoscope Chamber Collective in major quintets from two historical American composers, Amy Beach and Florence Price, both glorious works of lyricism and virtuosity, in addition to works by Schubert and Walker. As the Associate Ensemble of London's renowned Wigmore Hall, the collective has been described as a "sparky, shape-shifting ensemble of starry young musicians" (Arts Desk). Its most recent recording of works by Felix and Fanny Mendelssohn was named one of the best of 2022 by The Times (London) and Gramophone, while its 2021 debut album of Beach, Barber, and Price works featured the world premiere recording of the Price quintet, which had only been discovered in archives in 2009. The Arts Fuse raved, "The KCC digs into the music throughout, ably illuminating its busy textures and troves of tunes" and Klassik wrote, "you can hardly wish for better recordings".
Sunday, January 14, 2024 at 5:30pm marks the Baltimore recital debut of soprano Julia Bullock who performs with pianist Bretton Brown. Hailed by The New Yorker as "A musician who delights in making her own rules", Bullock presents a brilliantly wide-ranging program featuring works by Schubert, Schumann, Wolf, Weill, Holiday, Simone, Berio, Rossini, Cage, and others. The acclaimed soprano brings an arresting, often transformative emotional depth to songs both familiar and obscure with a voice that "rises with strength and focus, like a cloud condensing into a thunderbolt, [breathing] both humanity and epic grace into the music" according to The New York Times.
Pianist Garrick Ohlsson performs an unforgettable program of Beethoven, Chopin, and Mamlok, plus Schubert's "Wanderer" Fantasy – an energetic tour-de-force that soars with symphonic power – on Sunday, February 4, 2024 at 5:30pm. Renowned as a leading exponent of the music of Frédéric Chopin, Ohlsson is a pianist of magisterial interpretive and technical prowess. He commands an enormous repertoire and is known for "incredible technique with razor-sharp accuracy, producing a sound so lush it almost glistens" (Seattle Times). This recital will mark Ohlsson's sixth appearance with SHCS.
SHCS welcomes tenor Mark Padmore and pianist Mitsuko Uchida in their Baltimore debuts on Sunday, March 10, 2024 at 5:30pm. Masterful interpreters of Schubert with a renowned partnership, the two superstars perform the composer's stirring song cycle Winterreise, a wintery journey of existential discovery. The New York Times writes, "It's difficult to avoid superlatives when writing about Mitsuko Uchida and Mark Padmore. Especially when it comes to Schubert". Padmore and Uchida collaborated on an album that was released in January 2023 on Decca Classics featuring Schubert's Schwanengesang and Beethoven's only major song cycle, An die ferne Geliebte. This program at Shriver Hall will also be performed at Carnegie Hall as part of Mitsuko Uchida's residency at the New York institution as a Perspectives Artist from the 22-23 to 24-25 seasons.
Quatuor Ébène makes its Baltimore debut at Shriver Hall on Sunday, April 7, 2024 at 5:30pm. The "superb and intensely focused" (The New York Times) French ensemble performs Mozart and Schnittke, plus Grieg's only complete quartet, one of his most expressive and richly textured works. Critics have written of the group's performances that it is hard to imagine "playing at once more diverse and more brilliant than this… the possibilities of a string quartet were shown to be boundless" (Bachtrack).
Concluding the Subscription Series lineup on Sunday, April 21, 2024 at 5:30pm are cellist Johannes Moser and pianist Marc-André Hamelin. These two artistic powerhouses join forces for a memorable and illuminating duo recital, performing works by Hamelin himself and Nadia Boulanger, a paragon of 20th century classical music, plus sonatas by Debussy and Franck, two of the great masterworks of the cello-piano repertoire. The Baltimore Sun praises Moser's "radiant playing" while The New York Times raves of Hamelin's "near superhuman technical prowess".
SHCS free Discovery Series kicks off on Saturday, November 4, 2023 at 3:00pm at the Baltimore Museum of Art with pianist Yilun Xu. Winner of the 2022 Yale Gordon Concert Competition, Xu has already performed at Beijing's Forbidden City Concert Hall and New York's Carnegie Hall, at numerous international music festivals, and on NPR's prestigious From the Top program. One of Peabody Conservatory's top talents, she will dazzle with her artistry and virtuosity in a program to be announced at a later date.
Flutist Brandon Patrick George – a "knockout musician with a gorgeous sound" (Philadelphia Inquirer) – joins forces with harpist Parker Ramsay – hailed as "remarkably special" (Gramophone) with an artistry that is "marked by a keen musical intelligence" (Wall Street Journal) – for an unforgettable duo recital on Saturday, January 20, 2024 at 3:00pm. Together at UMBC's Linehan Concert Hall for the second of SHCS' Discovery Series, they will make their Baltimore debuts performing a lyrical program spanning centuries and continents in works by Bach, Saint-Saëns, Poulenc, Takemitsu, de Falla, Piozzolla, and Bartók.
On Saturday, March 30, 2024 at 3:00pm, the Isidore Quartet makes its Baltimore debut concluding this season's Discovery Series at the Baltimore Museum of Art. Following its momentous win at the 2022 Banff International String Quartet Competition, the group – a recent recipient of a 2023 Avery Fisher Career Grant – performs beloved works by Mozart and Mendelssohn, plus a 2012 quartet by Billy Childs, one of music's most versatile composers at home in both the jazz and Classical genres. Violinist.com praises the Isidore String Quartet for its "focus and command beyond its years… [and its] sweeping coherence and blazing virtuosity".