COVID-19 SAFETY & POLICES
Updated October 22, 2021
We are committed to maintaining the health and safety of our patrons, artists, staff, and volunteers while ensuring that your concert experience is both comfortable and enjoyable. Therefore, we are now requiring that all ticket holders be fully vaccinated and masked for indoor concerts and events.
PROOF OF VACCINATION REQUIRED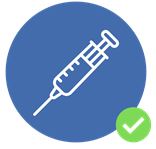 All patrons, artists, staff, and volunteers are required to provide proof of full vaccination for concerts.
Full vaccination means that 14 days have passed since receiving either the second dose of the authorized double-dose vaccine (Pfizer or Moderna), or the authorized single-dose vaccine (Johnson & Johnson).
As proof, patrons should provide a photo ID and a physical vaccination card; a photo of a vaccination card; or JHU's ProDensity app.
Non-vaccinated patrons, including ineligible children and others, will not be permitted into the concert venues. Tickets may be exchanged for a future concert or returned for either a credit or refund.
Negative test results will not be accepted in lieu of a full vaccination status.
Please note: this policy will evolve as information regarding booster shots develops.
MASKING REQUIRED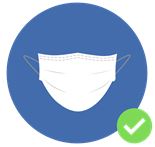 All patrons, artists, staff, and volunteers are required to wear a mask inside the venue building at all times.
Masks must be worn over the nose and mouth. Please see CDC guidance on selecting the best possible mask.
The following are prohibited: Masks with exhalation valves; masks made of loosely woven fabrics; scarves; buffs; bandanas; gaiters; and face shields alone.
Masks are available upon request.
Any patrons unwilling to follow this policy will be asked to leave. Tickets will be exchanged, refunded, or credited accordingly.
BEFORE THE CONCERT
If you don't feel well, please stay home. If you have experienced symptoms of COVID-19 in the 72 hours before the concert, please stay home and enjoy our Live Concert Streaming Option (details below).
Share this information with your party. Make sure everyone in your party knows to bring their proof of vaccination, their mask, and what to expect at the concert.
AT THE CONCERT
When entering the venue, please be ready to present your tickets for scanning, as well as your photo ID and proof of vaccination.
Our staff is here to help. Ushers are available to monitor everyone's safety and assist in any way they can.
Single-use program leaflets are available for each concert.
Hand sanitizers are located at multiple points through the venue.
Shriver Hall's HVAC system has been reviewed to comply with CDC recommendations for building ventilation.
To enable masking at all times, food and beverage consumption is not permitted indoors, nor is there a food and drink concession bar.
Seating in Shriver Hall will be at full capacity and will not be socially distanced. Patrons are welcome to re-locate to vacant seats.
All performances adhere to Johns Hopkins University's policies and the latest public health guidelines.
LIVE CONCERT STREAMING OPTION
This season, all ticketholders are able to choose whether to attend the Subscription Series concerts in person or to watch a live stream of the performance at home. Ticketholders will receive the secure streaming link by email on the morning of the concert.
We anticipate that pandemic conditions will continue to evolve, and we will update this page and stay in close communication with ticketholders throughout the season. If you have questions or thoughts, please email us at info@shriverconcerts.org.
PLEASE NOTE: These protocols are subject to change, including to be in compliance with revisions to governmental and venue guidelines regarding COVID-19. While Shriver Hall Concert Series will do its utmost to ensure patron safety, it is not an absolute protection. By purchase or use of tickets, patrons assume the risk of being exposed to, contracting, and/or spreading COVID-19, along with all resulting consequences.