Sunday, December 03, 2023 | 5:30 pm
Kaleidoscope Chamber Collective (U.S. Debut)
The Yale Gordon Young Artist Concert
Location: Shriver Hall
The Kaleidoscope Chamber Collective is a "sparky, shape-shifting ensemble of starry young musicians" (Arts Desk). The Associate Ensemble of London's renowned Wigmore Hall, its most recent recording was praised on The Times (London)'s and Gramophone's 'Best of 2022' lists. The group's U.S. debut features major quintets from two historical American composers, Amy Beach and Florence Price, both glorious works of lyricism and virtuosity.
"Exhilarating performances." —The Times (London)
About the sponsor
Yale Gordon first sponsored a concert by an accomplished young artist in 1978. The following year, his Yale Gordon Foundation made its initial contribution to Shriver Hall Concert Series. The Foundation eventually evolved into The Peggy and Yale Gordon Trust, which has been sponsoring annual Series concerts since 1986. The Yale Gordon Young Artist Concert features soloists or ensembles with great promise in the formative stages of their careers. Many of the artists who debuted at Shriver Hall through this concert have developed or already have international careers. The Board of Directors of the Series is deeply grateful to the Trust and its officials, Phyllis and Louis Friedman, and the late Sidney Sherr and Loraine Bernstein, for their warmly welcomed support and encouragement in making the Yale Gordon programs so successful over the years.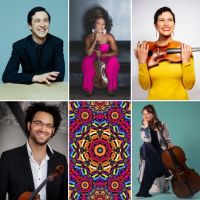 Kaleidoscope Chamber Collective
Elena Urioste, violin
Melissa White, violin
Juan-Miguel Hernandez, viola
Laura van der Heijden, cello
Tom Poster, piano

Kaleidoscope Chamber Collective, hailed for its "exhilarating performances" (The Times), was dreamed up in 2017 by Tom Poster and Elena Urioste, who met through the BBC New Generation Artists Scheme. Kaleidoscope's flexible roster features many of today's most inspirational musicians, both instrumentalists and singers, and its creative programming is marked by an ardent commitment to celebrating diversity of all forms and a desire to unearth lesser-known gems of the repertoire.
In 2020, Kaleidoscope was appointed Associate Ensemble at Wigmore Hall, where the group makes multiple appearances each season, and was invited to give the Hall's 120th birthday concert in May 2021. Kaleidoscope broadcasts regularly on BBC Radio 3 and has recently been ensemble-in-residence at Aldeburgh Festival, Kettle's Yard, Ischia Music Festival, and Cheltenham Festival, where the group gave several world premieres and collaborated with Sir Simon Russell Beale and the cast of The Lehman Trilogy.
Kaleidoscope's debut recording for Chandos Records, American Quintets, features music by Amy Beach, Florence Price, and Samuel Barber. It received glowing reviews and a BBC Music Magazine Award nomination, and immediately led to an invitation to record a series of albums for the label. Two further albums, featuring chamber music by Samuel Coleridge-Taylor and Felix and Fanny Mendelssohn, were released in summer 2023 to widespread critical acclaim, with all three of Kaleidoscope's albums so far being awarded Editor's Choice in Gramophone.
Passionate about inspiring the next generation of musicians, Kaleidoscope has featured in Wigmore Hall's Learning Festival, directed courses for the Benedetti Foundation, and holds a visiting professorship at the Royal Academy of Music for the 2022-23 academic year. Forthcoming performance highlights include concerts in London and Dortmund with Hilary Hahn, and a tour of the USA.
The ensemble's website is www.kaleidoscopecc.com.
"The repertoire… is beautifully chosen and programmed, the performers all born communicators as well as musicians at the highest level." — The Arts Desk
Franz Schubert (1797-1828)
Adagio and Rondo Concertante for Piano and Strings, D. 487
View Notes
A piano concerto in all but name, the sparkling Adagio and Rondo Concertante is the work of a 19-year-old prodigy who had already penned some of his most enduringly popular art songs. The same qualities that made Schubert a great lieder composer—his seemingly bottomless stockpile of melody, his ability to invest the simplest of musical phrases with dramatic significance, his quicksilver changes of keys and moods—are equally apparent in this highly accomplished, if essentially lightweight, quartet for piano, violin, viola, and cello. Schubert's first work for piano and strings, D. 487 anticipated his masterful "Trout" Quintet of 1819. He wrote it for his friend and chamber music partner Heinrich Grob, a pianist and violinist with whose sister Therese, a gifted soprano, Schubert was apparently smitten.

Although he inscribed the manuscript of the Adagio and Rondo Concertante to Grob, Schubert undoubtedly tailored the piano part to his own abilities. By all accounts his less-than-stellar keyboard technique hardly put him I n the same league as Beethoven, Chopin, and other great 19th-century composer-pianists. On the other hand, his brother Ferdinand testified that "although Schubert never represented himself as a virtuoso, any connoisseur who had the chance of hearing him in private circles will nevertheless attest that he knew how to treat the instrument with mastery and in a quite peculiar manner." The warmly lyrical, human-scaled sound that Schubert coaxed from the light-framed Viennese fortepianos of his day is reflected in the transparent textures and richly embroidered melodic lines of this exuberantly youthful work.

© Harry Haskell, 2023

Amy Beach (1867-1944)
Quintet for Piano and Strings in F-sharp minor, Op. 67
View Notes
After initial musical encouragement from her mother as an infant, Amy Beach—who was something of a child prodigy—went on to study more formally with local teachers in Boston, where her family settled when she was eight years old. In 1885, still only 18, she married one of her mentors, the Harvard medical lecturer (and amateur singer) Henry Harris Aubrey Beach, who was her senior by some 24 years. The new Mrs. Beach had already gained a reputation as a fine professional pianist, having appeared as a soloist with the Boston Symphony Orchestra when she was only 17, but following her marriage it emerged that her husband was uncomfortable with her appearing in public. Bowing to his wishes, she thereafter gave only a single benefit concert for charity each year, and otherwise devoted her creative energies to composing—an activity in which she was largely self-taught. While some have seen this move as a regrettable capitulation to male dominance, Beach was more positive, commenting in another article: "My compositions gave me a larger field. From Boston, I could reach out to the world" ("Why I Chose My Profession"; Mother's Magazine, February 1914). Her music drew inspiration from a wide range of folk traditions (not only American, but also those of the United Kingdom, Balkans, and Inuit) and, although best known for her vocal output, she wrote several large-scale works, including an orchestral Mass (1890), the "Gaelic" Symphony (1897), a Piano Concerto (1900), and the chamber opera Cabildo, composed in 1932 and posthumously premiered in 1945.
Beach wrote her Piano Quintet in 1907 and it was first performed, in Potter Hall, Boston, on February 27 the following year, by the Hoffmann Quartet with the composer herself at the keyboard. In one respect the music was highly personal, as it reflects her gift of musical synesthesia—a phenomenon by which a composer (other more famous examples include Scriabin and Messiaen) can see specific colors in their mind that are directly conjured up by different tonalities. The home key of the Quintet, F-sharp minor, was one of two keys that Beach associated with the color black. (Appropriately, her 'white' key was C major, which lies at the furthest remove from F sharp in the tonal spectrum.) More conventionally, however, the work reflects the strong influence of the music of Brahms, whose own Piano Quintet in F minor, Op. 34 she had performed in 1900. Beach even borrowed a chromatic theme from the finale of Brahms' work, subjecting it to various transformations in the course of her own contribution to the genre. The new piece was generally well received by critics attending the premiere, though opinion was somewhat divided as to whether what one critic praised as the "restlessly expressive" quality of the music was weakened by what another felt to be an excess of emotional climaxes.
Henry Beach died in 1910, and upon the death of her mother soon afterwards, Amy decided to move temporarily to Europe to bolster her international reputation. In 1912, she was performing in both chamber and orchestral concerts in Germany, where her programs sometimes included the Piano Quintet, but following the outbreak of war she returned to the United States, settling in her native state of New Hampshire. She became a Fellow of the famous MacDowell Colony for composers in 1921 and it was here that she composed much of her later output. She helped found the Society of American Women Composers in 1925, serving as its inaugural President, and on her death bequeathed to the MacDowell Colony the ongoing royalties earned by her music.
© Mervyn Cooke, 2021 (This note was first published in the booklet to the Kaleidoscope Chamber Collective's CD recording American Quintets (CHAN 20224, 2021)).
George Walker (1922-2018)
Lyric for Strings
View Notes
Born in 1920 in Washington, D.C., the precociously talented George Walker, a composer and pianist, gave his first public performance at age 14 at Howard University, winning a scholarship to Oberlin Conservatory the same year. He went on to the Curtis Institute, where he studied with Rudolf Serkin and Samuel Barber, before moving to Paris to study with Nadia Boulanger and then earning a doctorate from Eastman School of Music in 1956. Walker made his professional debut in 1945 at New York's storied Town Hall, where he was the first African American performer on that stage, and the next year he went on to be the first African American soloist to appear with The Philadelphia Orchestra. He toured extensively both in the U.S. and abroad. In the 1960s, Walker's focus shifted to a long and distinguished teaching career. He was the first African American tenured professor at Smith College and held appointments at other schools, including The Peabody Institute. Among his many honors is the Pulitzer Prize in Music – the first African American composer to receive this honor.

Lyric for Strings originated as the slow movement of Walker's String Quartet No. 1. Written in 1946, shortly after his graduation from Curtis, the Quartet marked a bold departure from the piano solos and settings of African-American spirituals that he had produced as a student. Steeped in the idiom of mid-20th-century modernism, the music merits comparison with the quartets of Bartók, Hindemith, and Shostakovich. Walker's compellingly individual voice—muscular, neo-Romantic, mildly dissonant but essentially tonal—animates this intensely lyrical threnody for his grandmother, who died while he was writing the Quartet. In his later arrangement for string orchestra, Lyric for Strings became Walker's signature work, analogous to Samuel Barber's popular Adagio for Strings of 1936, which similarly began life as a string quartet.

© Harry Haskell, 2023
Florence Price (1887-1953)
Quintet for Piano and Strings in A minor
View Notes
Beatrice Price was born into a mixed-race family in Little Rock, Arkansas where, a few years later (in a quasi-symbolic coincidence), composer William Grant Still would also grow up. Like Beach, Price received early musical tuition from her mother, which was followed by formal studies in Boston, where Price attended the New England Conservatory, studying composition and gaining qualifications as a piano teacher and an organist. On her mother's advice, she passed as Mexican during her student years in the attempt to avoid racial harassment. She married the lawyer Thomas J. Price in 1912, after which she embarked on a succession of teaching posts in her native South, including a spell as head of the music department at Clark University, Atlanta. She moved with her family to Chicago in 1927, where she continued to develop her compositional aspirations at the Chicago Musical College and American Conservatory. Chicago was in this period undergoing an African American cultural rejuvenation similar to the more famous Harlem Renaissance in New York, in which Still became a leading figure in the 1930s, though the primary motivation for the relocation had been a sharp increase in racial tensions in Little Rock. There the egregious behaviour had ranged from routine segregation and prejudice—for example, Price was unable to become a member of the Arkansas Music Teachers' Association, which was all-white—to a notorious outbreak of rioting triggered by the lynching of an African American man in May 1927.
As a composer, Price—like Beach—was best known during her lifetime for her songs, which included arrangements of spirituals, as well as her pedagogical piano music; examples of both genres were published following her move to Chicago, though much of her vast output was destined to remain in manuscript. She also wrote four symphonies and several concertos, and was not averse to composing and arranging light, commercial music – especially following her divorce (which she initiated herself in 1928), when composing for radio became a useful source of income alongside her other freelance activities as a private piano teacher and cinema organist accompanying silent films.
Price wrote two piano quintets, the better known (in E minor) dating from 1936. The date of the A-minor Quintet included in this concert is unclear: when the manuscript was discovered posthumously in the Illinois cache, it bore an inscription which Price had added in 1952, the year before her death, but on stylistic grounds it may well have been written at around the time of the E-minor Quintet. Although characteristically conservative in its late-romantic idiom, the piece celebrates Price's African American heritage by echoing the musical language of spirituals and hymns (second movement), and reworking elements of the popular Juba stomping dance that was performed by African Americans enslaved on plantations of the Deep South (third movement). Under the editorship of Lia Jensen-Abbott, the A-minor Quintet was first published in 2017 by Barbara Garvey Jackson's ClarNan Editions in Fayetteville, where Price's archive is now housed at the University of Arkansas.

© Mervyn Cooke, 2021 (This note was first published in the booklet to the Kaleidoscope Chamber Collective's CD recording American Quintets (CHAN 20224, 2021)).
Program Subject to Change Without Notice