Sunday, December 03, 2023 | 5:30 PM
Kaleidoscope Chamber Collective (U.S. Debut)
The Yale Gordon Young Artist Concert
Location: Shriver Hall
The Kaleidoscope Chamber Collective is a "sparky, shape-shifting ensemble of starry young musicians" (Arts Desk). The Associate Ensemble of London's renowned Wigmore Hall, its most recent recording was praised on The Times (London)'s and Gramophone's 'Best of 2022' lists. The group's U.S. debut features major quintets from two historical American composers, Amy Beach and Florence Price, both glorious works of lyricism and virtuosity.
"Exhilarating performances." —The Times (London)
About the sponsor
Yale Gordon first sponsored a concert by an accomplished young artist in 1978. The following year, his Yale Gordon Foundation made its initial contribution to Shriver Hall Concert Series. The Foundation eventually evolved into The Peggy and Yale Gordon Trust, which has been sponsoring annual Series concerts since 1986. The Yale Gordon Young Artist Concert features soloists or ensembles with great promise in the formative stages of their careers. Many of the artists who debuted at Shriver Hall through this concert have developed or already have international careers. The Board of Directors of the Series is deeply grateful to the Trust and its officials, Phyllis and Louis Friedman, and the late Sidney Sherr and Loraine Bernstein, for their warmly welcomed support and encouragement in making the Yale Gordon programs so successful over the years.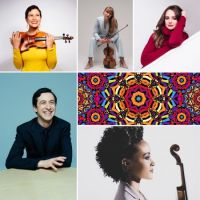 Kaleidoscope Chamber Collective
Elena Urioste, violin
Melissa White, violin
Rosalind Ventris, viola
Laura van der Heijden, cello
Tom Poster, piano

Kaleidoscope Chamber Collective, hailed for its "exhilarating performances" (The Times), was dreamed up in 2017 by Tom Poster and Elena Urioste, who met through the BBC New Generation Artists Scheme. Kaleidoscope's flexible roster features many of today's most inspirational musicians, both instrumentalists and singers, and its creative programming is marked by an ardent commitment to celebrating diversity of all forms and a desire to unearth lesser-known gems of the repertoire.
In 2020, Kaleidoscope was appointed Associate Ensemble at Wigmore Hall, where the group makes multiple appearances each season, and was invited to give the Hall's 120th birthday concert in May 2021. Kaleidoscope broadcasts regularly on BBC Radio 3 and has recently been ensemble-in-residence at Aldeburgh Festival, Kettle's Yard, Ischia Music Festival, and Cheltenham Festival, where the group gave several world premieres and collaborated with Sir Simon Russell Beale and the cast of The Lehman Trilogy.
Kaleidoscope's debut recording for Chandos Records, American Quintets, features music by Amy Beach, Florence Price, and Samuel Barber. It received glowing reviews and a BBC Music Magazine Award nomination, and immediately led to an invitation to record a series of albums for the label. Two further albums, featuring chamber music by Samuel Coleridge-Taylor and Felix and Fanny Mendelssohn, were released in summer 2023 to widespread critical acclaim, with all three of Kaleidoscope's albums so far being awarded Editor's Choice in Gramophone.
Passionate about inspiring the next generation of musicians, Kaleidoscope has featured in Wigmore Hall's Learning Festival, directed courses for the Benedetti Foundation, and holds a visiting professorship at the Royal Academy of Music for the 2022-23 academic year. Forthcoming performance highlights include concerts in London and Dortmund with Hilary Hahn, and a tour of the USA.
The ensemble's website is www.kaleidoscopecc.com.
"The repertoire… is beautifully chosen and programmed, the performers all born communicators as well as musicians at the highest level." — The Arts Desk
Franz Schubert (1797-1828)
Adagio and Rondo Concertante for Piano and Strings, D. 487
Amy Beach (1867-1944)
Quintet for Piano and Strings in F-sharp minor, Op. 67
George Walker (1922-2018)
Lyric for Strings
Florence Price (1887-1953)
Quintet for Piano and Strings in A minor
Program Subject to Change Without Notice