Sunday, November 19, 2023 | 5:30 PM
Takács Quartet
The Howard Family Concert │The David & Barbara Rodbell Kornblatt Commissioning Fund.
Location: Shriver Hall
The Grammy winning Takács Quartet, "simply the best I have heard in concert" (The Guardian), returns to Shriver Hall with a program inspired by the natural world. A premiere by Nokuthula Ngwenyama, an American composer of Zimbabwean-Japanese heritage, is bookended by Haydn and Beethoven's Op. 59, No. 2 Quartet, conceived as the composer gazed at the stars contemplating the harmony of the spheres.
"impeccable… performances as wonderful and sonorous as you could hope for." –The Sunday Times (London)
About the sponsor
A member of Shriver Hall Concert Series' Board of Directors from 1987 to 2012, Dr. J. Woodford Howard, Jr. is the Thomas P. Stran Professor Emeritus at The Johns Hopkins University where he taught in and chaired the Department of Political Science. At SHCS, Dr. Howard, or "Woody," was for many years Chair of the Music Committee. In his capacity as Chair, Woody used his encyclopedic knowledge of chamber music to help select artists and repertoire. Mrs. Howard has also assumed an active role in volunteering for many SHCS projects. The Howard Family concert, established in 2001 by Woody and Jane, with their daughter and son-in-law, Elaine and Jeffrey Christ, is designated for performances by string quartets.
Barbara and the late David Kornblatt always had a passion for contemporary art and the creative process. From 1975 to 1992, Barbara owned an art gallery that specialized in contemporary American painting, sculpture and works on paper, and she helped numerous artists create and sustain lasting careers. Over 50 years ago, David and a partner founded what would become the Kornblatt Company—a real estate development, brokerage, and management firm culminating in the building and management of Saint Paul Plaza. Passionate concertgoers, Barbara joined SHCS's Board of Directors in 1998. Her and David's generous contribution establishing this fund in 2014 enabling SHCS to regularly commission and premiere new works. This gift was made in honor of their parents Harry & Rebecca Kornblatt and Isidore & Sarah Rodbell.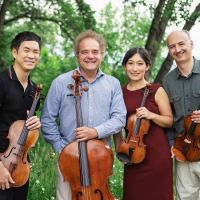 Takács Quartet
Edward Dusinberre, violin
Harumi Rhodes, violin
Richard O'Neill, viola
András Fejér, cello

The world-renowned Takács Quartet, is now in its 48th season. Its 2022-23 season began with a tour of Hong Kong, Japan and South Korea, and includes the release of two new CDs for Hyperion Records. A disc of Haydn's opp. 42, 77, and 103 is followed by the first recording of an extraordinary new work written for the Takács by Stephen Hough, Les Six Rencontres, presented with quartets by Ravel and Dutilleux. As Associate Artists at London's Wigmore Hall, the Takács perform four concerts. In addition to programs featuring Beethoven, Schubert and Fanny Mendelssohn Hensel, one concert features of works by Britten, Bartók, and Dvořák that highlight the same themes of displacement and return explored in Edward Dusinberre's new book Distant Melodies: Music in Search of Home. The book was published by Faber and the University of Chicago Press in the Fall of 2022. The Quartet performs the same program at several venues in the U.S., complemented by book talks. During this season the quartet continues its fruitful partnership with pianist Jeremy Denk, performing on several North American series.
Throughout 2022 and 2023 the ensemble will play at prestigious European venues including the Edinburgh and Schwetzingen Festivals, Madrid's Auditorio de Música, Bilbao's Philharmonic Society, Amsterdam's Concertgebouw and the Bath Mozartfest. The group's North American engagements include concerts in New York, Toronto, Vancouver, Philadelphia, Ann Arbor, Berkeley, Los Angeles, Pittsburgh, Seattle, Tucson, Portland, and the Beethoven Center at San Jose State University.
The Takács records for Hyperion Records, recently winning awards for their recordings of string quartets by Fanny and Felix Mendelssohn, and – with pianist Garrick Ohlsson – piano quintets by Amy Beach and Elgar. Other releases for Hyperion feature works by Haydn, Schubert, Janáček, Smetana, Debussy and Britten, as well as piano quintets by César Franck and Shostakovich (with Marc-André Hamelin), and viola quintets by Brahms and Dvorák (with Lawrence Power). For its CDs on the Decca/London label, the Quartet has won three Gramophone Awards, a Grammy Award, three Japanese Record Academy Awards, Disc of the Year at the inaugural BBC Music Magazine Awards, and Ensemble Album of the Year at the Classical Brits.
Based in Boulder at the University of Colorado, the members of the Takács Quartet are Christoffersen Faculty Fellows, and the grateful beneficiaries of an instrument loan by the Drake Foundation. The members of the Takács are on the faculty at the Music Academy of the West in Santa Barbara, where they run a summer string quartet seminar, and Visiting Fellows at the Guildhall School of Music, London.
The Takács Quartet was formed in 1975 at the Franz Liszt Academy in Budapest by Gabor Takács-Nagy, Károly Schranz, Gabor Ormai and András Fejér, while all four were students. The Quartet made its North American debut tour in 1982. Its website is www.takacsquartet.com.
"The Takács Quartet are matchless, their supreme artistry manifest at every level." —The Guardian
Franz Joseph Haydn (1732-1809)
String Quartet in B-flat major, Op. 76, No. 4, "Sunrise"
Nokuthula Ngwenyama (b. 1976)
New work (Baltimore premiere, SHCS co-commission)
Ludwig van Beethoven (1770-1827)
String Quartet in E minor, Op. 59, No. 2, "Razumovsky"
Program Subject to Change Without Notice