Mission
The mission of Shriver Hall Concert Series (SHCS) is to foster and maintain an organization dedicated to the making of music consonant with the highest aspirations of musical art, creating performances, and providing educational and training programs at the highest level of excellence.
History
Shriver Hall Concert Series has been a leader in the Mid-Atlantic cultural scene since our founding in 1966. We have introduced numerous world-renowned classical music artists and ensembles to audiences. Excellence, intimacy, enrichment, and community—these are the hallmarks of Shriver Hall Concert Series.

When flutist Jean-Pierre Rampal walked onto the stage of Shriver Hall, more than 1,100 people witnessed the launch of what is now recognized as a remarkable success story: Shriver Hall Concert Series (SHCS). Founded by Dr. Ernest Bueding, a pharmacologist at The Johns Hopkins University (JHU), and a group of similarly dedicated music enthusiasts, SHCS set out to make an important contribution to the vitality of an already vibrant city.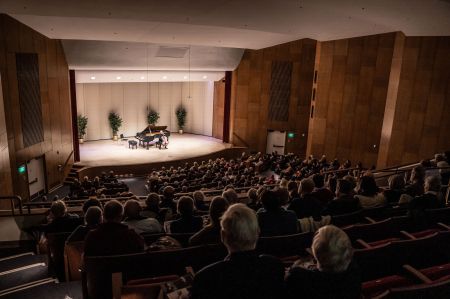 In the succeeding years SHCS has presented hundreds of acclaimed and emerging international artists in classical chamber music and recitals. From an initial season of just six performances, SHCS's offerings have grown to feature 14 public events annually, and a legacy of important debuts and premieres in our five decades. In addition, SHCS collaborates with local schools and subsidizes hundreds of student tickets each season.
The list of artists presented by SHCS is remarkable—Radu Lupu, Murray Perahia, Ewa Podlés, Maurizio Pollini, Jacqueline du Pré, Mstislav Rostropovich, Jordi Savall, András Schiff, Rudolf Serkin, Janos Starker, Daniil Trifonov, Alban Berg Quartet, Guarnieri Quartet, and Quartetto Italiano, among many others. SHCS also has a history of championing important musicians early in their careers, including Richard Goode, Dawn Upshaw, and the Emerson String Quartet. Commissioned composers include Timo Andres, Sebastian Currier, Jonathan Leshnoff, James Lee III, and Nina C. Young.

Designed specifically for the community, SHCS offers the Discovery Series, a series of free concerts presented in venues throughout the region focused on artists emerging on the national and international scene. Artists featured include Narek Hakhnazaryan, Colin Currie, and the Dover Quartet. SHCS also offers the annual Spring Lecture Series, a series of free talks focused on annual topics related to the intersection of music and society, and a variety of student programs.
The recipient of multiple awards, SHCS has been described by The Baltimore Sun as "Baltimore's finest importer of classical music talent."