Saturday, January 20, 2024 | 3:00 pm
Brandon Patrick George, flute (Baltimore Debut)
Parker Ramsay, harp (Baltimore Debut)
Location: University of Maryland Baltimore County
Elegant flutist Brandon Patrick George, a "knockout musician with a gorgeous sound" (Philadelphia Inquirer) is joined by harpist Parker Ramsay, hailed as "remarkably special" (Gramophone) with an artistry that is "marked by a keen musical intelligence" (Wall Street Journal) for an unforgettable duo recital. Together they perform a lyrical program spanning centuries and continents.
Venue: University of Maryland Baltimore County
Suggested Donation: $10; General Seating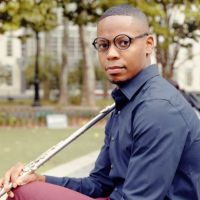 Brandon Patrick George (Baltimore Debut)
Brandon Patrick George is a leading flute soloist and Grammy-nominated chamber musician whose repertoire extends from the Baroque era to today. He is the flutist of Imani Winds and has appeared as a soloist with the Atlanta, Baltimore, and Albany symphonies, American Composers Orchestra, and the Orchestra of St. Luke's, among others. He has been praised as "elegant" by The New York Times, as a "virtuoso" by The Washington Post, and as a "knockout musician with a gorgeous sound" by The Philadelphia Inquirer. His debut album was released by Haenssler Classics in September 2020; The New York Times has described it as "a program that showcases the flute in all its wit, warmth and brilliance."
George has performed at the Elbphilharmonie, the Kennedy Center, the Dresden Music Festival, and the Prague Spring Festival. In addition to his work with Imani Winds, Brandon's solo performances include appearances at Lincoln Center, the Metropolitan Museum of Art, 92nd Street Y, Tippet Rise, and Maverick Concerts. His current collaborations include touring projects with harpsichordist Mahan Esfahani, pianist Aaron Diehl, and harpist Parker Ramsay. In 2021, George was part of the inaugural class of WQXR's Artist Propulsion Lab, a program designed to advance the careers of early and mid-career artists and support the future of classical music. During his yearlong residency at WQXR, Brandon guest hosted Evening Music, interviewed Ford Foundation president Darren Walker about diversity and equity in the performing arts, and recorded with pianist Aaron Diehl and harpist June Han.
Prior to his solo career, George performed as a guest with many of the world's leading ensembles including the Los Angeles Philharmonic, the Pittsburgh Symphony Orchestra, the Orpheus Chamber Orchestra, and the International Contemporary Ensemble (ICE). With the Los Angeles Philharmonic, he performed at Walt Disney Concert Hall and at the Hollywood Bowl with music Director Gustavo Dudamel. His ensemble work allowed him to work closely with some of the foremost composers of our time including John Adams, Louis Andriessen, Tania León, Steve Reich, and George Lewis.
Raised by a single mother in Dayton, OH, Brandon Patrick George is the proud product of public arts education. He draws on his personal experiences in his commitment to educating the next generation, performing countless outreach concerts for school children every year, and mentoring young conservatory musicians of color embarking on performance careers. He trained at the Oberlin Conservatory of Music, the Conservatoire de Paris, and the Manhattan School of Music. He serves on the faculty of the Curtis Institute and the Banff Centre for Arts and Creativity, and his website is www.brandonpatrickgeorge.com.
"A knockout musician with a gorgeous sound" —The Philadelphia Inquirer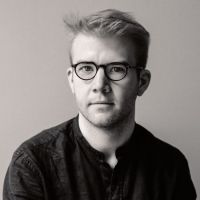 Parker Ramsay (Baltimore Debut)
Harpist Parker Ramsay's career, unique in its integration of contemporary music and historical performance, defies easy categorization. Equally at home on modern and period harps, Ramsay is dedicated to invigorating the existing canon while delving into new and underperformed works. In 2020, the recording of his transcription of Bach's Goldberg Variations for the King's College, Cambridge label was praised as "remarkably special" (Gramophone), "nuanced and insightful" (BBC Music Magazine), "relentlessly beautiful" (WQXR), "marked by keen musical intelligence" (The Wall Street Journal), and "a resounding success" (The Independent). His essay on the transcription process, "Is Bach Better on Harp?" was published in The New York Times.
A native of Nashville, TN, Ramsay began harp studies with his mother at a young age before moving to the UK at age 16. He was awarded the undergraduate organ scholarship at King's College, Cambridge where he served under the direction of Stephen Cleobury. His tenure with the Choir of King's College, Cambridge included performing for the Festival of Nine Lessons and Carols in 2012, as well as six international tours and four recordings. Ramsay has performed at the Concertgebouw in (Amsterdam), the Royal Albert Hall (London), the Musée d'Orsay (Paris), the National Center for the Performing Arts in (Beijing), Sejong Center for the Performing Arts (Seoul), Verizon Hall in (Philadelphia), and Alice Tully Hall (New York City).
Ramsay is co-director of A Golden Wire, a period instrument ensemble devoted to French and English music from the 17th century. He has appeared with the Shanghai Camerata, the Academy of Sacred Drama, Ruckus, Teatro Nuovo and Apollo's Fire. Upcoming projects include collaborations with composers Tom Morrison, Michael Seltenreich, David Fulmer, Saad Haddad, Josh Levine, Nico Muhly, and Marcos Balter.
After receiving his bachelor's degree in history at Cambridge, he pursued graduate studies in historical keyboards at Oberlin Conservatory. In 2014, he was awarded First Prize at the Sweelinck International Organ Competition. He then studied modern harp at The Juilliard School, under the tutelage of Nancy Allen. He is a regular contributor for VAN Magazine, and his writing has appeared in Cleveland Classical, The New York Times, and The Washington Post. He lives in New York City. His website is parkerramsay.com.
Program Notes by Parker Ramsay
View Notes
Throughout the 19th Century, the Mediterranean Riviera attracted artists and musicians to gaze on the petrous coastlines tracing its blue expanse and to ponder on its past. Those drawn to the water sought connections with antiquity, a bygone era of purity which might be recovered and injected into modern culture. In 1893, Camille Saint-Saëns provided incidental music for the Comèdie Française's revival of Sophocles' Antigone at the Théâtre de l'Orange in Vaucluse, built in the first century AD under the rule of Octavian. An unspecified number of harps take on the roles of providing melodies, but also providing descending arpeggios underneath the voice, heightening the tension and uncertainty of modes which are yet agnostic to rules of conventional Romantic tonality.
Years later, echoes of Antigone would be incorporated into the opening bars Saint-Saëns's Fantaisie, composed during a vacation in Bordighera in 1907: the harp vacillates between opposing harmonies before a curious melody provides only a hint of some cadential repose. Sectional in form, displays of intense virtuosity are framed by rudimentary or oblong boundaries: a caprice with five beats to the bar echoes the Delphic hymns' poetic patterns, while another section ushers in a passacaglia, where austere repetitions mount in intensity before returning to the mysterious material heard at the start.
Sat in a hotel room up the coast in Cannes in 1956, Francis Poulenc sought order and stricture for his Sonata. "In working on this Flute Sonata I have the feeling of going back a long way," he wrote, "but with a more settled technique. It's a sonata of Debussyan dimensions. It's the French sense of balance. Finding the form for your language is the most difficult thing. It's what Anton Webern has in the highest degree (as did Stéphane Mallarmé) and what Pierre Boulez has not yet found."
After receiving a commission from famed sponsor Elizabeth Sprague Coolidge, Poulenc made good on an old promise to colleague Jean-Pierre Rampal to compose a sonata for the flute. Rampal's dedication to expanding the repertoire included not only solo works, but work with with famed French Wind Quintet, and a long-standing collaboration with harpist Lily Laskine (who herself eventually transcribed Poulenc's Sonata). Rampal's passion for music of the Baroque (particularly that of J.S. Bach and Antonio Vivaldi) spurred a renewed interest in the 18th century flute repertoire, and continually inspiring composers to return to the sonata form in composing new works for the instrument.
Poulenc's and Johann Sebastian Bach's respective sonatas share moodiness in being set in E minor, using ritornello forms in their opening movements to kaleidoscopically guide the listener into other keys: Bach takes the listener through the conventional keys in the cycle of fifths, while Poulenc subtly opts for the closest neighbor of F minor. Whereas Bach shoots into a Vivaldian presto, Poulenc opts for a calmer more liberated form. "The Cantilena not a fixed form like passacaglia for example, it is a free form … I could have called it an interlude ("intermède") or a romance." Bach's Andante offers some repose, as a repeating bass figure in G major acts as a center of gravity for a lilting, almost improvisatory aria undertaken by the flute. Both sonatas conclude with a gallop, gaps in texture, and even a sense of victory over the melancholic material that preceded.
Neither classicism nor neoclassical impulses appear in Tōru Takemitsu's Toward the Sea, though water is palpably present. Commissioned by Greenpeace for the Save the Whales Campaign in 1981, its inspiration can be found in Herman Melville's Moby Dick, a novel whose essence and spirituality Takemitsu sought to capture, latching onto one passage in particular:
"Take almost any path you please, and ten to one it carries you down in a dale, and leaves you there by a pool in the stream. There is magic in it. Let the most absent-minded of men be plunged in his deepest reveries--stand that man on his legs, set his feet a-going, and he will infallibly lead you to water, if water there be in all that region. Should you ever be athirst in the great American desert, try this experiment, if your caravan happen to be supplied with a metaphysical professor. Yes, as every one knows, meditation and water are wedded for ever."
Jagged figurations are contrasted with lengthy moments of suspense and pause, the harp's resonance ebbs while the flute's harmonics and flutter tones emit noises akin to nightscapes and even the moaning whales in the distance. Three notes in particular ascend like a wave over and over.
"Why did I choose these pitches? I wanted to paint a tonal 'sea.' There is the sea is S [E-flat in German] – E – A. I feel that water and sound are similar… We know wanted only in its transitory forms – rains, a lake, a river or the sea. Music is like a river or a sea. As many different currents create those oceans, so does music deepen our lives with constantly changing awareness." (Takemitsu)
In traveling the globe in the 1980s (rather late in his life), Arturo Piazzolla made some of his most impactful contributions to Western canon. His Histoire du Tango evokes the evenings spent in cafés and bordellos spent in Buenos Aires, where a dark and sensuous musical style was born. Having crossed the Atlantic to study with Nadia Boulanger in Paris as a young man, he arrived only to be told to retain the voice he forged in his homeland to offer something more authentic to the world. Of Café 1930, the composer wrote:
"This is another age of the tango. People stopped dancing it as they did in 1900, preferring instead simply to listen to it. It became more musical and more romantic. This tango has undergone total transformation: the movements are slower, with new and often melancholy harmonies. Tango orchestras came to consist of two violins, two concertinas, a piano, and a bass. The tango is sometimes sung as well."
Piazzolla was of course not alone in evoking the music if his homeland but followed a long tradition of composers who sought to authentically capture music associated with a particular place. In Paris, Manuel de Falla transcribed lullabies and folksongs with intricate piano accompaniments in his Seven Spanish Folksongs, evoking the sounds of Asturian guitarists and the gentle voices of mothers rocking their children to sleep.
Others sought to go even further, traveling to rural areas to obtain musical materials for themselves. Famous among these documenters were Hungarian composers Béla Bartók and Zoltan Kodály, who undertook an extended project in 1906 to record folk songs from the Carpathian Mountains and Black Sea using the latest technology—an "Edison" phonograph. Kodály and Bartók would eventually publish their scholarly work in 1951, but in the meantime undertake their own artistic creations with the material they collected.
The Romanian Folk Dances were Bartók's first foray into a composition wrought from his researched folk materials, taken from the Transylvanian region of Hungary (now in Romania) where they were played on either the fiddle or the flute. The Stick Dance evokes the sounds of two Romani musicians who played for Bartók, while the Sash Dance flirts and beguiles. The Horn Dance has some decorum, while the polka has some buoyancy before giving way to the agility and dynamism of the final two dances.
The intense modality and irregular rhythms found in these songs would come to shape Bartók's hallmark style, having immersed himself in the earthy and sensuous music of Central European villages. Later in life he would come to write on his own journey of absorption:
"The question is, what are the ways in which peasant music is taken over and becomes transmuted into modern music? We may, for instance, take over a peasant melody unchanged or only slightly varied, write an accompaniment to it and possibly some opening and concluding phrases. This kind of work would show a certain analogy with Bach's treatment of chorales. Another method is the following: the composer does not make use of a real peasant melody but invents his own imitation of such melodies. There is no true difference between this method and the one described above. … There is yet a third way: Neither peasant melodies nor imitations of peasant melodies can be found in his music, but it is pervaded by the atmosphere of peasant music. In this case we may say, he has completely absorbed the idiom of peasant music which has become his musical mother tongue."
Johann Sebastian Bach (1685-1750)
Sonata in E minor, BWV 1034
Camille Saint-Saëns (1835-1921)
Fantaisie, Op. 124
Francis Poulenc (1899-1963)
Flute Sonata
Toru Takemitsu (1930-1996)
Toward the Sea III
Astor Piazzolla (1921-1992)
Cafe 1930 from Histoire du Tango
Manuel De Falla (1876-1946)
Selections from Siete canciones populares españolas
Béla Bartók (1881-1945)
Romanian Folk Dances
Program Subject to Change Without Notice