Reflections on our 2020-21 Season
Jul 15, 2021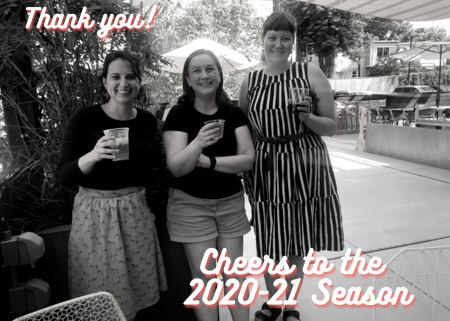 Looking back at this last year, it would be easy only to see the great challenges and losses that we have all faced. For Shriver Hall Concert Series, the absence of in-person concerts created a profound void. Though we missed the unique joy of experiencing live performance and seeing our patrons, we are intensely grateful for what our 2020-21 season became and for you, the amazing community supporting us.
In the summer of 2020, although the world was in lockdown, we believed it was vital to stay connected with our beloved patrons and to provide uplift and comfort to people across Maryland. On June 26, we presented Anthony McGill and Anna Polonsky in a free online recital, co-presented with colleague concert series across the U.S. In July, we launched Summer Nights with Shriver Hall Concert Series on WBJC, a new radio series featuring concert recordings from our archives.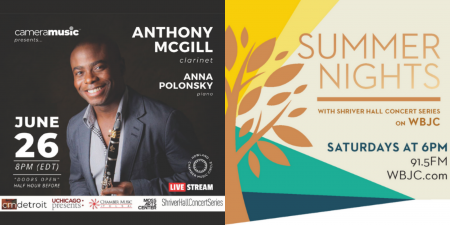 The global pandemic forced us all to accept a new normal, and in the fall SHCS launched a full season of digital concerts. Opening with the remarkable Takács Quartet, exceptional artists came together in renowned performance spaces and recording studios in the locations where they sheltered in place to professionally capture their concerts for us. These locations ranged from the San Francisco Conservatory to Aram Khatchatourian Hall in Yerevan, Armenia. Featuring concerts as varied as a rare duo-piano recital from Garrick Ohlsson and Kirill Gerstein, to the Baroque ensemble Quicksilver, to pianist Daniil Trifonov.
In the spring, we continued our annual free events, the Discovery Series and Spring Lecture Series. We welcomed double bassist Xavier Foley, recorder player Tabea Debus, and the Aizuri Quartet for their Baltimore Debuts. The Peabody Institute's Richard Giarusso explored the theme of "Music and Citizenship" in the three-part Spring Lecture Series.

A digital season allowed for new opportunities. Shriver Hall Concert Series' events were viewed by people in 34 states and 23 countries! Plus, each Subscription Series performance was accompanied by an Artist Conversation. We spoke with the McGill/McHale Trio about what it means to be a citizen artist, chatted with the musicians of Quicksilver about the role of technology in 17th c. musical life, heard from the Calidore Quartet and composer Hannah Lash about the process of collaborating on a world premiere, and connected with Narek Hakhnazaryan who joined us from Irkutsk, Siberia. Violinist Jennifer Koh not only spoke with SHCS about her project Alone Together, uplifting composers hard-hit by the pandemic, but also met with students from JHU Homewood Arts and the Baltimore School for the Arts.

Premium Subscribers were able to enjoy a variety of exclusive experiences. These included an online screening of the Dover Quartet's documentary, Strings Attached, filmed in part at their SHCS performance in 2017, a discussion with Edward Dusinberre of the Takács Quartet, and a talk about composer Florence B. Price by experts Marquese Carter of Murray State University and Douglas Shale of Vanderbilt University.
We were delighted to welcome over 300 students from the Greater Baltimore area to these programs and honored that they garnered coverage by BBC Music, New York Magazine, Washington Post, The Strad, The Violin Channel, Bachtrack, Washington Classical Review, San Francisco Classical Voice, WYPR, and others.


We are enormously thankful for the continued enthusiasm and support of our subscribers, patrons, and community. Thank you for sharing in these gorgeous concerts and events with us! We are also deeply grateful to the extraordinary artists and their teams for working with us so creatively to bring Shriver Hall Concert Series to your homes.
We look forward to continuing to share in the music we love. And, we can't wait to announce the 2021-22 season!