Sunday, March 26, 2023 | 5:30 pm
Tetzlaff-Tetzlaff-Vogt Trio
The Helen Coplan Harrison Concert
Location: Shriver Hall
Three of the most prominent performers in classical music—violinist Christian Tetzlaff, cellist Tanja Tetzlaff, and pianist Lars Vogt—come together as a superstar trio. The Grammy nominated group is heralded as "richly satisfying" (The Boston Globe) with a "combined musical voice that speaks with incontestable integrity" (The Washington Post). Their program features Schubert's B-flat Trio, a radiant masterpiece.
"It was sophisticated music making, joyously conveyed and received in kind, a rare and memorable evening" – The WholeNote
About the sponsor
This concert endowment was established in 2002 in honor of longtime Shriver Hall Concert Series Board member Dr. Helen Harrison, a gift by her sons Dr. Stephen Harrison and Dr. Richard Harrison and their families. Helen Harrison joined the Shriver Hall Concert Series Board of Directors in November 1973 at the invitation of founding president Ernest Bueding. Dr. Harrison served as an active and influential member of the Board until 2001, and she was responsible for bringing many new members to the Board, including chair emerita Jephta Drachman. As a scientist, Dr. Harrison shared the prestigious Howland Prize with her husband, Dr. Harold Harrison, for research done at The Johns Hopkins University School of Medicine.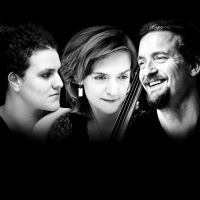 Tetzlaff-Tetzlaff-Vogt Trio
Christian Tetzlaff, violin
Tanja Tetzlaff, cello
Lars Vogt, piano
Bringing together three of the most prominent performers in classical music, the Tetzlaff-Tetzlaff-Vogt Trio will tour North America in 2022 for the first time in three years. Their recording of the Brahms piano trios was recently nominated for a Grammy Award.
Christian Tetzlaff
An artist known for his musical integrity, technical assurance and intelligent, compelling interpretations, Christian Tetzlaff has been internationally recognized as one of the most sought after violinists and exciting musicians on the classical music scene for many years. From the outset of his career, Mr. Tetzlaff has performed and recorded a broad spectrum of the repertoire, ranging from Bach's unaccompanied sonatas and partitas to 19th century masterworks by Mendelssohn, Beethoven and Brahms; and from 20th century concertos by Bartok, Berg and Shostakovich to world premieres of contemporary works. Also a dedicated chamber musician, he frequently collaborates with distinguished artists including Leif Ove Andsnes and Lars Vogt, and is the founder of the Tetzlaff Quartet, which he formed in 1994 with violinist Elisabeth Kufferath, violist Hanna Weinmeister and his sister, cellist Tanja Tetzlaff.
Mr. Tetzlaff has been in demand as a soloist with most of the world's leading orchestras and conductors, establishing close artistic partnerships that are renewed season after season. Mr. Tetzlaff has performed with the orchestras of Chicago, Cleveland, Boston, Philadelphia, New York, San Francisco, Los Angeles, St. Louis, Pittsburgh, Minnesota, Montreal and Toronto among many others in North America, as well as with the major European ensembles including the Berlin and Vienna Philharmonics, London Symphony and London Philharmonic, Leipzig Gewandhaus Orchestra, Rotterdam Philharmonic and the Royal Concertgebouw Orchestra in Amsterdam. He also appears at the world's most prominent summer music festivals, including Verbier, Salzburg, Tanglewood and New York's Mostly Mozart Festival.
During the 16/17 season, Mr. Tetzlaff traveled to and performed on four continents. Highlights of his U.S. season included re-engagements with the Chicago and New World Symphonies, the Los Angeles Philharmonic and the Met Opera Orchestra at Carnegie Hall, and recital tours with pianist Lars Vogt and violinist Pam Frank. Internationally, he worked with orchestras in London, Frankfurt, Zurich, Amsterdam, Berlin and Sydney among others; appeared with the Tetzlaff Quartet and in trio performances with cellist Tanja Tetzlaff and pianist Lars Vogt in London, Amsterdam, Paris, Berlin, Hamburg and Leipzig; toured Germany with the Deutsche Kammerphilharmonie as both soloist and leader; and was the featured soloist on an Asian tour with the Scottish Chamber Orchestra.
Tetzlaff's highly regarded recordings reflect the breadth of his musical interests and include solo works, chamber music and concertos ranging from Haydn to Bartok. His recordings include the complete Bach Sonatas and Partitas for Solo Violin for the Musical Heritage and Haenssler labels; Szymanowski's Violin Concerto No. 1 with the Vienna Philharmonic/Pierre Boulez for Deutsche Grammophon; the Schumann and Mendelssohn Violin Concertos with Frankfurt Radio Orchestra/Paavo Järvi for Edel Classics; Jorg Widmann's Violin Concerto, written for Mr. Tetzlaff, with the Swedish Radio Symphony Orchestra/Daniel Harding for Ondine; and the Berg Lyric Suite and Mendelssohn Quartet Op. 13 with the Tetzlaff Quartet for the CAvi label. His most recent recordings, all on the Ondine label, are the Dvorak, Suk and two Shostakovich violin concertos with the Helsinki Philharmonic/John Storgaards; the Brahms Violin Sonatas with Lars Vogt and the Brahms Piano Trios with Tanja Tetzlaff and Lars Vogt, which was nominated for a 2016 Grammy Award; and quartets by Berg and Mendelssohn with the Tetzlaff Quartet, which was awarded a 2015 Diapason d'Or. Mr. Tetzlaff recorded the complete Bach Sonatas and Partitas for an incredible third time in October 2016.
Mr. Tetzlaff began playing the violin and piano at age six, but pursued a regular academic education while continuing his musical studies. He did not begin intensive study of the violin until making his concert debut playing the Beethoven Violin Concerto at the age of 14, and attributes the establishment of his musical outlook to his teacher at the conservatory in Lübeck, Uwe-Martin Haiberg, for whom musical interpretation was the key to violin technique – not the other way around. Mr. Tetzlaff came to the United States during the 1985-86 academic year to work with Walter Levine at the University of Cincinnati College-Conservatory of Music and also spent two summers at the Marlboro Music Festival in Vermont.
Christian Tetzlaff currently performs on a violin modeled after a Guarneri del Gesu made by the German violin maker, Peter Greiner.
Tanja Tetzlaff
Cellist Tanja Tetzlaff performs an extensive repertoire, including the staple solo and chamber music literature, and important compositions of the 20th and 21th centuries. In 2011, a recording of cello concertos by Wolfgang Rihm and Ernst Toch was released by NEOS.
Tanja has played with leading orchestras such as the Tonhalle Orchestra Zurich, Bayerischer Rundfunk, Konzerthausorchester Berlin, Deutsche Kammerphilharmonie Bremen, Royal Flanders Philharmonic, Spanish National Orchestra, Orchestre Philharmonique de Radio France, Orchestre de Paris and Cincinnati Symphony Orchestra, and collaborated with conductors such as Lorin Maazel, Daniel Harding, Philippe Herreweghe, Sir Roger Norrington, Vladimir Ashkenazy, Dimtri Kitajenko, Paavo Järvi, Michael Gielen and Heinz Holliger.
Chamber music also plays a significant part in Tanja's career, with regular appearances alongside Lars Vogt, Leif Ove Andsnes, Alexander Lonquich, Antje Weithaas, Florian Donderer, Baiba and Lauma Skride, and her brother, Christian Tetzlaff, including at the festivals in Heidelberg, Heimbach, Bergen and Edinburgh. She and duo partner Gunilla Süssmann are also regular guests in concert series throughout Scandinavia and Germany, and recently recorded two albums released by CAvi-music, featuring the Brahms cello sonatas and works for cello and piano by Sibelius, Grieg and Rachmaninov.
The 2016/17 season saw solo performances with the Philharmonia Orchestra London, the Iceland Symphony Orchestra, Royal Northern Sinfonia Orchestra, Scottish Chamber Orchestra, the Orchestre Nationale des Pays de la Loire, the Tokyo Metropolitain Orchestra and the NHK Orchestra Tokyo. Tanja studied with Bernhard Gmelin in Hamburg and Heinrich Schiff at the Mozarteum in Salzburg, and plays a cello by Giovanni Baptista Guadagnini from 1776.
Lars Vogt
Lars Vogt has established himself as one of the leading musicians of his generation. Born in the German town of Düren in 1970, he first came to public attention when he won second prize at the 1990 Leeds International Piano Competition and has enjoyed a varied career for nearly twenty-five years. His versatility as an artist ranges from the core classical repertoire of Mozart, Beethoven, Schumann and Brahms to the romantics Grieg, Tchaikovsky and Rachmaninoff. Vogt is now increasingly working with orchestras both as conductor and conducting from the keyboard and his appointment as Music Director of the Royal Northern Sinfonia at the Sage, Gateshead in Newcastle, UK, in September 2015 reflects this new development in his career.
During his prestigious career, Lars Vogt has performed with many of the great European orchestras including the Royal Concertgebouw Orchestra, Berlin Philharmonic, Vienna Philharmonic, London Philharmonic, London Symphony Orchestra, Dresden Staatskappelle and Orchestre de Paris. He has collaborated with some of the world's most prestigious conductors including Sir Simon Rattle, Mariss Jansons, Claudio Abbado and Andris Nelsons. His special relationship with the Berlin Philharmonic has continued with regular collaborations following his appointment as their first ever "Pianist in Residence" in the 2003/2004 season.
Recent performances in North American include appearances with the Cleveland Orchestra, New York and Los Angeles Philharmonics, the Chicago, Boston, Toronto, Pittsburgh, St. Louis, Cincinnati, National and Atlanta symphonies, Minnesota Orchestra and the National Arts Centre Orchestra in Ottawa; a recital at New York's 92nd St. Y and an appearance at the Mostly Mozart Festival; and a trio tour with Christian and Tanja Tetzlaff with performances in San Francisco, Vancouver, New York, Boston and Toronto.
Highlights of Lars Vogt's 2016/17 season included performances with the NHK Symphony, Deutsches Symphonie-Orchester Berlin, Santa Cecilia Orchestra at La Scala in Milan, the Philharmonia and Royal Scottish National Orchestra, as well as a recital tour throughout Europe with Ian Bostridge. In North America, Mr. Vogt returned to the Philadelphia Orchestra, performed a solo recital on Lincoln Center's Great Performers series, and appeared with Christian Tetzlaff playing duo recitals in New York and Houston and at Duke and Stanford Universities.
Lars Vogt enjoys a high profile as a chamber musician and in June 1998, founded his own chamber festival in the village of Heimbach near Cologne. Known as "Spannungen," the concerts take place in an art-nouveau hydro-electric power station and its huge success has been marked by the release of several live recordings on EMI and CAvi.
A prolific recording artist, Lars Vogt now works closely with the Ondine label, most recently on a disc of Schubert works released in October 2016. Prior to that, his Bach Goldberg Variations with the label had unprecedented success in download charts as well as receiving widespread acclaim. Adding to his growing list of chamber recordings, recent releases on Ondine include Brahms, Mozart and Schumann sonatas with Christian Tetzlaff, and their GRAMMY nominated Brahms' piano trios with Tanja Tetzlaff. In earlier years as an EMI recording artist, Lars Vogt made over ten discs with the label including the Hindemith Kammermusik No 2 with the Berlin Philharmonic/Claudio Abbado, plus the Schumann, Grieg and first two Beethoven Concertos with the City of Birmingham Symphony Orchestra/Sir Simon Rattle. He has also recorded for the CAvi (most recently a recording of Larcher, Schumann and Bartók works for children released in 2016), Ohems Classics (Mozart Concertos/Salzburg Mozarteum Orchestra) and Berlin Classics (solo Liszt and Schumann).
A passionate advocate of making music an essential life force in the community, in 2005 Lars Vogt established a major educational program "Rhapsody in School" which brings his colleagues to schools across Germany and Austria, thereby connecting children with inspiring world-class musicians. He is also an accomplished and enthusiastic teacher and in 2013 was appointed Professor of Piano at the Hannover Conservatory of Music, succeeding Karl-Heinz Kämmerling, his former teacher and close friend.
"Few could have brought such authority or expressive force to this music" – SF Gate
Ludwig van Beethoven (1770-1827)
Piano Trio in C minor, Op. 1, No. 3
View Notes
Beethoven cut his musical teeth in his native Bonn, a relatively small provincial capital whose cultural life offered limited scope for a prodigiously gifted and ambitious young musician. In late 1792 he burst onto the scene in cosmopolitan Vienna and spent the rest of the decade burnishing his reputation as a pianistic powerhouse; upon hearing him play, his fellow virtuoso Wenzel Tomaschek was so overwhelmed that he refused to touch his own instrument for days. Despite their numerical designation, the three piano trios that constitute Beethoven's Opus 1 were not the first pieces of music he wrote; they weren't even his first pieces of chamber music. They were, however, the works that Beethoven chose to introduce himself to the discriminating Viennese public. The popularity of the piano trio genre, which Mozart and Haydn had brought to a high plane of sophistication, ensured that the publication of the three works in 1795 would attract considerable attention, to say nothing of earning a tidy sum for their chronically impecunious composer.
Beethoven was impatient to take his place in the public eye alongside Haydn, with whom he studied from late 1792 to early 1794. The C-minor Trio was considerably more adventurous than its two companions in the Op. 1 set—so adventurous, in fact, that Haydn advised his pupil not to publish it for fear of alienating potential patrons and customers. Beethoven interpreted this well-intended tip as symptom of jealousy, a claim that seems far-fetched in light of Haydn's magnanimous disposition. (In fact, the older composer would later eat his words, telling Beethoven's student Ferdinand Ries that "he had not imagined that this trio would be so quickly and easily understood nor so favorably received by the public.") Not only did Beethoven disregard Haydn's advice, he petulantly refused to include the customary acknowledgment of his teacher on the title page of his debut opus. Instead, he opted to curry favor with the aristocracy by dedicating the three trios to a future patron, Prince Karl Lichnowsky.
Beethoven's debt to the older master is apparent in the C-minor Trio's combination of Sturm und Drang turbulence and a quirky, playful spirit that at times borders on impishness. The opening Allegro con brio sets the tone for the work in its explosive energy and air of brooding menace. If the writing for violin and cello falls well within the competency of accomplished amateurs, the piano part presents technical demands of a higher order, reminding us that Beethoven in his mid-twenties had already established himself as one of Europe's leading virtuosos. The bravura element is still more pronounced in the spitfire variations of the Andante cantabile and the tense, intricately interlocking gestures of the Menuetto. In the latter, Beethoven seems to go out of his way to subvert the genre's nominal character: this minuet is more calisthenics than dance. All the Trio's pent-up energy is released in the feverish Finale, which germinates from a stabbing three-note motif that is as arresting, and as packed with musical meaning, as the "fate" motive in Beethoven's Fifth Symphony.

© Harry Haskell, 2022


Antonín Dvořák (1841-1904)
Piano Trio No. 2 in G minor, Op. 26
View Notes
A comparatively late bloomer, Dvořák was in his early 30s when he first made his mark in his native Bohemia. Until then his reputation had barely penetrated beyond the city limits of Prague, where he eked out a modest living as a piano teacher and church organist. A few of his songs and chamber works had been performed locally, and his comic opera King and Charcoal Burner had been well received at the city's Czech-language opera house. But Dvořák's career didn't really take off until the imperial Austrian government awarded him a much-needed stipend in 1875. In addition to providing a measure of financial security for the composer and his growing family, the prestigious prize brought him to the attention of Brahms, who proceeded to write a glowing recommendation to his own publisher in Berlin. Dvořák "has written all manner of things: operas (Czech), symphonies, quartets, piano pieces," Brahms told Fritz Simrock in 1877. "In any case, he is a very talented man." Soon the obscure Czech composer was inundated with so many requests for compositions that he had trouble keeping up with them.
Among the works Dvořák produced in this first flush of celebrity was the second of his four extant piano trios. Completed in January 1876, the Trio in G minor is less well known than the F-minor Trio of 1883 or the ever-popular "Dumky" Trio of 1891. But the fact that it followed Dvořák's debut in the genre by less than a year (not counting a pair of earlier trios that he apparently destroyed) suggests he found the combination of piano, violin, and cello a congenial medium for expressing his growing interest in Czech folk music, as evidenced in works like the song cycle Moravian Duets. The Trio's elegiac G-minor tonality, and the bittersweet lyricism of the slow movement in particular, have led some listeners to associate it with the death of the Dvořáks' newborn daughter in August 1875. (Twenty years earlier, the composer's senior compatriot Bedřich Smetana had written a piano trio in the same key in an explicit response to his four-year-old daughter's death from scarlet fever.) Yet the overall impression the music makes is anything but funereal.
The Allegro moderato opens with a pair of boldly annunciatory chords, followed by a languid melody that trails off in a faster rippling figure. These three contrasting ideas are the basic building blocks of a movement that displays Dvořák's gift for folk-like lyricism, subtle rhythmic modulations, and sophisticated thematic development. The E-flat-major Largo is similarly economical, elaborating as it does on a simple arching motif in a distinctly Schubertian mode. (Dvořák especially admired Schubert's two piano trios, calling them "among the very best of their kind in all musical literature.") The manic intensity of the Scherzo, a vigorous triple-time dance in G minor, is tempered by the graceful lilt of the movement's major-key Trio section, while the bravura Finale evinces a sturdy Schumannesque spirit, including a brief passage of fugal writing.
© Harry Haskell, 2022
Franz Schubert (1797-1828)
Piano Trio in B-flat major, D. 898
View Notes
Schubert's genius as a composer of art songs manifested itself while he was still in his teens. But in other genres—notably the symphony and chamber music—he struggled to cast off the weight of tradition (as represented above all by Haydn, Mozart, and Beethoven) and embrace the new freedom of the Romantic style. Schubert's two mature piano trios are a case in point. His first essay in the medium, a short and rather commonplace student piece written in 1812, was all but unknown until the manuscript came to light in the 1920s. Why the composer lost interest in writing for the popular (and highly marketable) combination of piano, violin, and cello is a mystery. At any rate, it was only in the last year of his life that Schubert produced the two great piano trios that cemented his reputation as Beethoven's peer in the realm of chamber music: the Trio in B-flat major, D. 898, and the Trio in E-flat major, D. 929.
Little is known about the genesis of the B-flat-major Trio, which in Schubert's lifetime was eclipsed by its sequel. The score wasn't published until eight years after the composer's death, and scholars long believed that neither Schubert nor his contemporaries actually heard it performed. Research by Eva Badura-Skoda and others, however, suggests that D. 898 was premiered on December 26, 1827, in the music hall of the Gesellschaft der Musikfreunde (Music Lovers' Society) in Vienna, the same venue where the E-flat-major Trio would receive its first airing three months later. Both works appear to have been written for the Czech pianist Karl Maria von Bocklet, whose virtuosity far outshone Schubert's modest keyboard technique. He was joined by the violinist Ignaz Schuppanzigh and the cellist Josef Linke in what Schubert described as an "admirably executed" performance.
Robert Schumann's comparison of Schubert's twin masterpieces is typically insightful: "The first movement, which in the [E-flat-major Trio] is inspired by deep indignation as well as boundless longing, is graceful and virginal in the one before us [the B-flat-major Trio]. The adagio, there a sigh tending to swell to anxiety, is here a happy dream, a rising and falling of genuine feeling…. In a word, the Trio in E-flat major is more spirited, masculine, and dramatic; this one is more passive, lyric, and feminine." From our perspective, the two trios do in fact have much in common, starting with the marked similarity between the exuberantly annunciatory openings of their first movements. There is in both works the same restless toggling between light and shadow, lyricism and drama, impetuosity and repose. The slow movement of the B-flat-major Trio, with its impassioned middle section driven by agitated syncopations, has a bittersweet radiance that even Schubert seldom surpassed. The Trio section of the Scherzo is delicate, almost submissive, while the rollicking, rondo-form finale is characterized by propulsive dotted rhythms, sharp dynamic contrasts, and ethereal fluttering effects.

© Harry Haskell, 2022
Program Subject to Change Without Notice