Sunday, April 23, 2023 | 5:30 pm
Piotr Anderszewski, piano
The Sidney & Charlton Friedberg Concert
Location: Shriver Hall
"One of the most revered pianists today, and one of the most delightfully unpredictable" (NPR), Hungarian pianist Piotr Anderszewski returns to Baltimore for the first time in 10 years in a program featuring Beethoven's Op. 110, a transcendent work of emotional richness and great humanity. "Every time Anderszewski plays Op. 110, his performance seems even more coherent, more perfect; it's an exceptional experience" (The Guardian).
"There was absolutely nothing routine about Anderszewski's dizzying reading of Beethoven" —The Guardian
About the sponsor
A young girl with dreams of being a singer, Charlton Friedberg began singing at Peabody at age 14 but gave up her pursuit by the time she reached the age of 20. Music was a part of her life from then on. "I can't do without it," she says. "It rounds off the tensions and the vicissitudes of life." Introduced to chamber music by husband Sidney, Mrs. Friedberg spent many summers at Marlboro, VT, where she "really came to love it." Charlton's gift in 2002 endows an annual concert named for her and her late husband, music lovers and supporters for many years. Mrs. Friedberg served as a member of the Board of the Directors of the Chamber Music Society of Baltimore for more than ten years. She now divides time among her homes in Cross Keys, Pennsylvania, and Florida.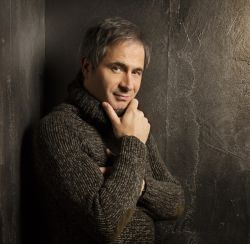 Piotr Anderszewski
Piotr Anderszewski is regarded as one of the most prominent pianists of his generation and appears regularly in all of the world's major concert halls. His collaborations with orchestra have included appearances with the Berlin Philharmonic, the London and Chicago Symphony Orchestras, the Royal Concertgebouw Orchestra and the Deutsche Kammerphilharmonie Bremen, which he also conducted from the piano. Recitals have taken him to the Barbican Center in London and the Royal Festival Hall, the Konzerthaus in Vienna, Carnegie Hall and the Elbphilharmonie in Hamburg.
His recordings include Beethoven's Diabelli Variations, which received the Choc du Monde de la Musique; the Grammy nominated Bach Partitas 1, 3 and 6 as well as a recording with works by his countryman Karol Szymanowski. His album with solo works by Schumann received two BBC Music Magazine Awards in 2012, including the Recording of the Year. His recording of Bach's English Suites 1, 3 and 5 received the Gramophone Award for best instrumental album in 2015. After the solo album "Fantaisies" with works by Mozart and Schumann in February 2017, the Mozart Piano Concertos No. 25 & 27 with the Chamber Orchestra of Europe was recorded in January 2018. Then in 2021, his interpretation of J. S. Bach's Well-Tempered Clavier Book 2 was awarded the Gramophone Classical Music Award.
Recognized for the intensity and originality of his interpretations, Piotr Anderszewski has been a recipient of several high-profile awards over the course of his career, including the prestigious Gilmore Award, which is presented every four years to a pianist of exceptional talent.
The director Bruno Monsaingeon shot two award-winning documentaries about him for ARTE. The first, from 2001, sheds light on Anderszewski's special relationship to the Diabelli Variations, while the second, "Piotr Anderszewski, Traveler Without Rest" (2008) is an artist portrait and reflects Anderszewski's thoughts on music, concert activities and his Polish-Hungarian roots. A third documentary by Monsaingeon, "Anderszewski plays Schumann" was shot for Polish television in 2010.
In autumn 2021, Piotr Anderszewski focused on twelve Preludes and Fugues from J.S. Bach's Well-Tempered Clavier, Volume II. Warner released a recording of these works in early 2021, and Anderszewski performed them in recital in Berlin, Munich, Milano, Tokyo and Seoul. He also performed play-direct programs with the Chamber Orchestra of Europe, the Kioi Chamber Orchestra Tokyo and the Svetlanov Symphony Orchestra in Moscow. His website is anderszewski.net.
"Anderszewski plays with a smiling elegance and takes the audience on a vast emotional journey…miraculous in its combination of poetry and logic." —The Guardian
Johann Sebastian Bach (1685-1750)
Partita No. 6 in E minor, BWV 830
View Notes
Bach showed a serious and sustained interest in the dance-based instrumental suite throughout his career. It was characteristic of his methodical approach to composition that he used the form both as an organizational device and as a pedagogical tool. This systematic mindset is most clearly shown in his monumental Clavier-Übung, or "Keyboard Practice," a wide-ranging survey of contemporary keyboard styles, genres, and techniques. Published in four installments between 1731 and 1741, it gave Bach an opportunity to display his prowess as composer and performer alike. The first volume, which he self-published as his opus 1, consisted of six Partitas (sometimes called German Suites) for single-manual harpsichord. Subsequent volumes focused on music for the organ and double-manual harpsichord, including the Italian Concerto, French Overture, and Goldberg Variations.
Among Bach's greatest works in suite form, the six Partitas make considerably greater demands, on both player and listener, than, say, his earlier French Suites. Indeed, the composer and critic Johann Mattheson cautioned that "anyone who ventured to read them off at sight would be undertaking something very foolhardy, thinking that with his juggler's tricks he could impose on his listeners' credulity." Nevertheless, Bach disarmingly advertised the Partitas on the title page as "galanteries, composed for music lovers, to refresh their spirits." It was in this spirit that he had presented a copy of the first Partita to his former employer, Prince Leopold of Anhalt-Cöthen, to mark the birth of the heir to the throne in 1726.
In the early 18th century, the terms suite and partita (which translates as "little part" or "division") both described a set of stylized instrumental dances, usually including a stately allemande, a vivacious courante, a broadly lyrical sarabande, and a bouncy gigue. (Like most musicians of the time, Bach used Italian, French, and German terminology interchangeably, hence the variant titles allemanda and corrente.) To these basic ingredients might be added a variety of other courtly or popular dances, as well as expository preludes, quasi-improvisatory fantasias, and other movements of a less explicitly dance-like character.
Bach prefaces the E-Minor Partita with a lengthy Toccata, a free, fantasia-like piece intended to show off the harpsichordist's virtuosity as well as the composer's contrapuntal skill. The other six movements, each distinguished by a characteristic rhythmic pattern, never stray far from their origins as courtly dances. The majestic and richly melodious Allemanda is followed by an invigorating Corrente, in springy triple meter; an unpretentious Air, as chaste and transparent as one of Bach's two-part Inventions; a Sarabande, replete with decorous flourishes and imaginative ornamentation; a high-stepping Tempo di gavotta, blending duple and triple rhythms in a yeasty mix; and, rounding the suite off, a skipping, intricately fugal Gigue.

© Harry Haskell, 2023
Karol Szymanowski (1882-1937)
Selections from Twenty Mazurkas, Op. 50
View Notes
Karol Szymanowski has long been revered as one of Poland's musical treasures, a worthy successor to Chopin and a beacon to avant-garde composers like Krzysztof Penderecki and Witold Lutosławski who came of age after World War II. In his best-known works—including the opera King Roger, the Third Symphony ("The Song of the Night"), Mythes for violin and piano, and dozens of songs—Szymanowski coupled a strong lyrical sensibility with an impressive stylistic range. The pronounced strain of German Romanticism in his early music gave way to a colorfully impressionistic idiom nourished by the music of Debussy, Ravel, and Scriabin, and later to a pithier, more "nationalistic" style influenced by Bartók, Stravinsky, and Janáček. A distinguished concert pianist, Szymanowski traveled widely in the two decades before he became director of the Warsaw Conservatory in 1927. Although his administrative duties inevitably impinged on his work as composer and performer, he welcomed the opportunity to mold a new generation of Polish composers.
Published serially between 1926 and 1931, Szymanowski's Op. 50 Mazurkas illustrate the creative renewal sparked by his discovery of the folk music of Poland's Tatra Mountains in the early 1920s. Closer to home was the model of Chopin's 60-odd piano mazurkas, with their characteristically transparent textures formed by a lyrical descant voice floating above a hypnotically droning bass. As in his other late works, Szymanowski fused traditional elements of melody, harmony, and rhythm with his own distinctive brand of modernism. In overlaying the mazurka's triple-time pulse with the duple meter of Tatra folk dances, he invested his music with exceptional rhythmic complexity and dreamlike freedom. At same time, he updated Chopin's language by employing whole-tone and other "exotic" scales, harmonies poised on the cusp between tonality and atonality, and mordents and other embellishments drawn from the lexicon of Slavic folk musics. His goal, Szymanowski explained, was to create an authentically Polish musical style "in which there is not one jot of folklore."
© Harry Haskell, 2022
Anton Webern (1883-1945)
Variations, Op. 27
View Notes
Of the triumvirate of Austrian modernist composers who made up the so-called Second Viennese School—Arnold Schoenberg, Anton Webern, and Alban Berg—Webern was the most singleminded in his pursuit of a radically stripped-down musical language, purged of the lushness and long-windedness associated with 19th-century Romanticism. The definitive break came in 1908, the year Webern's formal studies with Schoenberg ended. From then on he concentrated on refining his spare, aphoristic style in a series of works that are radical not only in their extreme brevity, but also in their implicit rejection of the harmonic laws that had governed Western art music for centuries. Webern embraced Schoenberg's twelve-tone method of composition, based on "tone rows" comprised of the twelve notes of the chromatic scale. After his accidental death in 1945, at the hands of an American soldier, his music and ideas came to exert a powerful influence on the post-World War II avant garde.
Although Webern's Op. 27 Variations of 1936 take only about six minutes to play, the music has long generated intense debate among analysts and performers alike. Even the work's title is open to interpretation: only the last of the three movements (the first in order of composition) is a set of variations on a twelve-tone row presented in the opening bars; Webern later combined it with two other short pieces to form, in his words, "a kind of suite." Terminology aside, for the average listener the rigorous twelve-tone structure of the Variations is less important—and definitely less audible—than the nuances of timbre, attack, pedaling, and tempo that contribute to the music's pointillistic delicacy and subtly expressive lyricism. What the composer Ernst Krenek called Webern's "cool, self-sufficient world of abstract forms" is only one side of the coin; the other is what the composer himself described as the Variations' "cool, passionate poetry."
© Harry Haskell, 2022
Ludwig van Beethoven (1770-1827)
Sonata No. 31 in A-flat major, Op. 110
View Notes
The Beethoven who took Vienna by storm in late 1792, a year after Mozart's death, was a cocky young tyro bursting with talent, confidence, and ambition. He dazzled audiences with his no-holds-barred approach to the keyboard, which wreaked havoc on the light-framed Viennese fortepianos of the day. Beethoven's first three piano sonatas, the Op. 2 set of 1796, followed hard on the heels of his Op. 1 Piano Trios, in which the 26-year-old composer boldly declared his independence as a creative artist. By the time he wrote the last of his 32 piano sonatas, in the early 1820s, he was no longer a young lion but an aged warrior, battered by illness and emotional trauma. Finding social intercourse increasingly difficult on account of his deafness, the composer turned inward; his Sonatas Opp. 109, 110, and 111 are much given to soul searching.
In 1817 Beethoven received a six-octave Broadwood piano as a gift from the English manufacturer. Although he was too deaf to appreciate the instrument's expanded tonal and dynamic range, his music reveals a similar expansion of musical boundaries, as evidenced by the mighty "Hammerklavier" Sonata, Op. 106 of 1818 and its three sequels. Like many of Beethoven's late-period works, the Sonata in A-flat major juxtaposes passages of great tenderness and lucidity with lacerating eruptions of raw energy and emotion. How, and how much, the composer's deafness affected his music and outlook on life is to some degree a matter of conjecture, but there is no mistaking the inwardness of these extraordinary works, with their radical discontinuities, far-flung tonal relationships, and bold reconfigurations of musical time and space.
The first movement of the Op. 110 Sonata is a study in contrasts: between leisurely melodies and fast, rippling arpeggios, major-key innocence and minor-key angst, placid chordal passages and billowing crescendos. Beethoven's tonal scheme becomes increasingly adventurous and unpredictable as the scherzo-like Allegro molto in F minor leads, by way of a quietly ruminative Adagio, to a poignant "Song of Lament" in A-flat minor. The throbbing triplet accompaniment conveys a sense of urgency; then, suddenly, the momentum dissipates and a soft, unadorned melody—a sequence of ascending fourths—sounds out in the home key, signaling the start of the Sonata's climactic fugue. The finale proceeds for a while in familiar, almost textbook contrapuntal fashion until the lament returns, this time in the remote key of G minor. After it, too, runs its course, Beethoven neatly pivots to G major, brings back the subject of the fugue in inverted form (with descending fourths), and beats a tonally circuitous path back to the safe harbor of A-flat major.
© Harry Haskell, 2022
Program Subject to Change Without Notice