Sunday, May 14, 2023 | 5:30 PM
Imani Winds
The Mity Clarke Gann Memorial Concert & The David & Barbara Rodbell Kornblatt Commissioning Fund
Location: Shriver Hall
Celebrating 25 years of music-making, the Grammy-nominated Imani Winds has led both a revolution and evolution of the wind quintet. Hailed as "dazzling" and "exhilarating" by The Washington Post, the Quintet's program draws from its acclaimed album Bruits, bringing together works spanning the last 100 years from Brazilian composer Heitor Villa-Lobos to a world premiere by Sphinx Medal of Excellence recipient Carlos Simon.
"the ensemble's hot rapport churns with conviction throughout…" – Gramophone
About the sponsor
Florence Clarke Gann (1909-1995) was known as "Mity" because she was as small as a "mite." The moniker never fit. She had irrepressible energy and an extraordinary love for life. She had a quest for knowledge and enjoyed lively intellectual debate. She loved music, art, good books, and, at age 85, she was still working on her tennis game. Mity's love for music and her piano were important aspects of her life. She played chamber music and was still playing a few weeks before her death. She used to say, "Music is one of the things that always makes me feel good." Mity's legacy is surely one of love for life and for all the beautiful and interesting things in it. She is remembered by this gift of a concert in her memory made in 1996 by her family and friends.
Barbara and the late David Kornblatt always had a passion for contemporary art and the creative process. From 1975 to 1992, Barbara owned an art gallery that specialized in contemporary American painting, sculpture and works on paper, and she helped numerous artists create and sustain lasting careers. Over 50 years ago, David and a partner founded what would become the Kornblatt Company—a real estate development, brokerage, and management firm culminating in the building and management of Saint Paul Plaza. Passionate concertgoers, Barbara joined SHCS's Board of Directors in 1998. Her and David's generous contribution establishing this fund in 2014 enabling SHCS to regularly commission and premiere new works. This gift was made in honor of their parents Harry & Rebecca Kornblatt and Isidore & Sarah Rodbell.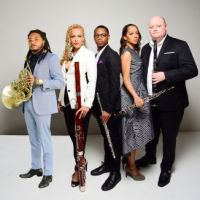 Imani Winds
Brandon Patrick George, flute
Toyin Spellman-Diaz, oboe
Mark Dover, clarinet
Kevin Newton, French horn
Monica Ellis, bassoon

Celebrating over two decades of music making, the twice Grammy nominated Imani Winds has led both a revolution and the evolution of the wind quintet through their dynamic playing, adventurous programming, imaginative collaborations, and outreach endeavors that have inspired audiences of all ages and backgrounds.

The ensemble's playlist embraces traditional chamber music repertoire and, as a 21st century group, Imani Winds is devoutly committed to expanding the wind quintet repertoire by commissioning music from new voices that reflect historical events and the times in which we currently live.

Present and future season performances include a Jessie Montgomery composition inspired by her great-grandfather's migration from the American south to the north; and socially conscious music by Andy Akiho designed to be performed both on the concert stage and in front of immigrant detention centers throughout the country.

Imani Winds regularly performs in prominent international concert venues, including Carnegie Hall, Lincoln Center, The Kennedy Center, Walt Disney Hall, and the Kimmel Center. Their touring schedule has taken them throughout the Asian continent, Brazil, Australia, England, New Zealand, and across Europe.

Their national and international presence includes performances at chamber music series in Boston, New York, Washington D.C., San Francisco, Philadelphia, and Houston. Festival performances include Chamber Music Northwest, Santa Fe Chamber Music Festival, Ravinia Festival, Chautauqua, Banff Centre, and Music from Angel Fire.

Imani Winds' travels through the jazz world are highlighted by their association with saxophonist and composer Wayne Shorter, woodwind artist and composer Paquito D'Rivera and pianist and composer Jason Moran. Their ambitious project, "Josephine Baker: A Life of Le Jazz Hot!" featured chanteuse René Marie in performances that brought the house down in New York, Pittsburgh, San Francisco, Los Angeles, and St. Louis.

Imani Winds' commitment to education runs deep. In 2021 Imani Winds joined the faculty at the Curtis Institute of Music, where they serve as the school's first ever Faculty Wind Quintet. Imani Winds has also served as Resident Artists at Mannes School of Music, and as Ensemble-in-Residence at University of Chicago. The group participates in other residencies throughout the U.S., giving performances and master classes to thousands of students each year. Academic and institutional residencies include Chamber Music Society of Lincoln Center, Duke University, University of Michigan, University of Texas at Austin, Da Camera of Houston, and numerous others across the country. The ensemble launched its annual Imani Winds Chamber Music Festival in 2010, bringing together young instrumentalists and composers from across North America and abroad for exploration and performance of the standard repertoire and newly composed chamber music. Festival participants also take part in workshops devoted to entrepreneurial and outreach opportunities, with the goal of creating the complete musician and global citizen.

In 2021, Imani Winds released their latest album, Bruits on Bright Shiny Things Records which received a 2022 Grammy Award nomination for "Best Chamber Music/Small Ensemble Performance." Gramophone states, "the ensemble's hot rapport churns with conviction throughout…."

Imani Winds has six albums on Koch International Classics and E1 Music, including their 2006 Grammy Award nominated recording, The Classical Underground. They have also recorded for Naxos and Blue Note and released Stravinsky's Rite of Spring on Warner Classics. Imani Winds is regularly featured on all media platforms including NPR, American Public Media, the BBC, SiriusXM, The New York Times, and the Wall Street Journal.
In 2016, Imani Winds received their greatest accolade in their two decades of music making: a permanent presence in the classical music section of the Smithsonian's National Museum of African American History and Culture in Washington D.C.

The group's website is imaniwinds.com.
"the ensemble's hot rapport churns with conviction throughout…" —Gramophone


Mongo Santamaría (1922-2003)
Afro Blue (arr. Valerie Coleman)
View Notes
Jazz percussionist Ramón Santamaría Rodríguez—Mongo Santamaría to his legions of fans—launched his long career as a conga drummer at age 20 at the storied Tropicana Club in his native Havana. After moving to New York in 1950, he teamed up with bandleaders Tito Puentes and Peréz Prado and played a major role in the postwar Latin dance craze that made mambo, rhumba, pachanga, and other Afro-Cuban genres household words in the U.S. Afro Blue, written in 1959, illustrates Santamaría's distinctive fusion of Cuban percussion and elements rooted in West African traditions. Buoyed by a driving rhythmic ostinato, the piece quickly became a jazz standard, taken up by artists ranging from John Coltrane to Robert Glasper. (Its popularity was later eclipsed by Santamaría's Latin-inflected version of Herbie Hancock's Watermelon Man.) Flutist and composer Valerie Coleman, founder of Imani Winds, writes that her arrangement for wind quintet "simulates an African call-and-response ritual and aspires to continue the celebratory tradition that Mongo gave the world."

© Harry Haskell, 2022
Jason Moran (b. 1975)
Cane
View Notes
Jazz pianist and recipient of the prestigious MacArthur "Genius Grant" Fellowship, Jason Moran has often mined the worlds of art and literature for his compositions, which include a sizeable number of film and theater scores. Cane, written in 2008 for Imani Winds, takes its name from the highly experimental 1923 novel by Jean Toomer, a prominent figure in the Harlem Renaissance. Moran describes his four-movement quintet as a musical analogue to Toomer's loosely knit novelistic vignettes of African-American life. A more geographically specific source of inspiration was the land- and soundscapes associated with Louisiana's Cane River where, in the late 1700s, Moran's pioneering Creole ancestor Marie Thérèse Coincoin founded the first church for her fellow free people of color (gens libres de couleur). As Moran explains:
"Cane River runs through the northern town, Natchitoches, that my ancestors made home dating back to the early 1700s. I am interested in the way that multiple periods are brought together within the same timeline, and how they interact not only aesthetically…but based on the contextual factors in which the works were written…setting up historical antipodes that swim towards conflict, then arrive at the possibility of resolution. At this point in my creative life, lineage is a key theme. I feel this on three levels: (1) the aforementioned family lineage, (2) the jazz piano lineage, and (3) the path of American history at large. I have composed pieces that scratch the surface of these ruminations. But I've yet to dig that deep into the resources the southern landscape provides. What awaits me there? A beer at a blues joint, locusts and cicadas, cotton fields, fried chicken, and PLANTATIONS? As a jazz musician, interfacing with stereotypes and expectations is important. As a contemporary musician, sometimes it's about shunning the stereotype and other times it's about playing into the stereotype—magnifying it until it's abstracted."

© Harry Haskell, 2022
Heitor Villa-Lobos (1887-1959)
Trio for Oboe, Clarinet, and Bassoon
View Notes
The Brazilian composer Heitor Villa-Lobos, who wrote in a wide array of genres, is best known for his Bachianas brasileiras, a group of nine suites for various chamber ensembles that infused the forms, harmonies, and procedures of the European Baroque with the spirit of his native land. Villa-Lobos was still eking out a living as a cellist in a movie house orchestra when Artur Rubinstein visited Rio de Janeiro in 1920. Tipped off by friends, the pianist went to the cinema in hopes of meeting the young musician everyone was talking about. "One of the orchestra members, looking around the auditorium during the intermission, noticed me in the audience," Rubinstein recalled. "When the next part began, I heard music that was completely unlike what had been played in the previous part. It was a furious, exotic dance, crazy in its ceaseless rhythmic impulse, extraordinarily colorful, clear in its harmony and instrumentation. I immediately felt a breeze of uncommon talent in this music."

The music that captivated Rubinstein may have been an improvised version of Villa-Lobos' symphonic poem Amazonas, inspired by folk music he had heard on his expeditions in the Brazilian hinterland. Rubinstein became one of Villa-Lobos' greatest champions and was instrumental in securing funding for him to travel to Europe in 1923. (With characteristic bravado, Villa-Lobos announced to the press: "I do not go to France to study. I go to show them what I have done.") A few months later, Rubinstein organized a concert of the Brazilian's works in Paris that included the Trio for Oboe, Clarinet, and Bassoon of 1921. French critics were bowled over. Boris de Schloezer spoke for many of his colleagues when he described Villa-Lobos' works as "music of timbres and also of rhythms. The melodic element is not very prominent and most of the themes boil down to rhythmic formulas or to combinations or oppositions of sonorities; but the metrical diversity and complexity of these works is extraordinary and the play of timbres achieves an exquisite richness and refinement."

Like Villa-Lobos' Noneto of 1923, which had its premiere on the same concert, the Trio combines such modernistic elements as multilayered polyrhythms, tone clusters, and an episodic, mosaic-like structure with colorfully astringent harmonies and shifting, energetic rhythms gleaned from Brazilian folk music. The complex first movement frequently pits two players against one another in intricate cross-rhythms, incorporating recurring dissonances and even onomatopoeic effects. The second movement evokes both the style of French Impressionism and that of a South American dance. With the driving rhythms of the third movement, likely influenced by both his native Brazil and the Ballet Russe works of Igor Stravinsky, Villa-Lobos brings the work to an exhilarating close.
Carlos Simon (b. 1986)
New Work for Wind Quintet (World premiere, SHCS co-commission)
Miguel Del Aguila (b. 1957)
Quintet No. 2
View Notes
Uruguayan-American composer Miguel del Águila considers himself a musical storyteller first and foremost: "I strive to write music that is sincere and that stirs intense emotions in the performer and the listener. Music that expresses my humanity, my times, my geography, and my Latin heritage. Often rhythmically driven and virtuosic, I'm always concerned with its dramatic effectiveness. I don't think in terms of trends or current styles of composition. The story that my music is telling determines its sound and form." Del Águila's stories range from historical events like the collapse of the Inca empire, evoked in his 2009 orchestral work The Fall of Cuzco, to subjective sensations, such as the recurring dream of flight that prompted him to write his 2022 Tango volante for cello and piano.
Despite its non-descriptive title, the Wind Quintet No. 2 of 1994 also has a programmatic subtext, albeit one that is more musical than narrative, much less dramatic. In the composer's words: "The Wind Quintet No. 2 tells the events of a story which takes us to a completely different place in each movement, much the same as would four acts of a theater play. I exploited the nearly unlimited coloristic possibilities of the instruments to obtain unconventional sounds. Harmony and melody are also used to help the instruments create these particular colors. Although I made extensive use of new performance techniques and effects, I avoided making them sound 'new' or obtrusive by blending them with other instruments playing in conventional styles. The first movement suggests primitive ritual of a very distant past. The second is a tropical Caribbean dance. The third suggests the image of death, and the finale turns to a Middle Eastern flavor for a driving conclusion."
© Harry Haskell, 2022
Program Subject to Change Without Notice