Sunday, November 06, 2022 | 5:30 PM
Davóne Tines, bass-baritone
Adam Nielsen, piano
The Yale Gordon Young Artist Concert
Location: Shriver Hall
Davóne Tines, a "singer of immense power and fervor" (Los Angeles Times), is celebrated internationally as a "path-breaking artist at the intersection of many histories, cultures, and aesthetics" (Time Magazine). In this highly original recital, Musical America's Vocalist of the Year for 2022 grounds his program in the Mass, interweaving Bach with contemporary settings that draw on the traditions of art song, spirituals, and gospel.
"Davóne Tines is changing what it means to be a classical singer." —The New Yorker
About the sponsor
Yale Gordon first sponsored a concert by an accomplished young artist in 1978. The following year, his Yale Gordon Foundation made its initial contribution to Shriver Hall Concert Series. The Foundation eventually evolved into The Peggy and Yale Gordon Trust, which has been sponsoring annual Series concerts since 1986. The Yale Gordon Young Artist Concert features soloists or ensembles with great promise in the formative stages of their careers. Many of the artists who debuted at Shriver Hall through this concert have developed or already have international careers. The Board of Directors of the Series is deeply grateful to the Trust and its officials, Phyllis and Louis Friedman, and the late Sidney Sherr and Loraine Bernstein, for their warmly welcomed support and encouragement in making the Yale Gordon programs so successful over the years.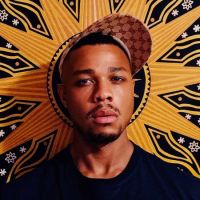 Davóne Tines
Heralded as "[one] of the most powerful voices of our time" by the Los Angeles Times, the "immensely gifted American bass-baritone Davóne Tines has won acclaim, and advanced the field of classical music" (The New York Times) as a path-breaking artist whose work not only encompasses a diverse repertoire but also explores the social issues of today. As a Black, gay, classically trained performer at the intersection of many histories, cultures, and aesthetics, he is engaged in work that blends opera, art song, contemporary classical music, spirituals, gospel, and songs of protest, as a means to tell a deeply personal story of perseverance that connects to all of humanity.
Mr. Tines was recently named Musical America's 2022 Vocalist of the Year. He is artist-in-residence at Michigan Opera Theatre—an appointment that culminates in his performance in the title role of Anthony Davis' X: The Life and Times of Malcolm X in the spring of 2022—and Philharmonia Baroque Orchestra & Chorale's first-ever Creative Partner. His ongoing projects include Recital No. 1: MASS, a program exploring the Mass woven through Western European, African-American, and 21st-century traditions, with performances this season at the Ravinia Festival, in Washington, DC, and at the Barbican in London. He also performs Concerto No. 1: SERMON—a program he conceived for voice and orchestra that weaves arias by John Adams, Anthony Davis, Igee Dieudonné and Mr. Tines himself, with texts by James Baldwin, Langston Hughes, and Maya Angelou—with the Philadelphia Orchestra and BBC Symphony.
Mr. Tines is a member of American Modern Opera Company (AMOC) and co-creator of The Black Clown, a music theater experience commissioned and premiered by The American Repertory Theater and presented at Lincoln Center. He has premiered works by today's leading composers, including John Adams, Terence Blanchard, and Matthew Aucoin, and his concert appearances include performances of works ranging from Beethoven's Ninth with the San Francisco Symphony to Kaija Saariaho's True Fire with the Orchestre national de France.
Davóne Tines is a winner of the 2020 Sphinx Medal of Excellence, recognizing extraordinary classical musicians of color, and the recipient of the 2018 Emerging Artists Award from Lincoln Center. He is a graduate of The Juilliard School and Harvard University, where he also serves as guest lecturer. His website is alsoanoperasinger.org.
"Tines is as mesmerizing as a singer can be." —Los Angeles Times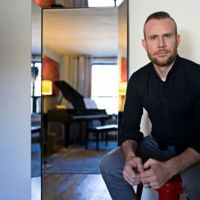 Adam Nielsen
Pianist Adam Nielsen, born in Arco, ID, has served as pianist, coach, chorus master, and assistant conductor for The Juilliard School's Marcus Institute of Vocal Arts since 2011. He coaches song and operatic repertoire and is an advisor to the undergraduate singers. As an opera pianist, he has worked for Harvard's American Repertory Theater, Aspen Opera Theater, Virginia Opera, Brooklyn Academy of Music, The Metropolitan Opera, Richard Tucker Foundation, Opera Theatre of St. Louis, Dallas Opera, and Chicago Lyric and has collaborated with such conductors as Nicola Luisotti, Anthony Walker, Stephen Lord, Gary Wedow, Speranza Scappucci, Emmanuel Villaume, Carolyn Kuan, and Matthew Aucoin.
As a soloist and chamber musician, he has appeared in concert with the St. Louis Symphony, Utah Symphony, Stony Brook Symphony, Fry Street Quartet, A Far Cry, Windscape, and in recital with Andrés Cárdenes, Tamara Mumford, Ryan Speedo Green, Steven LaBrie, Simone Osborne, Davóne Tines, Claire DeSevigne, and Ying Fang. Recital appearances include Carnegie Hall, The Frick Collection, Alice Tully Hall, Ravinia Festival, Abravanel Hall, Aspen Festival, Chicago's Myra Hess Series, and the Vilar Center in Beaver Creek, CO. He has also been a staff pianist with the Steans Institute of the Ravinia Festival and the Heifetz International String Institute. Mr. Nielsen earned degrees in Piano Performance from Utah State University (BM), The Juilliard School (MM), and Stony Brook University (DMA).
Recital #1: Mass
Program Note by Davóne Tines
View Notes
Synopsis:
An exploration of the Mass woven through Western European, African American and 21st Century traditions.

Inspiration: Why a liturgical setting to the recital?
I approached the recital situation with a sort of a phobia, or an allergic reaction to participating in a programming model in which I wasn't fully engaged. Filling in a template with music that checks boxes and doesn't articulate my own feelings and experience in an explicit way. I think this idea of explicit context is critical: in order to perform well, these things need to be in the front of your mind, for every single note."

As a child, singing was all religious or liturgical and all in a choral setting with close family and friends. Everyone in my family participated in choir. Singing works like Beethoven's Ode To Joy followed by Lauryn Hill's arrangement of Joyful, Joyful, We Adore Thee is a reflection of my actual lived experience with liturgical music. It's comprised of all of these things: early music, Bach, contemporary gospel, and also new music. When you put these seemingly different things together and acknowledge the connections between them, you have to acknowledge that there's something shared among these composers. There's something that is shared among all people. This recital is an opportunity for me to marry all of those flavors together and have that conversation in front of people.

In setting three familiar spirituals, Tyshawn Sorey's task was to break the songs out of the aesthetic that we understand them within, so that the text and the ideas behind the text could become more apparent. I had this realization that many spirituals are essentially code for suicide notes. "Swing Low, Sweet Chariot," for example, is someone begging God to kill them, to "carry me home." The poet Langston Hughes, in his time, directly connected to the possibility of these spirituals being suicidal, and I really want to show audiences another side of these songs. I think a lot of times spirituals are misunderstood, heard as happy songs or praising the Lord. But these are songs created by people in extraordinary circumstances, and they're amazing, metaphorical expressions of real faith.

The order of the mass I'm using here, and which Caroline Shaw has followed in her miniature mass, accords with my own understanding of a spiritual journey. I'm basically queering the mass. Queering in the broad sense of bending it to my own understanding. Beginning with the Kyrie, which begs for mercy, and then the Agnus Dei, which represents the possibility for change, but only through death. There's the affirmation of the Credo and the exaltation of the Gloria, with Bach's "Quia Fecit," which is so full of ecstatic wonder and excitement. The Sanctus is a moment of meditation and then the Benedictus has this very simple text, "Where there is darkness, he will bring light." That's the entire recital right there: Present the darkness and show the change into light.
(Adapted from an interview with journalist Fergus McIntosh.)
Caroline Shaw (b. 1982)
Kyrie
Johann Sebastian Bach (1685-1750)
Wie jammern mich doch die verkehrten Herzen, BWV 170
Caroline Shaw (b. 1982)
Agnus Dei
Tyshawn Sorey (b. 1980)
Songs for Death: after Were You There
Margaret Bonds (1913-1972)
To a Brown Girl Dead
Tyshawn Sorey (b. 1980)
Songs for Death: after Swing Low
Caroline Shaw (b. 1982)
Credo
Johann Sebastian Bach (1685-1750)
Mache dich, mein Herze, rein, BWV 244
Caroline Shaw (b. 1982)
Gloria
Traditional (arr. Moses Hogan)
Give Me Jesus
Caroline Shaw (b. 1982)
Sanctus
Julius Eastman (1940-1990)
Prelude to The Holy Presence of Joan d'Arc
Igee Dieudonné / Davóne Tines (b. 1991 / b. 1986)
VIGIL
Program Subject to Change Without Notice