Saturday, March 30, 2024 | 3:00 pm
Isidore String Quartet (Baltimore Debut)
Location: Baltimore Museum of Art
Following its momentous win at the 2022 Banff International String Quartet Competition, the Isidore String Quartet impresses with its "focus and command beyond its years…[and its] sweeping coherence and blazing virtuosity" (Violinist.com). The Quartet performs beloved works by Mozart and Mendelssohn, and a 2012 quartet by Billy Childs, one of music's most versatile composers at home in both the jazz and classical genres.
Venue: Baltimore Museum of Art
Suggested Donation: $10; General Seating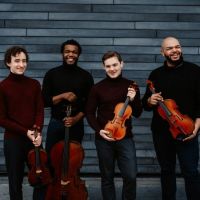 Isidore String Quartet (Baltimore Debut)
Adrian Steele, violin
Phoenix Avalon, violin
Devin Moore, viola
Joshua McClendon, cello

Winners of the 14th Banff International String Quartet Competition in 2022, the New York City-based Isidore String Quartet was formed in 2019 with a vision to revisit, rediscover, and reinvigorate the repertory. The group is heavily influenced by the Juilliard String Quartet and the idea of "approaching the established as if it were brand new, and the new as if it were firmly established."
The members of the Quartet began as an ensemble at The Juilliard School, and following a break during the global pandemic reconvened at the Kneisel Hall Chamber Music Festival in the summer of 2021 under the tutelage of Joel Krosnick. In addition to Mr. Krosnick, the ISQ has coached with Joseph Lin, Astrid Schween, Laurie Smukler, Joseph Kalichstein, Roger Tapping, Timothy Eddy, Donald Weilerstein, Atar Arad, Robert McDonald, Christoph Richter, Miriam Fried, and Paul Biss, while performing in venues such as Alice Tully Hall, the Kennedy Center, and at the Ravinia Festival.
Its Banff triumph brings extensive tours of North America and Europe, a two-year appointment as the Peak Fellowship Ensemble-in-Residence at Southern Methodist University in Dallas beginning in 2023-24, performances at Haydn Hall in Eisenstadt (in spring 2023) and the Lucerne Festival, plus a two-week residency at Banff Centre including a professionally produced recording, along with extensive ongoing coaching, career guidance, and mentorship.
The Isidore Quartet's 2022-23 season features debut appearances in Pittsburgh, PA; Durham, NC; Burlington, VT; Kalamazoo, MI; Evanston, IL; San Antonio, TX; Laguna Beach, CA (with pianist Jeremy Denk and violinist Stefan Jackiw); and Seattle, WA (with violinist James Ehnes). ISQ returns to Washington's Kennedy Center as part of the Fortas Chamber Music Concert Series, and will also perform for Schneider Concerts at the Mannes School of Music. In Europe it performs at Esterhazy Palace in Austria, and spends time at the Britten Pears Arts Institute.
ISQ is working as a resident ensemble with PROJECT: MUSIC HEALS US providing encouragement, education, and healing to marginalized communities – including elderly, disabled, rehabilitating incarcerated and homeless populations – who otherwise have limited access to high-quality live music performance. An ensemble actively dedicated to pushing the boundaries of music-making, ISQ is the resident ensemble for the Contemporary Alexander School/Alexander Alliance International. In conjunction with those well-versed in the world of Alexander Technique, as well as other performers, ISQ explores the vast landscape of body awareness, mental preparation, and performance practice.
The name Isidore recognizes the ensemble's musical connection to the Juilliard Quartet: one of that group's early members was legendary violinist Isidore Cohen. Additionally, it acknowledges a shared affection for a certain libation – legend has it a Greek monk named Isidore concocted the first genuine vodka recipe for the Grand Duchy of Moscow! The group's website is www.isidorestringquartet.com.
"Powerhouse new ensemble. Invigorating. Intoxicating. The new face of outstanding chamber music." —The Violin Channel
Wolfgang Amadeus Mozart (1756-1791)
String Quartet in C major, K. 465
View Notes
One of Mozart's most extraordinary chamber works, the String Quartet in C major, takes its nickname, and much of its intermittently gloomy character, from the stinging dissonances in the short introduction to the first movement. K. 465 is the last of the six "Haydn" Quartets that Mozart presented to his revered mentor in 1785 with a conventionally fulsome but nonetheless sincere dedication: "Your good opinion encourages me to offer these to you and leads me to hope that you will not consider them wholly unworthy of your favor." Haydn had expressed his own esteem for Mozart in no uncertain terms after attending a private performance of the quartets in Vienna earlier that year; it was on that occasion that he famously remarked to Leopold Mozart that "your son is the greatest composer known to me either in person or by name. He has taste and, what is more, the most profound knowledge of composition."
Haydn's unreserved approbation reportedly did not extend to the C-major Quartet's harmonically unorthodox prelude. Although the level of dissonance sounds tame enough to modern ears—indeed, Mozart's searching, amorphous harmonies are scarcely more daring than those that Haydn himself would use a dozen years later to depict primordial chaos in his oratorio The Creation— audiences in the late 18th century found the opening Adagio sufficiently abrasive to provoke one indignant critic to attack the passage as "barbarous." Others went so far as to recompose the first few bars of the quartet, in an earnest attempt to correct Mozart's "mistakes." As the composer's early 20th-century biographer Hermann Abert observed, "An age that saw in Mozart only an out-and-out optimist simply did not know where to begin with this adagio. But the Mozart with whom we are dealing here was anything but an optimist…. The idea that finds expression here is not merely that of a storm that blows over and cleans the air. Rather, it is the basic mood of the work as a whole, the image of a mind weighed down by gloomy forebodings and attempting to come to terms with the emotional pressure that it feels."
Many listeners would agree with Abert that an undercurrent of foreboding, even angst, flows beneath much of the C-major Quartet's sunny surface. It can be felt in the ambiguous and frequently elusive tonality, in the restless profusion of thematic material, and above all in the wide, angular melodic leaps that characterize the last two movements in particular. Against all this must be counted the serene equanimity of the first-movement Allegro, the relaxed, aria-like lyricism of the Andante cantabile, and the irrepressible playfulness of the final Allegro molto. Mozart's genius was capacious. As arresting as they may be, the first 22 bars of the "Dissonance" Quartet are far from the whole story.
© Harry Haskell, 2023
Billy Childs (b. 1957)
String Quartet No. 2, "Awakenings"
View Notes
In 1957, the year Billy Childs was born, Gunther Schuller coined the term "Third Stream" to describe "a new genre of music located about halfway between jazz and classical music." Although Childs doesn't identify himself as a Third Stream composer, much of his music is characterized by a fruitful cross-fertilization of jazz and classical elements. A lifelong resident of Los Angeles, he imbibed southern California's diverse musical culture, centered on its vibrant studio scene, from childhood. "If you're [a classical musician] in a studio, you have to be able to play with a drum set, you have to be able to play with a click track," Childs recently told Downbeat magazine. "You have to be able to play different genres of music. So, there's more interaction between the genres. And it makes it easier for someone like me, who's a composer, to create music that combines genres. There's no attitude, from either side, about [the music being] too classical or too jazzy. I grew up with that ethos, and I was able to experiment and learn a lot about combining genres."
As a precocious teenage pianist, Childs fell in love with Hindemith's symphony Mathis der Mahler and decided to study composition at the University of Southern California. By the time he graduated in 1979, he was already playing professionally with the likes of jazz trumpeter Freddie Hubbard and trombonist J.J. Johnson (a notable proponent of the Third Stream movement). As a result, he felt as much of a rapport with Keith Emerson and Herbie Hancock as with Maurice Ravel and Igor Stravinsky, a broadmindedness that also came to inform his work as the leader of jazz combos. "I started to look at the jazz ensemble as a kind of chamber ensemble, where piano, bass, drums, and saxophone function kind of in the same spirit as a string quartet might—where everything's interdependent," Childs explains. Over time, his early fame as a jazz pianist, composer, and arranger was accompanied by a growing catalogue of symphonies, concertos, sonatas, and other compositions in a more or less classical vein.
Written in 2012, the second of Childs's three string quartets—commissioned by the Ying Quartet, as was his later piano quartet The River, the Bird, and the Storm—is steeped in the expressionist sound worlds of Bartók and Schoenberg. (His specific model for this powerfully emotional work was Janáček's String Quartet No. 2 of 1928, a musical portrait of the Czech composer's love affair with a much younger woman.) Like Childs's pandemic-related Violin Concerto No. 2 of 2020, the three movements record an emotional response to a personal tragedy. The title of the first movement, "Wake-up Call," alludes to a traumatic early-morning phone call the composer received from his wife in a hospital ICU, where she was recovering from a pulmonary embolism. "The White Room" of the second movement is a hospital room, a place of eerie, monotonous blips and endless waiting, while the "Song of Healing," built around a rapturous duet for first violin and cello, speaks to the couple's hard-won recovery. Seen in that light, Childs's quartet traces a journey from literal "awakening" to a new life.
© Harry Haskell, 2023
Felix Mendelssohn (1809-1847)
String Quartet in E-flat major, Op. 44, No. 3
View Notes
In the late 1830s, Mendelssohn was nearing the peak of his fame and prowess. He was in demand throughout Europe not only as a composer but as a conductor, pianist, and administrator as well. As music director of the Leipzig Gewandhaus since 1835, he had built the resident orchestra into one of Europe's most highly esteemed ensembles and persuaded the renowned virtuoso Ferdinand David to serve as its concertmaster. (David would participate in the premieres of many of Mendelssohn's works, including the Op. 44 String Quartets and the great Violin Concerto in E minor.) In addition to conducting the orchestra's regular season of 20 subscription programs, Mendelssohn organized a series of popular chamber music concerts at the Gewandhaus, for which he composed a number of pieces, including the Quartet in E-flat major.
In the summer of 1837, newly married and buoyed by the recent success of his oratorio St. Paul, Mendelssohn turned his attention back to chamber music after a hiatus of several years. Over the next 13 months he wrote no fewer than three string quartets, grouped together as Op. 44, Nos. 1-3 and dedicated to Crown Prince Oscar of Sweden and Norway, a notable patron of the arts and a personal friend of the composer. It was a typically productive period for the chronically hyperactive Mendelssohn. In early June he led some 700 musicians in a "monster" performance of Handel's oratorio Joshua in Cologne. Upon returning home to Berlin, he immediately immersed himself in writing the Quartet in E minor, Op. 44, No. 2. The first of the Op. 44 set, in D major, was the last in order of composition, dating from July 1838. In between came Op. 44, No. 3, which the 29-year-old composer finished on Feb. 6, 1838, the day before the birth of his first son. David's ensemble premiered it in the Gewandhaus two months later.
The opening Allegro vivace is the longest of Mendelssohn's quartet first movements, despite the finely chiseled concision of its thematic material. The energetic upbeat figure that the first violin presents at the very beginning recurs again and again, imparting a giddy momentum to the music that is intermittently tempered by contrasting episodes of flowing lyricism. The second movement, in C minor, is a typically fleet-footed Mendelssohnian scherzo; its gossamer textures and airy buoyancy recall his incidental music for Shakespeare's Midsummer Night's Dream, although the character of the music is decidedly more demonic than elfin. The warm, hymn-like radiance of the A-flat-major Adagio is suffused with restless urgency, thanks to its chains of pulsating 16th notes and searching chromatic harmonies. The athletic finale, marked con fuoco (with fire), is an action-packed display of sizzling virtuosity that anticipates the bravura passages in Mendelssohn's Violin Concerto.
© Harry Haskell, 2023
Program Subject to Change Without Notice