Saturday, March 30, 2024 | 3:00 pm
Isidore String Quartet (Baltimore Debut)
Location: Baltimore Museum of Art
Following its momentous win at the 2022 Banff International String Quartet Competition, the Isidore String Quartet impresses with its "focus and command beyond its years…[and its] sweeping coherence and blazing virtuosity" (Violinist.com). The Quartet performs beloved works by Mozart and Mendelssohn, and a 2012 quartet by Billy Childs, one of music's most versatile composers at home in both the jazz and classical genres.
Venue: Baltimore Museum of Art
Suggested Donation: $10; General Seating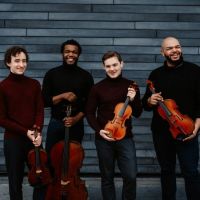 Isidore String Quartet (Baltimore Debut)
Adrian Steele, violin
Phoenix Avalon, violin
Devin Moore, viola
Joshua McClendon, cello

Winners of the 14th Banff International String Quartet Competition in 2022, the New York City-based Isidore String Quartet was formed in 2019 with a vision to revisit, rediscover, and reinvigorate the repertory. The group is heavily influenced by the Juilliard String Quartet and the idea of "approaching the established as if it were brand new, and the new as if it were firmly established."
The members of the Quartet began as an ensemble at The Juilliard School, and following a break during the global pandemic reconvened at the Kneisel Hall Chamber Music Festival in the summer of 2021 under the tutelage of Joel Krosnick. In addition to Mr. Krosnick, the ISQ has coached with Joseph Lin, Astrid Schween, Laurie Smukler, Joseph Kalichstein, Roger Tapping, Timothy Eddy, Donald Weilerstein, Atar Arad, Robert McDonald, Christoph Richter, Miriam Fried, and Paul Biss, while performing in venues such as Alice Tully Hall, the Kennedy Center, and at the Ravinia Festival.
Its Banff triumph brings extensive tours of North America and Europe, a two-year appointment as the Peak Fellowship Ensemble-in-Residence at Southern Methodist University in Dallas beginning in 2023-24, performances at Haydn Hall in Eisenstadt (in spring 2023) and the Lucerne Festival, plus a two-week residency at Banff Centre including a professionally produced recording, along with extensive ongoing coaching, career guidance, and mentorship.
The Isidore Quartet's 2022-23 season features debut appearances in Pittsburgh, PA; Durham, NC; Burlington, VT; Kalamazoo, MI; Evanston, IL; San Antonio, TX; Laguna Beach, CA (with pianist Jeremy Denk and violinist Stefan Jackiw); and Seattle, WA (with violinist James Ehnes). ISQ returns to Washington's Kennedy Center as part of the Fortas Chamber Music Concert Series, and will also perform for Schneider Concerts at the Mannes School of Music. In Europe it performs at Esterhazy Palace in Austria, and spends time at the Britten Pears Arts Institute.
ISQ is working as a resident ensemble with PROJECT: MUSIC HEALS US providing encouragement, education, and healing to marginalized communities – including elderly, disabled, rehabilitating incarcerated and homeless populations – who otherwise have limited access to high-quality live music performance. An ensemble actively dedicated to pushing the boundaries of music-making, ISQ is the resident ensemble for the Contemporary Alexander School/Alexander Alliance International. In conjunction with those well-versed in the world of Alexander Technique, as well as other performers, ISQ explores the vast landscape of body awareness, mental preparation, and performance practice.
The name Isidore recognizes the ensemble's musical connection to the Juilliard Quartet: one of that group's early members was legendary violinist Isidore Cohen. Additionally, it acknowledges a shared affection for a certain libation – legend has it a Greek monk named Isidore concocted the first genuine vodka recipe for the Grand Duchy of Moscow! The group's website is www.isidorestringquartet.com.
"Powerhouse new ensemble. Invigorating. Intoxicating. The new face of outstanding chamber music." —The Violin Channel
Wolfgang Amadeus Mozart (1756-1791)
String Quartet in C major, K. 465
Billy Childs (b. 1957)
String Quartet No. 2, "Awakenings"
Felix Mendelssohn (1809-1847)
String Quartet in E-flat major, Op. 44, No. 3
Program Subject to Change Without Notice