Sunday, April 23, 2023 | 5:30 PM
Piotr Anderszewski, piano
The Sidney & Charlton Friedberg Concert
Location: Shriver Hall
"One of the most revered pianists today, and one of the most delightfully unpredictable" (NPR), Hungarian pianist Piotr Anderszewski returns to Baltimore for the first time in 10 years in a program featuring Beethoven's Op. 110, a transcendent work of emotional richness and great humanity. "Every time Anderszewski plays Op. 110, his performance seems even more coherent, more perfect; it's an exceptional experience" (The Guardian).
"There was absolutely nothing routine about Anderszewski's dizzying reading of Beethoven" —The Guardian
About the sponsor
A young girl with dreams of being a singer, Charlton Friedberg began singing at Peabody at age 14 but gave up her pursuit by the time she reached the age of 20. Music was a part of her life from then on. "I can't do without it," she says. "It rounds off the tensions and the vicissitudes of life." Introduced to chamber music by husband Sidney, Mrs. Friedberg spent many summers at Marlboro, VT, where she "really came to love it." Charlton's gift in 2002 endows an annual concert named for her and her late husband, music lovers and supporters for many years. Mrs. Friedberg served as a member of the Board of the Directors of the Chamber Music Society of Baltimore for more than ten years. She now divides time among her homes in Cross Keys, Pennsylvania, and Florida.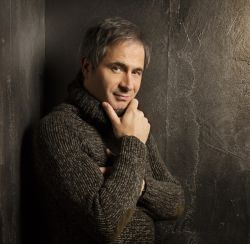 Piotr Anderszewski
Piotr Anderszewski is regarded as one of the most prominent pianists of his generation and appears regularly in all of the world's major concert halls. His collaborations with orchestra have included appearances with the Berlin Philharmonic, the London and Chicago Symphony Orchestras, the Royal Concertgebouw Orchestra and the Deutsche Kammerphilharmonie Bremen, which he also conducted from the piano. Recitals have taken him to the Barbican Center in London and the Royal Festival Hall, the Konzerthaus in Vienna, Carnegie Hall and the Elbphilharmonie in Hamburg.
His recordings include Beethoven's Diabelli Variations, which received the Choc du Monde de la Musique; the Grammy nominated Bach Partitas 1, 3 and 6 as well as a recording with works by his countryman Karol Szymanowski. His album with solo works by Schumann received two BBC Music Magazine Awards in 2012, including the Recording of the Year. His recording of Bach's English Suites 1, 3 and 5 received the Gramophone Award for best instrumental album in 2015. After the solo album "Fantaisies" with works by Mozart and Schumann in February 2017, the Mozart Piano Concertos No. 25 & 27 with the Chamber Orchestra of Europe was recorded in January 2018. Then in 2021, his interpretation of J. S. Bach's Well-Tempered Clavier Book 2 was awarded the Gramophone Classical Music Award.
Recognized for the intensity and originality of his interpretations, Piotr Anderszewski has been a recipient of several high-profile awards over the course of his career, including the prestigious Gilmore Award, which is presented every four years to a pianist of exceptional talent.
The director Bruno Monsaingeon shot two award-winning documentaries about him for ARTE. The first, from 2001, sheds light on Anderszewski's special relationship to the Diabelli Variations, while the second, "Piotr Anderszewski, Traveler Without Rest" (2008) is an artist portrait and reflects Anderszewski's thoughts on music, concert activities and his Polish-Hungarian roots. A third documentary by Monsaingeon, "Anderszewski plays Schumann" was shot for Polish television in 2010.
In autumn 2021, Piotr Anderszewski focused on twelve Preludes and Fugues from J.S. Bach's Well-Tempered Clavier, Volume II. Warner released a recording of these works in early 2021, and Anderszewski performed them in recital in Berlin, Munich, Milano, Tokyo and Seoul. He also performed play-direct programs with the Chamber Orchestra of Europe, the Kioi Chamber Orchestra Tokyo and the Svetlanov Symphony Orchestra in Moscow. His website is anderszewski.net.
"Anderszewski plays with a smiling elegance and takes the audience on a vast emotional journey…miraculous in its combination of poetry and logic." —The Guardian
Ludwig van Beethoven (1770-1827)
Sonata No. 31 in A-flat major, Op. 110
View Notes
The Beethoven who arrived in Vienna in late 1792, a few months after Mozart's death, was a cocky young newcomer bursting with talent, confidence, and ambition. He dazzled audiences with his no-holds-barred approach to the piano, which wreaked havoc on the light-framed Viennese instruments that Haydn was partial to. Anton Reicha bore witness to his elemental force when he assisted Beethoven at a performance of a Mozart concerto in the late 1790s. "He asked me to turn pages for him," the Czech composer recalled. "But I was mostly occupied in wrenching the strings of the pianoforte which snapped, while the hammers stuck among the broken strings. Beethoven insisted on finishing the concerto, and so back and forth I leaped, jerking out a string, disentangling a hammer, turning a page, and I worked harder than Beethoven."
Yet there was a tender, poetic side to Beethoven's pianism as well. Comparing him to another celebrated pyrotechnician of the day, the amateur composer Carl Ludwig Junker wrote that Beethoven had "greater eloquence, weightier ideas, and is more expressive—in short, he is more for the heart." Testimony abounds to Beethoven's prowess as an improviser—a litmus test of musicianship in the 18th and 19th centuries, and a vital element in Beethoven's creative process. His rival virtuoso Joseph Gelinek reportedly exclaimed, "I have never heard anyone play like that! He improvised on a subject that I had given him in a manner that I have not heard even from Mozart." Improvising at the keyboard became even more important after Beethoven's increasing deafness forced him to curtail his performing activity around 1805.
In 1817 Beethoven received a six-octave Broadwood piano as a gift from the English manufacturer. Although he was too deaf to appreciate the instrument's enlarged tonal and dynamic range, his music reveals a similar expansion of musical boundaries, as evidenced by the last four of his 32 piano sonatas, from the mighty "Hammerklavier" Sonata, Op. 106, of 1818 to the hauntingly poetic Sonata in C minor, Op. 111, of 1822. Like much of the music of Beethoven's so-called late period, these works juxtapose passages of great tenderness and lucidity with lacerating eruptions of raw energy and emotion. How, and how much, the composer's deafness affected his music and outlook on life is to some degree a matter of conjecture, but there is no mistaking the profound "inwardness" of these extraordinary sonatas, with their radical discontinuities, far-flung tonal relationships, and bold reconfigurations of musical time and space.
Commissioned by the Berlin publisher Adolph Martin Schlesinger, the Sonata No. 31 in A-flat major dates from 1821, a time when Beethoven was struggling to bring the Missa solemnis and the Ninth Symphony to completion. It's no coincidence that all three of these works feature extended passages of intricate fugal writing. These late-blooming specimens of Beethoven's contrapuntal mastery had their roots in his exposure to Bach's music as a child: the first favorable review he received, at age 11, was for a performance of The Well-Tempered Clavier in his native Bonn. After moving to Vienna, he took lessons in counterpoint from the eminent teacher and theorist Johann Georg Albrechtsberger. In later life, Beethoven came to worship the cantor of Leipzig as "the immortal god of harmony," and a copy of Bach's Art of Fugue was found among the scores in his personal reference library when he died.
The first movement of the Op. 110 Sonata is a study in contrasts: between leisurely melodies and fast, rippling arpeggios, major-key innocence and minor-key angst, placid chordal passages and billowing crescendos. Beethoven's tonal scheme becomes increasingly adventurous and unpredictable as the scherzo-like Allegro molto in F minor leads, by way of a quietly ruminative Adagio, to a poignant "Song of Lament" in A-flat minor. The throbbing triplet accompaniment conveys a sense of urgency; then, suddenly, the momentum dissipates and a soft, unadorned melody—a sequence of ascending fourths—sounds out in the home key, signaling the start of the Sonata's climactic fugue. The finale proceeds for a while in familiar, almost textbook, contrapuntal fashion until the lament returns, this time in the remote key of G minor. After it, too, runs its course, Beethoven neatly pivots to G major, brings back the subject of the fugue in inverted form (with descending fourths), and beats a tonally circuitous path back to the safe haven of A-flat major.
Note by Harry Haskell, © 2018
Additional works to be announced
Program Subject to Change Without Notice