Sunday, June 19, 2022 | 5:30 PM
Pacifica String Quartet
Karen Slack, soprano
The Helen Coplan Harrison Concert; The David & Barbara Rodbell Kornblatt Commissioning Fund
Location: Shriver Hall
The Pacifica Quartet is "nothing short of phenomenal" (The Telegraph), known for its "vibrant, highly charged playing" (NPR). The winners of two Grammy Awards return to SHCS with "the feisty, rich-voiced" (The New York Times) soprano Karen Slack with a new work by Baltimore composer James Lee III, co-commissioned with Carnegie Hall, and a program of string quartets.
The concert is postponed from May 15. All tickets for May 15 will be honored.
About the sponsor
This concert endowment was established in 2002 in honor of longtime Shriver Hall Concert Series Board member Dr. Helen Harrison, a gift by her sons Dr. Stephen Harrison and Dr. Richard Harrison and their families. Helen Harrison joined the Shriver Hall Concert Series Board of Directors in November 1973 at the invitation of founding president Ernest Bueding. Dr. Harrison served as an active and influential member of the Board until 2001, and she was responsible for bringing many new members to the Board, including chair emerita Jephta Drachman. As a scientist, Dr. Harrison shared the prestigious Howland Prize with her husband, Dr. Harold Harrison, for research done at The Johns Hopkins University School of Medicine.

Barbara and the late David Kornblatt always had a passion for contemporary art and the creative process. From 1975 to 1992, Barbara owned an art gallery that specialized in contemporary American painting, sculpture and works on paper, and she helped numerous artists create and sustain lasting careers. Over 50 years ago, David and a partner founded what would become the Kornblatt Company—a real estate development, brokerage, and management firm culminating in the building and management of Saint Paul Plaza. Passionate concertgoers, Barbara joined SHCS's Board of Directors in 1998. Her and David's generous contribution establishing this fund in 2014 enabling SHCS to regularly commission and premiere new works. This gift was made in honor of their parents Harry & Rebecca Kornblatt and Isidore & Sarah Rodbell.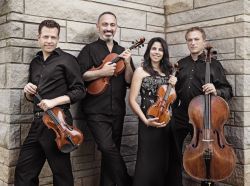 Pacifica Quartet
Simin Ganatra, violin
Austin Hartman, violin
Mark Holloway, viola
Brandon Vamos, cello
Recognized for its virtuosity, exuberant performance style, and often-daring repertory choices, the Pacifica Quartet has achieved international recognition over the past twenty-six years as one of the finest chamber ensembles performing today. Formed in 1994, the Quartet quickly won chamber music's top competitions, including the 1998 Naumburg Chamber Music Award. They have been honored with Chamber Music America's Cleveland Quartet Award, an appointment to Lincoln Center's The Bowers Program (formerly CMS Two), a prestigious Avery Fisher Career Grant, and multiple Grammy Awards for Best Chamber Music Performance with their most recent being in 2021 for their album Contemporary Voices.
The Pacifica Quartet has proven itself the preeminent interpreter of string quartet cycles, performing them often over the course of just a few days. They have given highly acclaimed performances of the Carter cycle, the Mendelssohn cycle, the Beethoven cycle, and the Shostakovich cycle. The Quartet has been widely praised for these cycles, with critics calling the concerts "brilliant," "astonishing," "gripping," and "breathtaking." An ardent advocate of contemporary music, the Pacifica Quartet commissions and performs many new works including those by Keeril Makan, Julia Wolfe, and Shulamit Ran, the latter in partnership with the Music Accord consortium, London's Wigmore Hall, and Tokyo's Suntory Hall. The work – entitled Glitter, Doom, Shards, Memory – had its New York debut as part of the Chamber Music Society at Lincoln Center series. The Quartet also regularly collaborates with some of the world's most prestigious artists including clarinetist Anthony McGill, Menahem Pressler, and March-André Hamelin.
The members of the Pacifica Quartet live in Bloomington, IN, where they have served as quartet-in-residence and full-time faculty members at Indiana University's Jacobs School of Music since March of 2012. In 2017, the Pacifica Quartet was appointed to lead the Center for Advanced Quartet Studies at the Aspen Music Festival and School. For more information, visit www.pacificaquartet.com.
"…the Pacifica Quartet has, by just about any measure, reached the pinnacle of its field." —Denver Post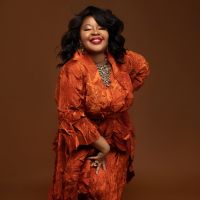 Karen Slack
Hailed for possessing a voice of extraordinary beauty, a seamless legato and great dramatic depth, American soprano Karen Slack has appeared with the Metropolitan Opera, Lyric Opera of Chicago, Washington National Opera and San Francisco Opera. In recent seasons she has appeared as Alice Ford in Falstaff, Leonora in Il trovatore and Tosca with Arizona Opera, as Aïda at Austin Opera, Emelda Griffith in Champion with New Orleans Opera, Donna Anna in Don Giovanni with Nashville Opera, Violetta in La Traviata with Sacramento Opera and Sister Rose in Dead Man Walking with both Minnesota Opera and Vancouver Opera and her Scottish Opera debut as Anna in Puccini's Le villi. Additionally, Ms. Slack portrayed a featured role as the Opera Diva in Tyler Perry's movie and soundtrack "For Colored Girls." Ms. Slack is an Artistic Advisor for Portland Opera, Co-Director for the 2020-21 Opera Program at the Banff Centre for the Performing Arts, and Co-Chair of the Women's Opera Network with Opera America.

Ms. Slack's 2019-2020 season included a return to The Metropolitan Opera as Serena in Porgy and Bess, a recital with Opera Philadelphia, guest soloist for Madison Opera's virtual Opera in the Park, and a series of recitals throughout the US including the Vilar Center for the Performing Arts in Vail, Colorado with pianist Joe Illick. This season sees her in digital performances with Opera Philadelphia, Houston Grand Opera, Madison Opera, and Minnesota Opera. Additionally, she stars in Driving While Black with UrbanArias. In response to the rash of cancellations due to COVID-19, Ms. Slack launched a digital talk show, KikiKonversations, which has garnered critical acclaim and a large online following. Learn more at www.sopranokarenslack.com.
"The kind of voice that can sing anything beautifully, engaging the heart brilliantly." —San Francisco Classical Voice
Sergei Prokofiev (1891-1953)
String Quartet in F major, Op. 92
View Notes
Prokofiev spent much of his life perched precariously between two stools, his music regarded as too stylistically advanced by some and by others as too conservative. He rose to fame before World War I as a leader of the Russian avant-garde on the strength of such driving, acerbically dissonant works as the Scythian Suite and the Second Piano Concerto, both written in his early 20s. During the war he tapped a more poetic vein in the delicately impressionistic Visions fugitives for solo piano, even as his effervescent Classical Symphony anticipated the clear-textured neoclassicism of the 1920s. Something of a political naïf, Prokofiev stood aloof from the uprisings that engulfed Russia in 1917-18, and in the wake of the Bolshevik Revolution he decided to try his fortune in the West. In Europe he found himself eclipsed by his fellow émigré Stravinsky, while in the U.S. he shared the limelight with Rachmaninoff, another virtuoso composer-pianist. Many of his best-loved works date from this period of self-imposed exile, including the fairy-tale opera The Love for Three Oranges and the Third Piano Concerto. But the pull of Mother Russia remained strong and in 1936, discounting the warnings of friends, Prokofiev returned to the Soviet Union for good.

For the rest of his life, the composer strove, with fitful success, to stake out a middle ground between his edgy, distinctively modernist style and the music for the masses that Soviet composers were expected to produce under the banner of socialist realism. Like other privileged artists, Prokofiev spent much of World War II safely out of harm's way. After the Nazi invasion in June 1941, he was evacuated to the city of Nalchik in the Caucasus Mountains and, in line with official policy, instructed to write music celebrating the local folk culture. Prokofiev dutifully complied, observing that "a combination of new, untouched Eastern folklore with the most classical of all classical forms, the string quartet, could produce interesting and surprising results." The F-major Quartet, the second of his two contributions to the genre, is based on songs and dances from the region that the composer Sergei Taneyev had collected a few years earlier. Prokofiev assimilated these folk materials into his own dissonant, convoluted idiom, sometimes switching abruptly from one mode of expression to the other, as if to keep listeners—and the regime's cultural watchdogs—off-balance. The quartet's three movements are laced with imitations of bagpipes and other folk instruments, and while much of the music has a distinctly bravura character—there's even a solo cello cadenza in the middle of the final Allegro—Prokofiev downplays the virtuosic element in the service of his populist mission.

The F-major Quartet was premiered in Moscow on April 7, 1942, by the celebrated Beethoven Quartet. Like the ballet Cinderella, the lighthearted Flute Sonata in D major, and several of Prokofiev's other wartime works, Op. 92 served its intended purpose as a spirit-lifter and was well received by performers and audiences. Prokofiev's position seemed even more secure after he won a coveted Stalin Prize in 1947. Shortly thereafter, however, the political winds changed, and he was subjected to withering ideological criticism by the Soviet Union's cultural thought police. In an official condemnation promulgated in 1948, he, Shostakovich, and several other prominent composers were charged with trafficking in "formalist distortions and antidemocratic tendencies." Although Prokofiev desperately tried to rehabilitate himself by issuing a public mea culpa, he and his music remained under a cloud. In a final irony that he would have appreciated, he died on the same day in 1953 as Stalin, his chief patron and persecutor.

© 2022 Harry Haskell

James Lee III (b. 1975)
'A Double Standard' for String Quartet and Soprano
World Premiere, SHCS co-commission
View Notes
IN THE COMPOSER'S WORDS
"A Double Standard," a work for soprano and string quartet uses the texts from a poem, which bears the same name, by Frances Ellen Watkins Harper, an African-American poet who was born free in Baltimore in 1825 and died in Philadelphia in 1911. Ms. Harper was also an abolitionist, suffragist, teacher, public speaker and writer. In 1845, she was one of the first African-American women to be published in the United States. Frances Harper often expressed her passion for social revolution through her poetry. This work A Double Standard is a musical journey that displays her pain and frustration of the biases against women and the 19th century mindset of sex, gender, and societal roles.

The work begins with an extended introduction in the strings that is highly agitated. Once the introduction is completed, the soprano sings a four-note motive on the words, "Do you blame me…" and is frequently utilized when the word "blame" is uttered. One can really sense the righteous indignation in the voice of Ms. Harper as she penned these words. Throughout A Double Standard various emotions are evoked at contrasting dynamic levels and then comes the dramatic climax. The climax of both the poem and the music arrives when the string quartet vigorously and angrily ascends and is followed by the highest note that the soprano sings at a fortissimo dynamic. The words she sings are:
"Crime has no sex and yet to-day
I wear the brand of shame;
Whilst he amid the gay and proud
Still bears an honored name.

Can you blame me if I've learned to think
Your hate of vice a sham,
When you so coldly crushed me down
And then excused the man?"

Frances Harper addressed the double standards that are practiced in society when it comes to men and women, and how women are many times treated more harshly. She then calls on God to be the true judge and arbiter of justice with the words:
I'm glad God's ways are not our ways,
He does not see as man,
Within His love I know there's room
For those whom others ban

It is in this part of the music that there is a pause in the brash dissonance at it evokes the beauty of God's throne and His righteous judgement. These musical passages are, however, short-lived as the agitated and frustrated nature of the poem and music returns on the words:
And what is wrong in woman's life
In man's cannot be right.

The initial musical material returns and continues to demand positive change!
—James Lee III


ABOUT THE COMPOSER
Accessible and fundamentally tonal, the music of James Lee III combines the textural richness of Tōru Takemitsu and Kaija Saariaho with the rhythmic vitality of Alberto Ginastera and John Adams. Lee's large and rapidly growing catalogue reveals an abiding interest in biblical themes and subject matter relating to African-American history and culture. His career got off to an auspicious start in 2006 when the piece he had written for his doctoral dissertation at the University of Michigan a year earlier, Beyond Rivers of Vision, inspired by the Book of Revelation, was premiered by the Detroit Symphony. Some of Lee's storylines are more explicit and even topical, as with the orchestral works Chuphshah! and Thurgood's Rhapsody, celebrating Harriet Tubman and Thurgood Marshall, and the cello solo Abraham's Sons, a memorial for Trayvon Martin. A Double Standard, co-commissioned by Carnegie Hall and Shriver Hall Concert Series in Baltimore (where Lee teaches at Morgan State University), is among several of the composer's works slated to receive premieres this spring, including his Second Violin Concerto, subtitled "Teshuah," and Hold On, America, Hold On! for orchestra and five speakers who bear witness to the continuing oppression and resilience of Black Americans.
Co-commissioned by Carnegie Hall, Shriver Hall Concert Series, Chamber Music Detroit, Chamber Music Cincinnati.
Ludwig van Beethoven (1770-1827)
String Quartet in C major, Op. 59, No. 3, "Razumovsky"
View Notes
Beethoven's biographer Lewis Lockwood describes the three "Razumovsky" quartets of 1806 as a "continental divide" in the annals of the string quartet. Behind them stood the towering peaks of the Viennese Classical school, epitomized by the quartets of Haydn and Mozart; ahead lay the as-yet-uncharted territory of the Romantics—Schubert, Mendelssohn, Schumann, and Brahms. The Op. 59 set marked a watershed in Beethoven's own artistic development as well. Along with such works as the "Eroica" Symphony, the "Appassionata" Piano Sonata, and the opera Fidelio, the "Razumovskys" exemplify the "heroic" and boldly unconventional style that Beethoven forged in his so-called middle period, under the incubus of his steadily worsening loss of hearing. The Mozartean classicism of his six Op. 18 Quartets, composed between 1798 and 1800, already seemed to belong to a different world, while the introspective, convoluted language of his late-period quartets lay just around the corner.

The Op. 59 Quartets were commissioned by Count Andreas Razumovsky, Russia's ambassador to the imperial court in Vienna. An enthusiastic amateur violinist, the count was an ardent champion of both Beethoven and his mentor Haydn. (In a salute to his noble patron, Beethoven incorporated Russian themes into the first two quartets.) Working quickly, Beethoven began composing Op. 59, No. 1 at the end of May 1806 and completed the set by the end of the year. Predictably, contemporary reactions to the "Razumovskys" ranged from bewildered bemusement to outright hostility. When the renowned ensemble led by violinist Ignaz Schuppanzigh read through the first quartet, the players reportedly "laughed and were convinced that Beethoven was playing a joke and that it was not the quartet which had been promised." The great Russian cellist Bernhard Romberg, upon discovering that he had nothing more challenging to play at the beginning of the second movement than repeated B-flats, flung the music on the floor and trampled on it. Beethoven was not unduly perturbed by such displays of pique and incomprehension. The Op. 59 Quartets, he coolly informed one of his critics, "are not for you, but for a later age."

The C-major Quartet's darkly mysterious chordal introduction advertises the seriousness of Beethoven's intentions, but the tone of the ensuing Allegro vivace, with its skipping dotted theme, is incongruously lighthearted. Not until the slow movement does darkness descend again, in the dirgelike tolling of the cello's subterranean pizzicato (plucked) notes. Although the upper strings' mournful plaint is twice interrupted by a dancing countermelody, the movement ends in somber A minor. The genial Menuetto and its strutting Trio midsection both make ample use of the flowing sixteenth-note roulades we've encountered earlier in the Quartet. A brief coda serves as a bridge to the Allegro molto: the viola bursts out of the gate, leading the foursome on a merry fugal chase that's charged with electric energy, and Beethoven's inexhaustible ingenuity keeps us on the edge of our seats all the way to the surprise ending. On a sketch for the last movement, the composer wrote defiantly, "Let your deafness be no more a secret—even in art."

© 2022 Harry Haskell

Program Subject to Change Without Notice