Sunday, December 05, 2021 | 5:30 PM
Paul Lewis, piano
The Zarelda Fambrough Memorial Concert
Location: Shriver Hall
"Faced with such excellence, a mere critic can only abandon paper and pencil and listen to this heroic but deeply moving artist with awe and amazement," wrote Gramophone of British pianist Paul Lewis. He makes his highly anticipated Baltimore Recital Debut in an inventive program featuring Mussorgsky's vivid Pictures at an Exhibition.
"[Lewis] has clarity, muscle, and steely pride, but also intimacy, vulnerability and volatility: the combination is magnetic." —The Guardian
To learn more about our COVID-19 Safety policies, please click here.
About the sponsor
Zarelda Fambrough, known as "Zee" to all, is remembered as a quietly enthusiastic and caring person, known for her support of the arts, for her love of nature (for many years she chaired of the Science Department at St. Paul's School for Girls), and for her work with adult literacy. She and her husband, Dr. Douglas Fambrough, a retired Professor of Biology at The Johns Hopkins University and amateur pianist, supported Shriver Hall Concert Series for decades, with Doug serving on the Board of Directors from 1986 to 2010. Doug and Zee endowed this annual concert in 2000 with the hope of inspiring others to support SHCS through major donations and planned gifts; Doug dedicated it to Zee's memory in 2017.​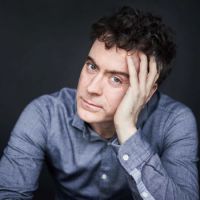 Paul Lewis
Paul Lewis is one of the foremost interpreters of the Central European piano repertoire, his performances and recordings of Beethoven and Schubert receiving universal critical acclaim. He was awarded CBE for his services to music, and the sincerity and depth of his musical approach have won him fans around the world.
This global popularity is reflected in the world-class orchestras with whom he works, including the Berlin Philharmonic, Chicago Symphony, London Symphony, Philharmonia, Bavarian Radio Symphony, NHK Symphony, New York Philharmonic, LA Philharmonic, Royal Concertgebouw and Leipzig Gewandhaus orchestras. His close relationship with Boston Symphony Orchestra led to his selection as 2020 Koussevitzky Artist at Tanglewood.
With a natural affinity for Beethoven and relentless pursuit of understanding his works, Lewis has been central to celebrations of the composer's 250th anniversary year around the world. He took part in the BBC's three-part documentary Being Beethoven and was due to perform concerto cycles at Tanglewood, Tiroler Festspiele Erl, Palau de la Música Catalana and Palermo's Teatro Massimo. He has performed the cycle all over the world, including with the Melbourne Symphony, São Paulo State Symphony and Royal Flemish Philharmonic orchestras, and was the first pianist to play the complete cycle in a single season at the BBC Proms in 2010.
Beyond many award-winning Beethoven recordings, his discography with Harmonia Mundi also demonstrates his characteristic depth of approach in Romantic repertoire such as Schumann, Mussorgsky, Brahms and Liszt.
In chamber music, he is a regular at Wigmore Hall, having played there more than 100 times, and was one of the artists selected to play at the hall's Lunchtime Series at the start of the Coronavirus crisis. He works closely with tenor Mark Padmore in lied recitals around the world – they have recorded three Schubert song cycles together.
Lewis is co-Artistic Director of Midsummer Music, an annual chamber music festival held in Buckinghamshire, UK. He is a passionate advocate for music education and the festival offers free tickets to local schoolchildren. He also gives masterclasses around the world alongside his concert performances. He himself studied with Joan Havill at Guildhall School of Music and Drama in London before going on to study privately with Alfred Brendel.
Mr. Lewis' website is paullewispiano.co.uk
"Fine balance of Olympian poise and emotional engagement" – Chicago Tribune
Felix Mendelssohn (1809-1847)
Selected Songs without Words
E major, Op. 19, No. 1
A minor, Op. 19, No. 2
G minor, Op. 53, No. 3
E-flat major, Op. 53, No. 2
E major, Op. 30, No. 3
Wolfgang Amadeus Mozart (1756-1791)
Sonata in A major K. 331
Alexander Scriabin (1872-1915)
Five Preludes, Op. 74
Modest Mussorgsky (1839-1881)
Pictures at an Exhibition
Program Subject to Change Without Notice