Sunday, February 13, 2022 | 5:30 PM
Junction Trio
The Yale Gordon Young Artist Concert
Location: Shriver Hall
PICK 3 CONCERTS for $105 – That's Just $35 Per Concert, a 21% Savings!
Discount applied at check out.
Three visionary artists—violinist Stefan Jackiw, pianist Conrad Tao, and cellist Jay Campbell—combine talents in this exciting piano trio. Hailed for its "bracing technique and jaw-dropping precision…a sense of unity, especially in dynamics and rhythmic thrust…" (Aspen Times), experience the Trio's superb musicianship to hear why The Boston Globe called them "powerful…these three are onto something special."
"The ensemble performed with a manic drive, sailing through the note-spattered pages and rhythmic complexities with apparent ease." – Bachtrack
All ticketholders must be in compliance with our COVID-19 Safety policies, including being fully vaccinated and, if eligible, having received their booster dose. To learn more, please click here.
About the sponsor
Yale Gordon first sponsored a concert by an accomplished young artist in 1978. The following year, his Yale Gordon Foundation made its initial contribution to Shriver Hall Concert Series. The Foundation eventually evolved into The Peggy and Yale Gordon Trust, which has been sponsoring annual Series concerts since 1986. The Yale Gordon Young Artist Concert features soloists or ensembles with great promise in the formative stages of their careers. Many of the artists who debuted at Shriver Hall through this concert have developed or already have international careers. The Board of Directors of the Series is deeply grateful to the Trust and its officials, Phyllis and Louis Friedman, and the late Sidney Sherr and Loraine Bernstein, for their warmly welcomed support and encouragement in making the Yale Gordon programs so successful over the years.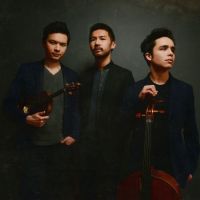 Junction Trio
Stefan Jackiw, violin
Jay Campbell, cello
Conrad Tao, piano

Three visionary next-generation artists combine internationally recognized talents in the eclectic new ensemble, Junction Trio. The Trio has performed at Washington Performing Arts, Portland Ovations, Rockport Music, Chautauqua Institution, Royal Conservatory in Toronto, and the Aspen Music Festival.

This season, the Junction Trio gives performances in Rockport, Moab, New Orleans, Key West, and Eugene, as well as at Shriver Hall Concert Series, Duke Performances, and Cliburn Concerts in Ft. Worth. The Junction Trio was selected by New York's classical music radio station, WQXR, to be part of its inaugural Artist Propulsion Lab, which allows them to engage collaborators and commission works. The opportunity also allows them to take advantage of WQXR's various outlets to reach audiences via Greene Space performances, on-air curation opportunities, and more.
In the 2020-2021 season, live and virtual performances were presented by Caramoor, Harvard Musical Association, Corpus Christi, Cleveland, and Philadelphia Chamber Music societies, Syracuse Friends of Chamber Music, and Emory University. Highlights of the 2019-2020 season included debuts at the Orange County Philharmonic Society and BIG ARTS Sanibel.
Admired for combining poetic interpretation with impeccable technique, violinist Stefan Jackiw joins cellist Jay Campbell and pianist and composer Conrad Tao, whom The New York Times has called a musician of "probing intellect and open-hearted vision." Campbell, too, has been praised by The New York Times as "electrifying," approaching old and new works with the same curiosity and emotional commitment while Jackiw has been celebrated for his "remarkable purity of tone."
The Junction Trio's website is jcttrio.com.
"Watching the trio perform, one really couldn't tell who was happier to be there—the rapt audience or the musicians, who threw themselves into repertoire they clearly love." – Boston Globe
Christopher Trapani (b. 1980)
Passing Through, Staying Put
View Notes
Christopher Trapani embodies the cultural intermarriage that has long characterized his native New Orleans. His music is a yeasty, hard-to-categorize amalgam of styles and traditions, from Mississippi Delta blues to avant-garde classical techniques and the microtonal idiom of Turkish music. This eclectic blend mirrors the trajectory of the 41-year-old composer's early career: after graduating from Harvard, he spent his "wander years" studying in England, Turkey, and France, including a stint at IRCAM, the renowned experimental-music center in Paris. Perhaps not surprisingly for a cosmopolitan musician who is also steeped in the regionalist literature of the American South, Trapani became obsessed with a sense of place, a quality he finds lacking in much contemporary classical music. He has explored this concept in such pieces as Isolario for string quartet and live electronics, a "musical travelogue" based on Renaissance Italian maps, and the song cycle Waterlines, inspired by Hurricane Katrina and the devastating Mississippi River flood of 1927.
Trapani's works for chamber ensembles typically recall the eccentric instrumentatarium of American experimentalist composer Harry Partch, but Passing Through, Staying Put is scored for a conventional trio of violin, cello, and piano. Composed in 2011 and premiered in Nicosia, Cyprus, the six-minute-long work owes its two-part structure both to that geographical locale—"the last divided capital in Europe," in Trapani's words—and to Geoff Dyer's similarly bifurcated comic novel Jeff in Venice, Death in Varanasi. The first movement, the composer tells us, "is all about motion and change." As the violin and cello move in and out of alignment, often in canonic imitation, the piano weaves a chain of chords that seem to float freely in harmonic space, like Olivier Messiaen's color chords or the "spectral" music of Tristan Murail, with whom Trapani studied at Columbia. The shorter second movement, by contrast, "deals with settling and stasis, a sense of arrival"; as Trapani notes, "you could imagine it taking place entirely within the resonance space of one of the chords in the first half."
As with much of Trapani's music, literary references figure subliminally in Passing Through, Staying Put: each of the two movements bears an epigraph from Lawrence Durrell's memoir of postwar Cyprus, Bitter Lemons. The first quote describes islands as "places where different destinies can meet and intersect in the full isolation of time," while the second alludes to the predictability of island life, where "sooner or later one arrives at a point where all is known and staled by repetition." Trapani's repetitive, circling patterns stay fresh in large thanks to his lively timbral imagination. (In addition to prepared piano in the second movement, the score features swooning glissandos and stuttering ricochet effects in the strings.) Paradoxically, despite its nominal association with the Mediterranean island, Passing Through, Staying Put ultimately seems detached from a specific sense of place. As the critic Paul Griffiths observes of another of the composer's works, the result is "a music of routes without roots, or one where the roots lift into the air, and we do not know whether what lies below them is New Orleans or Istanbul."
Notes by Harry Haskell, © 2021
Maurice Ravel (1875-1937)
Piano Trio in A minor
View Notes
Thirteen years younger than Debussy, Ravel made his mark in Paris at the turn of the 20th century with his masterful String Quartet and a group of brilliantly crafted piano pieces. Over the ensuing decades he refined his art, ruthlessly pruning away superfluous notes and gestures in search of the "definitive clarity" that was his declared ideal. From an early age, he was marked to succeed Debussy as the poet laureate of French music. The two men shared a poetic sensibility and a fondness for sensuous, impressionistic timbres and textures. But while Debussy cast loose from the moorings of traditional forms and harmonies, Ravel remained a classicist at heart. Many of his works pay homage to composers and styles of the past, even as they incorporate ultramodern harmonies and compositional styles. The Baroque-inspired slow movement of the Piano Trio, built on a repeating melodic and harmonic pattern known as a passacaglia, is a fine example of his creative recycling.
Ravel produced his lone contribution to the piano trio genre in a burst of white-hot inspiration. "I have never worked with more insane, more heroic intensity," he wrote to a friend in the late summer of 1914. To another he confided that he was "working with the assurance and clarity of a madman." As Europe's armies mobilized for war, Ravel holed up in seclusion at Saint-Jean-de-Luz, his beloved hideaway on the Basque coast. There, composing at what for him was a feverish pace, he accomplished "five months' worth of work" in five exhilarating weeks. Ravel completed the Trio at the end of that fateful August, then hurried to Bayonne to enlist in the French army, only to be rejected when examiners ruled that he was four pounds underweight. Swallowing his disappointment, he volunteered for service as a hospital orderly instead. In his next work, three limpidly beautiful songs for unaccompanied chorus modeled on the Renaissance chanson, both the madness of war and the manic urgency of the Trio seem far away.
In light of its contracted genesis, the Trio's vibrant intensity is not surprising. But the character of the music is more elegiac than heroic. The Trio opens with a billowing, Basque-flavored melody that glides wistfully above the piano's gently rocking bass. An asymmetrical eighth-note pulse—three plus two plus three beats—conveys a sense of restless instability that carries over into the frenzied, scherzo-like second movement. (The latter's title, Pantoum, refers obscurely to a Malayan verse form that French artists discovered in the late 19th century.) Next comes the majestic passacaglia, its tender eight-bar theme rising from the piano's lowest register. After a series of elegantly simple variations, the music falls back into the murky depths. But the tranquil mood is shattered by a scintillating finale, whose shifting meters and pyrotechnical acrobatics test the virtuosity of all three players.
Notes by Harry Haskell, © 2021
Johannes Brahms (1833-1897)
Piano Trio in B major, Op. 8
View Notes
In the fall of 1853, the year he started work on his B-major Piano Trio, the 20-year-old Brahms traveled to Düsseldorf to meet the man he admired above all living composers. Robert Schumann had heard about Brahms from their mutual friend, the great Hungarian violinist Joseph Joachim. He welcomed his visitor warmly and promptly introduced him to his student Albert Dietrich. "Someone is here," Schumann said, "of whom we shall one day hear all sorts of wonderful things." According to Dietrich, he and Schumann were instantly taken with "the interesting and unusual-looking musician, who, seemingly hardly more than a boy in his short gray summer coat, with his high voice and long fair hair, made a most striking impression. Especially fine were his energetic, characteristic mouth and the earnest deep gaze in which his gifted nature was clearly revealed." As Brahms auditioned his works at the keyboard, Schumann felt himself being "drawn into circles of ever deeper enchantment. . . . There were sonatas, rather veiled symphonies—songs, whose poetry one would understand without knowing the words . . . single pianoforte pieces, partly demoniacal, of the most graceful form—then sonatas for violin and piano—quartets for strings—and every one so different from the rest that each seemed to flow from a separate source."
Paradoxically, the "first" of Brahms's three trios for piano, violin, and cello is also the last. Notwithstanding its early opus number, the B-major Trio dates, in its most familiar form, from the last decade of the composer's life. A notoriously harsh self-critic, Brahms had never been satisfied with the original version of Op. 8, deeming it "wild" and inferior to his later trios in C major and C minor. When his publisher shrewdly acquired the rights to the B-major Trio and nine other early works from a competing firm in 1888, the composer seized the opportunity to revisit the piece he had written 35 years earlier. Brahms was not content simply to tinker with the Trio, however. Instead, he virtually recomposed it. In reducing the length of the score by nearly a third, he left only one movement—the scintillating Scherzo—substantially unaltered. Of the other three movements he preserved chiefly the principal themes, while tightening and recasting the musical argument throughout.
A soaring melody, relayed from piano to cello to violin, creates a mood of expansive lyricism in the opening Allegro con brio. Restless syncopations and athletic rhythms soon disturb the peace, injecting a note of urgency that is ultimately dispelled in the tranquil, luminous coda. The sizzling energy of the B-minor Scherzo is briefly interrupted by a tenderly lilting waltz in the relative major key. The Adagio, with its hushed, sustained chords in the piano and the strings spinning their simple, two-part counterpoint, seems to breathe the air of another world. (The young Brahms liked this haunting music so much that he brought it back twice, interspersed with interludes of a markedly different character.) In the final Allegro, also in B minor, Brahms sets rippling triplets against propulsive dotted rhythms, driving the movement toward a somberly exhilarating conclusion.
Notes by Harry Haskell, © 2021
Program Subject to Change Without Notice