Saturday, November 04, 2023 | 3:00 pm
Yilun Xu, piano (Winner of the 2022 Yale Gordon Concerto Competition)
Location: Baltimore Museum of Art
Enjoy an afternoon getting to know the artistry of one of Peabody Conservatory's top talents. Pianist Yilun Xu, winner of the 2023 Yale Gordon Competition, has already performed at Beijing's Forbidden City Concert Hall and New York's Carnegie Hall, at numerous international music festivals, and on NPR's prestigious From the Top program. She will dazzle with her artistry and virtuosity.
Venue: Baltimore Museum of Art
Suggested Donation: $10; General Seating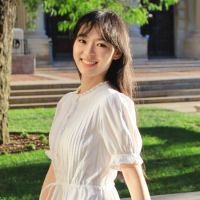 Yilun Xu, piano
An avid performer across China, the U.S., and Europe, pianist Yilun Xu has played in such prestigious venues as the Forbidden City Concert Hall, Carnegie Hall, Merkin Concert Hall of Kaufman Center, and Harris Concert Hall in Aspen. Selected as a Jack Kent Cooke Young Artist by NPR's From the Top, a national program showcasing America's best young classical musicians, Yilun continues to receive recognition for her compelling artistry. She has won numerous competitions in China and abroad, including first prizes in the Chappaqua Orchestra Concerto Competition and the Yale Gordon Competition.
Beyond her concert career, Xu has been featured in major music festivals, notably BIMFA On the Road International Music Festival & Academy in Shanghai Conservatory of Music, University of Florida International Piano Festival, Amalfi Coast Music & Arts Festival in Italy, Gijon International Piano Festival, and Aspen Music Festival.
Xu began to study piano when she was four years old. At age ten, she was accepted into the elementary school affiliated with the Central Conservatory of Music in Beijing, followed by the middle school division. She then moved to the U.S. in 2012 to enroll in The Juilliard School's Pre-College program under the tutelage of professor Yoheved Kaplinsky. Xu subsequently earned her bachelor's degree from the Columbia-Juilliard Exchange Program, merging her Juilliard music concentration with a comprehensive Columbia humanities education, and completed her master's degree under both Kaplinsky and Hung Kuan Chen. Currently, Xu is pursuing her doctoral degree at the Peabody Institute of the John Hopkins University with Yong Hi Moon.
Beyond music, Xu engages her scholarly interests through diverse coursework. She also serves her surrounding communities with her active dedication to student organizations. As the President of the Juilliard Chinese Student & Scholars Association from 2018 to 2022, her leadership proved her an ideal interdisciplinary ambassador for her colleagues as well as her own cultural roots. She encouraged awareness and appreciation for various aspects of Chinese culture to her school communities through her advocacy for Chinese orchestral music, and collaborated to organize gala concerts through partnerships with the Ivy League and other schools.
Wolfgang Amadeus Mozart (1756-1791)
Piano Sonata No. 2 in F major, K. 280
Leoš Janáček (1854-1928)
In the Mists
Franz Liszt (1811-1886)
Rhapsodie espagnole
Modest Mussorgsky (1839-1881)
Pictures at an Exhibition