Sunday, March 06, 2022 | 5:30 PM
Sasha Cooke, mezzo-soprano
Kirill Kuzmin, piano
The Mity Clarke Gann Memorial Concert
Location: Shriver Hall
PICK 3 CONCERTS for $105 – That's Just $35 Per Concert, a 21% Savings!
Discount applied at check out.
Two-time Grammy Award-winning mezzo-soprano Sasha Cooke is celebrated as a "luminous standout" (New York Times) and "equal parts poise, radiance and elegant directness" (Opera News). She presents the East Coast Premiere of "how I find you," a recital-length project she curated during the pandemic exploring experiences and themes of America today, including California wildfires, school shootings, working from home, race, nature, and resilience.
"A song recital by the luminous American mezzo-soprano Sasha Cooke is always an event." – Opera News
All ticketholders must be in compliance with our COVID-19 Safety policies, including being fully vaccinated and, if eligible, having received their booster dose. To learn more, please click here.
About the sponsor
Florence Clarke Gann (1909-1995) was known as "Mity" because she was as small as a "mite." The moniker never fit. She had irrepressible energy and an extraordinary love for life. She had a quest for knowledge and enjoyed lively intellectual debate. She loved music, art, good books, and, at age 85, she was still working on her tennis game. Mity's love for music and her piano were important aspects of her life. She played chamber music and was still playing a few weeks before her death. She used to say, "Music is one of the things that always makes me feel good." Mity's legacy is surely one of love for life and for all the beautiful and interesting things in it. She is remembered by this gift of a concert in her memory made in 1996 by her family and friends.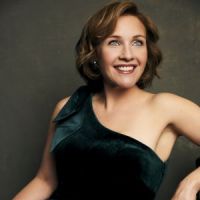 Sasha Cooke
Two-time Grammy Award-winning mezzo-soprano Sasha Cooke has been called a "luminous standout" (The New York Times) and "equal parts poise, radiance and elegant directness" (Opera News). Ms. Cooke is sought after by the world's leading orchestras, opera companies, and chamber music ensembles for her versatile repertoire and commitment to new music.
In the 2021-2022 season, Ms. Cooke returns to the Metropolitan Opera for her role debut as Cherubino in Le nozze di Figaro, under the baton of Yannick Nézet-Séguin. On the concert stage, she joins the Boston Symphony Orchestra for performances of Janáček's Glagolitic Mass, conducted by Jakub Hrůša, and then again as Margret in Wozzeck, both in Boston and on tour at Carnegie Hall led by Andris Nelsons. Other symphonic highlights include Michael Tilson Thomas' Meditations on Rilke with the Los Angeles Philharmonic Orchestra, conducted by the composer, as well as Mahler's Symphony No. 2 Resurrection with the Oregon Symphony. Finally, she gives a solo recital at the Tucson Desert Song Festival where she premieres a new work by Jennifer Higdon.
This season also marks the release of Ms. Cooke's new CD, entitled "How Do I Find You," on the Pentatone label. The recording, featuring songs by Caroline Shaw, Nico Muhly, Missy Mazzoli, and Jimmy Lopez, serves as a tribute to both the struggles and hopes of artists that have been wrought by the pandemic. Ms. Cooke performs the world premiere on January 30th, 2022, as part of the San Francisco Symphony's Great Performers Series, before giving subsequent recitals at the Shriver Hall Concert Series and elsewhere. Ms. Cooke has sung at the Metropolitan Opera, English National Opera, Opéra National de Bordeaux, and Gran Teatre del Liceu, among others, and with more than 70 symphony orchestras worldwide under leading conductors including Yannick Nézet-Séguin, Gustavo Dudamel, Franz Welser-Möst, and Bernard Haitink. Recent recordings can be found on labels including Hyperion, BIS, Chandos, and more. She studied at Rice University, The Juilliard School, and the Metropolitan Opera's Lindemann Young Artist Development Program. Learn more at www.sashacooke.com.
"A twilight-toned mezzo, characterized by both a velvety darkness and a luminous glow" – The New York Times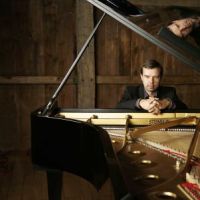 Kirill Kuzmin
Kirill Kuzmin is currently a principal coach at Houston Grand Opera. In the 2021-22 season, Mr. Kuzmin continues working on HGO music staff for productions of Dialogues des Carmélites and Turandot. He also serves as a music staff member at The Glimmerglass Festival.
He has worked on a number of productions with HGO, including Eugene Onegin (also as diction coach), Le nozze di Figaro, Faust, Giulio Cesare (also as continuo accompanist), West Side Story, as well as two of the monumental Ring cycle operas by Wagner, Siegfried and Götterdämmerung. At Glimmerglass, he served as principal coach for the productions of Silent Night and La Traviata.
Recital appearances included Schwabacher Debut Recital in San Francisco (with baritone Sol Jin). In 2021, he was the pianist for video-streamed recitals with Arturo Chacun-Cruz, Sasha Cooke, and Nicholas Phan. In 2022, he will appear in a recital with Sasha Cooke at San Francisco Symphony.
A Russian native, Mr. Kuzmin spent three years with the Bolshoi Theater in Moscow, first as a young artist and then as a full-time member of the music staff. During his time with the company, he served as opera coach and accompanist on a number of Russian operas, including Prokofiev's The Love for Three Oranges and Rimsky-Korsakov's The Tsar's Bride, as well as works from the standard operatic repertoire, such as Turandot, Der Rosenkavalier, La traviata, and La sonnambula. While in Moscow, he also served as pianist and coach for a number of operatic undertakings by the acclaimed Moscow Philharmonic.
Mr. Kuzmin holds degrees in piano performance from the Moscow Conservatory and in collaborative piano from the Moscow Conservatory and the University of Michigan, where he studied with renowned collaborative pianist Martin Katz.
Program Note by Sasha Cooke
View Notes
how do I find you is an album of words and music written in 2020, portraying the range of human experiences during the ongoing Covid-19 pandemic. When cancellation after cancellation was coming in, I wanted to create something that wasn't dependent on a live public performance. From the moment I called the first composer, it felt as if a light suddenly shone, and a piece of myself was returned to me.
Some of the songs are heartfelt, wrestling with societal challenges from racial injustice and school shootings to the California wildfires. Others are abstract or wryly humorous, seen through the lens of harried parents working from home, or mulling that most urgent quarantine quandary: whether to order a Peloton bike.
The only common thread is that these gifted creators were given carte blanche to create what spoke most to them during this time. The freedom afforded by this unique common thread lends each piece a sense of immediacy and authenticity, offering listeners a chance to find songs that resonate with their own recent lives. I chose to feature composers in their 40s or younger; the juxtaposition of their varied works is an apt reflection of the way we've all had to manage daily life while confronting existential threats.
Those threats haven't all been viral, of course. Throughout the pandemic, so many performing artists have felt an utter loss of identity. This project provided me with a sense of purpose and hope — a way to orient myself through the haze of so much change and uncertainty — and I am so grateful. Before the music had even arrived, I was uplifted, thinking of composers in their own space, creating their art.
And then the music arrived! I was amazed by what the writers and composers had created. Every day that a song came in, it felt like my birthday: unwrapping a package that revealed a new and surprising sound world. Often at the piano, as I worked through the songs, I would find myself overwhelmed with emotion. Some employed a folksong-like style, some jazz; in the music of others, one will hear moments of great lyricism, lush harmonies, but also, as the mood required, sparse and minimalist ones. For the more painful topics, the music sometimes becomes dissonant, even cacophonous; in the more meditative moments, there is a crystalline beauty and simplicity.
Producing the album has been a crash course in nurturing artistic alchemy across distance and my first time with a project like this, quite different from fitting myself into someone else's vision. It became an experiment in liberation, inspired by a time in which so many of us have looked into the mirror or at our loved ones on a computer screen and wondered: Is this real life? Who are you now? How do I find you?
—Sasha Cooke
Timo Andres (b. 1985)
'Altitude' (Text by Lola Ridge) (East Coast Premiere)
Lembit Beecher (b. 1980)
'After the Fires' (Text by Liza Balkan) (East Coast Premiere)
Matt Boehler (b. 1976)
'Risk Not One' (Text by Todd Boss) (East Coast Premiere)
Christopher Cerrone (b. 1984)
'Everything Will Be Ok' (Text by John K. Samson) (East Coast Premiere)
John Glover (b. 1983)
'Spider' (Text by Kelley Rourke) (East Coast Premiere)
Gabriel Kahane (b. 1981)
'The Hazelnut Tree' (Text by Gabriel Kahane) (East Coast Premiere)
Jimmy López (b. 1978)
'Where Once We Sang' (Text by Mark Campbell) (East Coast Premiere)
Andrew Marshall (b. 1982)
'A Bad Case of the Kids' (Text by Todd Boss) (East Coast Premiere)
Missy Mazzoli (b. 1980)
'Self-Portrait with Disheveled Hair' (Text by Royce Vavrek) (East Coast Premiere)
Nico Muhly (b. 1981)
'Inward Things' (Text by Thomas Traherne) (East Coast Premiere)
Rene Orth (b. 1985)
'Dear Colleagues' (Text by Colleen Murphy) (East Coast Premiere)
Frances Pollock
'Masks Used to be Fun' (Text by Emily Roller) (East Coast Premiere)
Hilary Purrington (b. 1990)
'That Night' (Text by Mark Campbell) (East Coast Premiere)
Huang Ruo (b. 1976)
'The Work of Angels' (Text by David Henry Hwang) (East Coast Premiere)
Kamala Sankaram (b. 1978)
'Listen' (Text by Mark Campbell) (East Coast Premiere)
Caroline Shaw (b. 1982)
'How Do I Find You?' (Text by Caroline Shaw) (East Coast Premiere)
Joel Thompson (b. 1988)
'Still Waiting' (Text by Gene Scheer) (East Coast Premiere)
Program Subject to Change Without Notice