Sunday, April 07, 2024 | 5:30 pm
Quatuor Ébène (Baltimore Debut)
The Helen Caplan Harrison Concert. The Reiko T. and Yuan C. Lee Fund for Outstanding String Performers
Location: Shriver Hall
The Helen Caplan Harrison Concert & The Reiko T. and Yuan C. Lee Fund for Outstanding String Performers
Critics have written of Quatuor Ébène performances that it's hard to imagine "playing at once more diverse and more brilliant than this… the possibilities of a string quartet were shown to be boundless" (Bachtrack). "The superb and intensely focused" (New York Times) French ensemble makes its Baltimore Debut with Mozart and Schnittke, and Grief's only complete quartet, one of this most expressive and richly textured works.
"A string quartet that can morph into a jazz band." – The New York Times
About the sponsor
This concert endowment was established in 2002 in honor of longtime Shriver Hall Concert Series Board member Dr. Helen Harrison, a gift by her sons Dr. Stephen Harrison and Dr. Richard Harrison and their families. Helen Harrison joined the Shriver Hall Concert Series Board of Directors in November 1973 at the invitation of founding president Ernest Bueding. Dr. Harrison served as an active and influential member of the Board until 2001, and she was responsible for bringing many new members to the Board, including chair emerita Jephta Drachman. As a scientist, Dr. Harrison shared the prestigious Howland Prize with her husband, Dr. Harold Harrison, for research done at The Johns Hopkins University School of Medicine.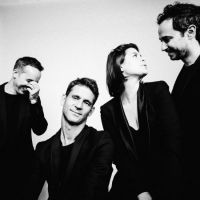 Quatuor Ébène
Pierre Colombet, violin
Gabriel Le Magadure, violin
Marie Chilemme, viola
Raphaël Merlin, cello

"We need the inspiration from the audience," said Raphaël Merlin in an interview with the NZZ in Spring 2020. This was one of the central ideas of Quatuor Ébène's "Beethoven Around the World" project. Between May 2019 and January 2020, the ensemble recorded Beethoven's 16 string quartets in a worldwide project on 6 continents. With this complete recording, the four celebrated their 20th stage anniversary, which they then crowned with performances of the complete string quartet cycle in major European venues such as the Philharmonie de Paris and the Alte Oper Frankfurt. Invitations from Carnegie Hall, New York, the Verbier Festival and the Vienna Konzerthaus were also on the agenda.

After studies with the Quatuor Ysaÿe in Paris as well as with Gábor Takács, Eberhard Feltz and György Kurtág, the unprecedented and outstanding success at the 2004 ARD Music Competition followed, marking the beginning of the Quatuor Ébène's rise to fame, which resulted in numerous other prizes and awards: In 2005 the quartet was awarded the Belmont Prize of the Forberg-Schneider Foundation, in 2007 it was prizewinner of the Borletti-Buitoni Trust, and in 2019 – as the first ensemble ever – it was honored with the Frankfurt Music Prize.

In addition to the traditional repertoire, the quartet also dives into other styles ("A string quartet that can easily morph into a jazz band", New York Times, 2009). What began in 1999 as a distraction in the university's practice rooms – improvising on jazz standards & pop songs – has become a trademark of Quatuor Ébène. To date the Quartet has released three albums in these genres, Fiction (2010), Brazil (2014), and Eternal Stories (2017). The free approach to various styles creates a tension that is beneficial to every aspect of their artistic work. The complexity of their oeuvre has been greeted enthusiastically by audiences and critics.

Quatuor Ébène's albums, with recordings of Bartók, Beethoven, Debussy, Haydn, Fauré, and the Mendelssohn siblings, have received numerous awards, including Gramophone, BBC Music Magazine, and the Midem Classic Award. In 2015 and 2016 the musicians dedicated themselves to the theme "Lied". They participated in the album Green (Mélodies françaises) by Philippe Jaroussky and released a Schubert album with Matthias Goerne (arrangements for string quartet, baritone, and double bass by Raphaël Merlin) and the Schubert String Quintet with Gautier Capuçon.

With their charismatic playing, their fresh approach to tradition, and their open engagement with new forms, the musicians have been successful in reaching a wide audience of young listeners and in conveying their talent in regular master classes at the Paris Conservatoire. In January 2021, the quartet was commissioned by the University of Music and Performing Arts in Munich to establish a string quartet class as part of the newly founded "Quatuor Ébène Academy". Since Fall 2020, Raphaël Merlin has served as Professor of chamber music in Munich. Its website is www.quatuorebene.com.
"superb and intensely focused" —The Times
Wolfgang Amadeus Mozart (1756-1791)
Quartet in D major, K. 575
View Notes
The feverish compositional activity that marked the last years of Mozart's life was partly induced by the precarious state of his finances. Despite his poor health, he brought forth one masterpiece after another in an impressive variety of genres. Così fan tutte, the last of the three great comic operas he wrote with librettist Lorenzo da Ponte, premiered at the court theater in Vienna in January 1790; it was soon followed by Die Zauberflöte (The Magic Flute), a Masonic morality play masquerading as a lighthearted Singspiel, and the "serious" opera La clemenza di Tito (The Mercy of Titus). Somehow Mozart also found time to write concertos for piano (his last) and clarinet, three string quartets, two string quintets, a clarinet quintet, and several small-scale vocal works—not to mention the great Requiem Mass that he was working on when he died on December 5, 1791.

In the spring of 1789, Mozart, who was also a virtuoso pianist, embarked on a concert tour to Leipzig, Berlin, and Dresden in hopes of replenishing his depleted bank account. It was on this trip that he undertook to compose the last of his 23 string quartets—the three so-called "Prussian" Quartets—for King Friedrich Wilhelm II, an enthusiastic and apparently quite accomplished amateur cellist. The Quartet in D major, K. 575, was written in Vienna that June, a few weeks after the Prussian monarch had received the composer in Potsdam. A year later, Mozart—who seems to have received no payment for his work from the king—dispatched the scores of the three works to his publisher, grumbling to a friend that he had been "forced to give away my quartets . . . for a song, simply in order to have cash in hand." Immediately afterward he accepted a more lucrative commission from his friend and patron Baron Gottfried van Swieten, a connoisseur of what was then called "ancient" music, to arrange two of Handel's choral works for private performances in Vienna.

In a nod to his royal patron, Mozart awards the cellist unusual prominence in the D-major Quartet. Much of the cello writing is virtuosic and highly exposed; indeed, the central Trio section of the Menuetto movement—here placed in third position instead of second, as in Mozart's earlier quartets—is virtually a cello solo, with the other instruments relegated to supporting roles. By spotlighting the cello's upper register, Mozart further accentuates the music's soloistic character, and the absence of a strong bass foundation gives the Trio a light, ethereal quality that contrasts with the more robust and vigorous tone of the Menuetto proper. The Quartet's two outer movements, both in cut time and marked Allegretto, feature kindred melodies that trace ascending D-major triads and incorporate lively "snap" rhythms. There is much engaging repartee between the first violin and cello, with first one and then the other taking the lead in presenting thematic material. Their dialogue intensifies in the luminous A-major Andante: the two instruments respond to and comment on each other's music, and for four sublime measures in the middle of the movement their voices intertwine in a rapturous duet.

© Harry Haskell, 2023

Alfred Schnittke (1934-1998)
Quartet No. 3
View Notes
Alfred Schnittke was born to a German father and a Volga-Deutsch mother in Engels, an industrial city about 450 miles southeast of Moscow. At 12, he began to study music in Vienna, where his journalist father had been transferred. Schnittke completed his studies at the Moscow Conservatory and taught there until 1972, when he began composing for film. He scored 60-odd movies, and that work, demanding quick responses to the ever-changing emotional twists of plot, conditioned the style of his concert music. His enormous output included nine symphonies, three operas, four string quartets, and many, many concertos.
With the international honors his music was receiving, and in a Soviet Union beginning to relax its strictures on artists, Schnittke was spared the indignities heaped on earlier Soviet composers. But no bureaucrat could have been happy with something as deeply strange as his Symphony No. 1, a love-it-or-loathe-it hour of dissonance that demands so much patience and serious listening, it practically begged the Composers Union to ban it (the Composers Union obliged). Schnittke so displeased the authorities that in 1980 he was prohibited from traveling outside the country. In 1990, a year after the Berlin Wall fell, he settled in Hamburg, where in 1998 he died at 63.
The String Quartet No. 3, from 1983, is the kind of emotion-laden work you might expect from a composer closely attuned to film. Schnittke's music incorporates found objects. The quartet begins with a quotation from the Stabat mater by the 16th-century Flemish composer Orlando di Lasso, establishing a serenity immediately dispatched by a drone that grows louder and tighter under the second violin's plucked strings. In a film, this ominous figure might accompany careful steps into a dark room; in musical terms, it recalls the opening of Beethoven's Grosse Fuge. The melodic gesture from Beethoven is not so far from Shostakovich's signature DSCH motif, and that too is submerged in the texture (the names German assigns to musical tones enabled Shostakovich to notate his initials; translated into English, they are D/E-flat/C/B). A disintegration morphs into languid siren-like lines. While apparently quoting Orlando di Lasso, Beethoven, and Shostakovich, Schnittke transforms their themes and builds a tight structure all his own.
The second movement begins as a kind of waltz, but again Lasso intrudes. Roughly halfway through, the mood reverts to the mysterious atmosphere of the quartet's opening. The tempo shifts into overdrive and, as in Beethoven's fugue, verges toward chaos. The final movement, following with no break, opens with a grand Grosse Fuge-like gesture. Lasso and Beethoven return in an extended meditative passage, subdued and tense to the end.
© Larry Rothe, 2023
Edvard Grieg (1843-1907)
Quartet in G minor, Op. 27
View Notes
Grieg was born on the eve of the revolutionary upheavals that transformed the social and political landscape of 19th-century Europe. When the 15-year-old Norwegian arrived to study at the Leipzig Conservatory in 1858, the Romantic tradition established by Mendelssohn and Schumann was still going strong. By the time he died in 1907, Strauss had scandalized opera audiences with his dissonantly modernist Salome and Schoenberg had sallied forth on the path toward atonality. Grieg's own music was deeply rooted in Norway's landscape and folk culture, as reflected in his dozens of art songs and short piano pieces. Yet he also experimented with forms and harmonies that anticipated 20th-century practices. So strong was his influence on Debussy, Ravel, and their fellow impressionists that the British composer Frederick Delius was moved to quip that all of "modern French music is simply Grieg plus the prelude to the third act of [Wagner's] Tristan."

Grieg composed his first string quartet (now lost) as a student in Leipzig in 1861. Sixteen years later, encouraged by the favorable reception of his first two violin sonatas, he returned to the quartet medium during an extended working holiday amid the spectacular mountains and fjords of Norway's Hardanger district, a setting that never failed to stimulate his creative juices. Grieg's innate melodic facility ensured a boundless store of thematic material, although he struggled to stretch his ideas out to fill the standard four-movement framework. The G-minor Quartet, he told a friend in 1878, "strives towards breadth, soaring flight and above all resonance for the instruments for which it is written." Whatever obstacles Grieg encountered in composing the Quartet, however, the finished score is a work of astonishing vigor and originality, in which lyrical and dramatic elements are juxtaposed, contrasted, and combined into a satisfyingly integrated whole.

Both the first and the last movements begin with portentous chordal introductions that abruptly give way to outbursts of nervous, almost savage energy. After the sound and fury of the opening, a limpid, meltingly beautiful melody, borrowed from one of Grieg's own songs, emerges as an organizing theme, a little like one of Wagner's leitmotifs. (Grieg had traveled to Bayreuth in 1876 to hear the first performance of the Ring cycle.) It pops up throughout the Quartet in various contexts and permutations, returning at the very end in resplendent G major. Grieg's score is full of such surprises—magical sonorities, sudden dynamic contrasts, throbbing syncopations, shifting metrical patterns, pregnant pauses, and pungent dissonances. No sooner does one passage settle into a groove than the music changes course and darts off on an unpredictable tangent. Harmonically, the Quartet was ahead of its time; a decade later Debussy would incorporate some of Grieg's tonal innovations in his own G-minor Quartet.

© Harry Haskell, 2023
Program Subject to Change Without Notice