Sunday, November 08, 2020 | 5:30 PM
Garrick Ohlsson, piano
Kirill Gerstein, piano
Available on demand through Wed, Nov 11, 11:59pm EST.
Location: Online
The Zarelda Fambrough Memorial Concert
Keyboard powerhouses Garrick Ohlsson, "captivating" (BBC Music) and Kirill Gerstein, "expressive brilliance" (The Guardian), join forces for a two-piano recital of revelatory depth. Recorded in the beautiful San Francisco Conservatory, the program features Busoni's stunning homage to Bach and Rachmaninoff's and Ravel's rich color, rhythmic drive, and melodic splendor.
The concert will be followed by an Artist Q&A.
Questions about streaming? Streaming Guide
Please note that this concert's broadcast premiere is on Sun, Nov 8 at 5:30pm EST, followed by on-demand access through Wed, Nov 11 at 11:59pm EST.
The exclusive streaming link will be emailed to all advance ticketholders on Sun, Nov 8 at 1pm EST. All ticket orders placed by 5pm EST will receive the streaming link in time for the concert premiere at 5:30pm EST. Purchases made after 5pm EST will receive the streaming link as soon as the order is processed by SHCS staff.
About the sponsor
The Zarelda Fambrough Memorial Concert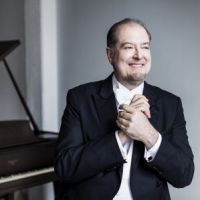 Garrick Ohlsson
Pianist Garrick Ohlsson has established himself worldwide as a musician of magisterial interpretive and technical prowess. Although long regarded as one of the world's leading exponents of the music of Chopin, Ohlsson commands an enormous repertoire ranging over the entire piano literature and he has come to be noted for his masterly performances of the works of Mozart, Beethoven, and Schubert, as well as the Romantic repertoire. To date, he has at his command more than 80 concertos, ranging from Haydn and Mozart to works of the 21st century.
In the 2018/19 season, he launched an ambitious project spread over two seasons exploring the complete solo piano works of Brahms in four different programs. The cycle will be heard in New York, San Francisco, Montreal, Los Angeles, London, and a number of cities across North America, culminating in Tanglewood, summer 2020. In concerto repertoire ranging from Mozart and Beethoven to Brahms and Barber, he will return to the Nashville, Oregon, Dallas, Detroit, and Colorado Symphonies, concluding the 2019/20 season in Bellingham Festival of Music with all Beethoven concerti programmed over the course of three performances. Internationally he can be heard with orchestras in Seoul, Helsinki, Zagreb, Tallinn, Manchester, London, and Australia.
An avid chamber musician, Ohlsson has collaborated with the Cleveland, Emerson, Tokyo, and Takács string quartets, including most recently Boston Chamber Players on tour in Europe. Together with violinist Jorja Fleezanis and cellist Michael Grebanier, he is a founding member of the San Francisco-based FOG Trio. Passionate about singing and singers, Ohlsson has appeared in recital with such legendary artists as Magda Olivero, Jessye Norman, and Ewa Podleś. Ohlsson can be heard on the Arabesque, RCA Victor Red Seal, Angel, BMG, Delos, Hänssler, Nonesuch, Telarc, Hyperion, and Virgin Classics labels.
A native of White Plains, N.Y., Garrick Ohlsson began his piano studies at the age of 8, at the Westchester Conservatory of Music; at 13 he entered The Juilliard School, in New York City. He has been awarded first prizes in the Busoni and Montreal Piano competitions, the Gold Medal at the International Chopin Competition in Warsaw (1970), the Avery Fisher Prize (1994), the University Musical Society Distinguished Artist Award in Ann Arbor, MI (1998), the Jean Gimbel Lane Prize in Piano Performance from the Northwestern University Bienen School of Music (2014), and the Gloria Artis Gold Medal for cultural merit from the Polish Deputy Culture Minister.
Garrick Ohlsson's website is garrickohlsson.com.
"By almost any measure, Ohlsson is one of the great American pianists." —The Washington Post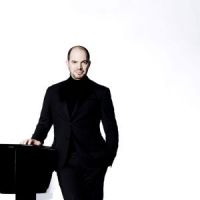 Kirill Gerstein
Pianist Kirill Gerstein's curiosity and versatility have led to a powerful engagement with a wide range of repertoire and styles. From Bach to Adès, his playing is distinguished by its clarity of expression, discerning intelligence, and virtuosity. Gerstein's energetic and imaginative musical personality has rapidly taken him to the top of his profession.
Born in the former Soviet Union, Gerstein is an American citizen based in Berlin. His career is similarly international, with solo and concerto engagements taking him across North America, Europe, Asia, and Australia. Recent and upcoming North American orchestral engagements include appearances with the New York Philharmonic, Cleveland and Philadelphia Orchestras, Chicago and Boston symphonies and the orchestras of San Francisco, Pittsburgh, Toronto, Detroit, Cincinnati and Dallas, and the Minnesota Orchestra among many others. Highlights of the new season include the launch of Gerstein's Helsinki Philharmonic Artist-in-Residence season with both Brahms' Piano Concertos played in one evening under John Storgårds; performances of Schumann's Piano Concerto in Vienna's Musikverein with Sakari Oramo and the Royal Stockholm Philharmonic; and a return to the Leipzig Gewandhaus Orchestra for music by Ravel and Busoni conducted by Susanna Mälkki. In recital, Gerstein will present the twelve études of Debussy and twelve Transcendental Études of Liszt at Berlin's Pierre Boulez Saal as well as on tour in Japan, Portugal, and Belgium.
Over the last two years, the long and productive relationship between Gerstein and composer Thomas Ades resulted in the Boston Symphony commissioning the composer to write a concerto specifically for Gerstein. Deutsche Grammophon's world première live recording release of the new work with the Boston Symphony was followed shortly by Gerstein's own release on Myrios Classics of Adès compositions. The concerto received world-wide accolades and has subsequently been performed with the Cleveland Orchestra, Leipzig Gewandhaus, Royal Concertgebouw, London Philharmonic, and Bavarian Radio Orchestra.
He has collaborated with Myrios Classics since 2010 and his thoughtfully curated recording projects for the independent label have resulted most recently in a recording of Busoni's monumental Piano Concerto with the Boston Symphony Orchestra and Sakari Oramo; The Gershwin Moment with the St Louis Symphony and David Robertson, plus special appearances from Storm Large and Gerstein's former mentor Gary Burton; Liszt's Transcendental Études, which was picked by The New Yorker as one of 2016's notable recordings; and Tchaikovsky's First Piano Concerto in the composer's own final version from 1879. Previous recordings for Myrios Classics also include Imaginary Pictures coupling Mussorgsky's Pictures at an Exhibition with Schumann's Carnaval; and a recital disc of works by Schumann, Liszt, and Knussen. He is also featured on LAWO Classics' Scriabin cycle performing Prometheus: The Poem of Fire and the Piano Concerto with the Oslo Philharmonic and Vasily Petrenko and recorded all of the Tchaikovsky Piano Concertos with the Czech Philharmonic and Semyon Bychkov on "The Tchaikovsky Project" boxed set for Decca.
A long-time believer in the role of teaching in the life of a musician, he took up the post of Professor of Piano at Berlin's Hanns Eisler Hochschule in October 2018 following ten years of leading piano classes at the Stuttgart Musik Hochschule. He is also on the faculty of the Kronberg Academy's Sir András Schiff Performance Programme for Young Artists. In response to the impact of the global pandemic, Gerstein launched a series of free and open online seminars titled Kirill Gerstein invites with the Hanns Eisler Academy featuring conversations with leading musicians, musicologists, and philosophers. The series opened with Andreas Staier and guest speakers included Iván Fischer, Ian Bostridge, Thomas Adès, Brad Mehldau, Anthony Fogg, and Paul Boghossian.
Brought up studying both classical and jazz piano, Gerstein was 14 when he moved to the US as the youngest student to attend Boston's Berklee College of Music. As his focus turned back towards the classical repertoire, Gerstein furthered his studies with Solomon Mikowsky in New York, Dmitri Bashkirov in Madrid, and Ferenc Rados in Budapest. He won the first of a series of prestigious accolades in 2001: First Prize at the 10th Arthur Rubinstein Competition. In 2002, he won a Gilmore Young Artist Award and in 2010 both an Avery Fisher Career Grant and the Gilmore Artist Award, which enabled him to commission new works from Timo Andres, Chick Corea, Alexander Goehr, Oliver Knussen, and Brad Mehldau.
As a child, Gerstein studied both classical and jazz piano. He moved to the U.S. where, at age 14, he was the youngest student to attend Boston's Berklee College of Music. Shifting his focus to the classical repertoire, he studied with Solomon Mikowsky in New York, Dmitri Bashkirov in Madrid, and Ferenc Rados in Budapest. Gerstein has received a series of prestigious accolades, including First Prize at the 10th Arthur Rubinstein Competition in 2001 and a Gilmore Young Artist Award in 2002. In 2010 he was awarded both an Avery Fisher Career Grant and the Gilmore Artist Award, which provided the funds for him to commission new works from Timo Andres, Chick Corea, Alexander Goehr, Oliver Knussen, and Brad Mehldau.
Kirill Gerstein's website is kirillgerstein.com.

"Kirill Gerstein now belongs to the class of the most renowned classical pianists." —Süddeutsche Zeitung (Germany)
Sergey Rachmaninoff (1873-1943)
Symphonic Dances, Op. 45
View Notes
Rachmaninoff's prowess as a pianist has tended to eclipse his considerable compositional accomplishments. Yet as a fifteen-year-old wunderkind at the Moscow Conservatory, he was singled out for greatness by no less a judge than Tchaikovsky. Shortly after graduating in 1892, he composed the Prelude in C-sharp Minor for solo piano that would become his calling card on recitals. Unfortunately, this precocious success led to a prolonged period of debilitating depression and lethargy, during which Rachmaninoff found it almost impossible to compose. It was not until 1900, after he consulted a physician specializing in hypnosis, that his creative juices started flowing freely again. Reveling in the rediscovery of what he called "the joy of creating," he produced a string of confidently outgoing works, including the Second Piano Concerto, the Cello Sonata, and the Ten Piano Preludes, Op. 23. After emigrating from Russia in the wake of the Bolshevik Revolution, Rachmaninoff concentrated on his lucrative career as a concert pianist, dividing his time between Europe and the United States until the outbreak of World War II.

By the time he wrote his Symphonic Dances in 1940, Rachmaninoff's dual career was winding down. Disheartened by critics' cool reception of his recent works, he had composed nothing new since the Third Symphony of 1936. The impetus to break his self-imposed vow of silence seems to have been provided by Michel Fokine, who lived near the Rachmaninoffs on Long Island. In 1939 the choreographer had created a successful ballet based on Rachmaninoff's scintillatingly popular Rhapsody on a Theme of Paganini. Although Fokine's death in 1942 would scotch the two men's plans for an encore, the composer forged ahead with the "new symphonic piece" he had promised to Eugene Ormandy and the Philadelphia Orchestra. The opulent orchestration that dazzled audiences at the 1941 premiere (including four horns, two harps, piano, and a battery of percussion) is prefigured in skeletal form in Rachmaninoff's two-piano version, which he reportedly performed with another Long Island neighbor, Vladimir Horowitz, at a private party in Beverly Hills, California, the following year.

In the first of the three Symphonic Dances—somewhat cryptically marked "not allegro"--the second piano introduces Rachmaninoff's compact theme, a swooping three-note motif whose jaunty swagger is reminiscent of Prokofiev's ballets. Despite its comparatively monochromatic timbral palette, the music's bracing kinetic energy survives intact in the two-piano version, though listeners familiar with the orchestral score will miss such untranslatable features as the brassy brilliance of the opening fanfares and the solo saxophone's plangent arioso in the central slow section. On the other hand, the pianos' brittle sound effectively highlights the nervous, throbbing pulse of the second-movement waltz, in which swirling chromatic passagework offsets the insistent lilt of the underlying 6/8 meter. The short, sharp shocks that herald the beginning of the propulsive finale unmistakably mark it as a dance of death, a reference that Rachmaninoff later makes explicit by quoting the famous Dies irae plainchant from the Orthodox Requiem Mass. Both here and in the first dance, he incorporates music he had written many years earlier, as if in tacit recognition that the Symphonic Dances would be his swan song.

(c) Harry Haskell, 2020
Ferruccio Busoni (1866-1924)
Fantasia contrappuntistica
View Notes
Busoni was one of the most complex, visionary, and unclassifiable figures in the history of music. Italian by birth but Germanic by temperament, he was at once a prodigious piano virtuoso, a pathbreaking composer, a gifted writer, and a musical thinker of great depth and originality. In 1907 he published his Sketch of a New Aesthetic of Music, a short but influential manifesto that issued a clarion call for forward-looking musicians. A soulmate of Liszt, Busoni was endowed with a restless, experimental mind that expressed itself in both words and music, enabling him to anticipate such modernist innovations as microtonal harmony and electronic music. Thanks largely to his clarinetist father, who introduced him to Bach at an early age, Busoni tempered his futuristic leanings with a solid grounding in music of the past. He was one of the first modern virtuosos to perform Mozart's concertos regularly, and over some three decades, he edited and transcribed most of Bach's keyboard music for the piano. Busoni likened the Baroque master's music to "an old, sturdy oak-tree . . . that continues to put forth the greenest and freshest of shoots." His reverence for Bach is reflected in the musical memorial he crafted after his father's death in 1909: the Fantasy after J. S. Bach draws freely on three of the German composer's organ works in what Busoni called a Nachdictung, an adaptation or recreation of Bach's ideas in another language.

In the monumental Fantasia contrappuntistica (Contrapuntal Fantasy), Busoni attempted something considerably more ambitious. While working on an edition of The Art of Fugue, Bach's final word on the complex contrapuntal procedures that had occupied him throughout his life, he became fascinated by the culminating quadruple fugue that the Baroque composer had left unfinished upon his death in 1750. On an American concert tour in 1910, Busoni worked out a completion of the fragmentary fugue and incorporated it into a work that he called—with a sidelong nod to Beethoven—Grosse Fuge (Great Fugue). Busoni's music bears little auditory resemblance to Bach's; instead, he reinterpreted Bach's elaborate contrapuntal style as filtered through the ideas of Bernhard Ziehn, a well-known contemporary German-American music theorist whom he visited in Chicago. Over the next decade, Busoni reworked and expanded his knotty, twenty-minute-long piano solo into a somewhat longer and technically less formidable piece for two pianos. This version of the Fantasia contrappuntistica opens with a chorale prelude—the most Bach-like in sound of the work's twelve sections--and three fugues, the last based on a four-note theme that spells Bach's name in German musical notation (B-flat, A, C, B-natural). The ensuing eight sections showcase various applications of what Ziehn labeled "symmetric inversion," an innovative contrapuntal technique associated with a high degree of harmonic freedom and dissonance. As Busoni's ideas evolved, so did the resources he needed to realize them; eventually, he came to the conclusion that playing the Fantasia was "a disproportionate task for ten fingers, whereas divided between twenty it would be easy and transparent for player and listener alike." The result is a pianistic as well as a contrapuntal tour de force.

(c) Harry Haskell, 2020
Maurice Ravel (1875-1937)
La Valse
View Notes
Thirteen years younger than Debussy, Ravel made his mark in Paris at the turn of the twentieth century with a masterful String Quartet and a group of brilliantly crafted piano pieces, including the Pavane pour une infante défunte (Pavane for a Dead Princess), Jeux d'eau (Waterworks), and Miroirs (Mirrors). Over the ensuing decades, he refined his art, ruthlessly pruning away superfluous notes and gestures in search of the "definitive clarity" that was his declared ideal. As a member of the Parisian artists' circle known as the Apaches, the young composer aligned himself with the gadflies who stood apart from France's hidebound cultural establishment. Ravel's repeated failure to win the Prix de Rome, a rite of passage for French composers seeking the official stamp of approval, only stiffened his determination to forge his own path. Not until 1920 was he awarded the prestigious Légion d'Honneur, an honor that he rebuffed with undisguised satisfaction. Nonetheless, from an early age Ravel was marked to succeed Debussy as the poet laureate of French music. Their competing claims to the title led to recurring friction between the two composers and their partisans, despite Ravel's genuine and often-expressed admiration for Debussy. The two men shared a poetic sensibility, an allegiance to French traditions, and a fondness for sensuous, impressionistic timbres and textures. But Debussy's revolutionary approach to harmony and form was alien to Ravel, who remained a classicist at heart. Many of his works evoke composers and styles of the past, even as they incorporate ultramodern harmonies and compositional styles.
When Ravel put the finishing touches on his "choreographic poem" La Valse (The Waltz) in the spring of 1920, he had high hopes of seeing it performed by Serge Diaghilev's celebrated Ballets Russes. To his dismay, however, the powerful impresario rejected the score as undanceable, observing that Ravel's "masterpiece" was not a ballet but merely "the portrait of a ballet." (La Valse was eventually staged nonetheless, first in Antwerp and then in Paris.) Ravel himself described the work as "a sort of apotheosis of the Viennese waltz," combined with "the impression of a fantastic, fatal whirling." As was his wont, he wrote the keyboard score first, in versions for both one and two pianos, and then orchestrated it in his characteristically brilliant manner. Ravel's "portrait" of the dance owes much to the cubist technique of dismemberment and reconfiguration. Gradually, fitfully, the primordial image of a recognizable waltz emerges from the murky depths of the tremolos that constitute the work's prelude. (In the orchestral version, they are played by the double basses.) Ravel methodically assembles his composition bit by bit, one theme morphing into another in a long-drawn-out crescendo. Midway through La Valse, the waltz starts over from the top, only this time with new and menacing ferocity, like a dance of death. To some contemporary listeners, Ravel's fractured harmonies, melodies, and rhythms mirrored the dissolution of the old European empires after World War I.
(c) Harry Haskell, 2020
Program Subject to Change Without Notice