Sunday, December 06, 2020 | 5:30 PM
McGill/McHale Trio
Available on demand through Wed, Dec 9, 11:59pm EST.
Location: Online
The Yale Gordon Young Artist Concert
The McGill/McHale Trio's remarkable program explores dances of all kinds: from the Hungarian Furiant and the American Charleston to today's pulsating Techno. Clarinetist Anthony McGill and flutist Demarre McGill are joined by Irish pianist Michael McHale for this lush program of French and American works recorded last December at New York's 92nd Street Y, augmented with remarks and a Q&A from the artists especially for the Shriver Hall Concert Series audience.
The performance will be followed by an Artist Q&A.
Questions about Streaming? Streaming Guide
Please note that this concert's broadcast premiere is on Sun, Dec 6 at 5:30pm EST, followed by on-demand access through Wed, Dec 6 at 11:59pm EST.
The exclusive streaming link will be emailed to all advance ticketholders on Sun, Dec 6 at 1pm EST. All ticket orders placed by 5pm EST will receive the streaming link in time for the concert premiere at 5:30pm EST. Purchases made after 5pm EST will receive the streaming link as soon as the order is processed by SHCS staff.
About the sponsor
The Yale Gordon Young Artist Concert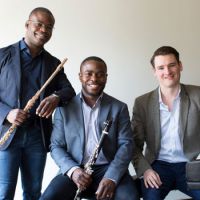 McGill/McHale Trio
Anthony McGill, clarinet
Demarre McGill, flute
Michael McHale, piano

The McGill/McHale Trio was founded in September 2014 when clarinetist Anthony McGill and his brother, flutist Demarre McGill, were featured artists in a residency at Bowling Green University in Ohio. Pianist Michael McHale joined them in concert for the first time during that residency, and it was immediately clear that the Trio had a great future in store. Since then, they've released an album on Cedille Records, collaborated with Oscar-winning actor Mahershala Ali, and given concerts in New York, Philadelphia, Washington, DC, and Tulsa, among other cities.
Clarinetist Anthony McGill is one of classical music's most recognizable and multifaceted figures. He serves as the principal clarinet of the New York Philharmonic — that orchestra's first African-American principal player — and maintains a dynamic international solo and chamber music career. Hailed for his "trademark brilliance, penetrating sound and rich character" (The New York Times), McGill is an ardent advocate for helping music education reach underserved communities and for addressing issues of diversity, equity, and inclusion in classical music. He was honored to take part in the inauguration of President Obama, performing alongside violinist Itzhak Perlman, cellist Yo-Yo Ma, and pianist Gabriela Montero. McGill is the recipient of the Avery Fisher Prize (2020).
Chicago native Demarre McGill is recognized internationally as a soloist, recitalist, chamber, and orchestral musician, as well as an educator, and has appeared as soloist with the Philadelphia Orchestra, and the Chicago, Seattle, Pittsburgh, Dallas, Grant Park, San Diego, and Baltimore symphonies. Now principal flute of the Seattle Symphony, he previously served as principal flute of the Dallas, San Diego, Florida, and Santa Fe Opera orchestras and as acting principal flute of the Metropolitan Opera Orchestra and the Pittsburgh Symphony. McGill is Associate Professor of Flute at the Cincinnati College-Conservatory of Music and an artist-faculty member at the Aspen Music Festival.
Michael McHale was born in Belfast, Northern Ireland, and now resides in London, England. Following studies at the University of Cambridge and Royal Academy of Music, McHale has gone on to become one of Ireland's leading concert pianists. He has performed with many major ensembles including the Minnesota and Hallé orchestras, and the Moscow, Bournemouth, BBC, BBC Scottish, Jacksonville, and London symphonies. In addition to solo recitals and festival appearances, he collaborates with Sir James Galway, Michael Collins, Dame Felicity Lott, and Camerata Pacifica, among others, and his extensive discography encompasses over 25 solo and chamber music albums.
"Amazing… a hybrid sonority I don't think I've previously head." —The Philadelphia Inquirer
Chris Rogerson (b. 1988)
A Fish Will Rise (Baltimore Premiere)
Francis Poulenc (1899-1963)
Sonata for Flute and PIano
Antonin Dvořák (1841-1904)
Slavonic Dance No. 8 (arr. Webster)
Guillaume Connesson (b. 1970)
Techno-Parade (Baltimore Premiere)
Claude Debussy (1862-1918)
'Jardins sous la pluie from Estampes
Francis Poulenc (1899-1963)
Sonata for Clarinet and Piano
Paul Schoenfeld (b. 1947)
Sonatina (Baltimore Premiere)
Program Subject to Change Without Notice