Sunday, June 12, 2022 | 5:30 PM
Mahan Esfahani, harpsichord
The Paul & Barbara Krieger Early Music Concert
Location: Shriver Hall
PICK 3 CONCERTS for $105 – That's Just $35 Per Concert, a 21% Savings!
Discount applied at check out.
"Flipping stereotypes is one way of characterizing the remarkable career of Mahan Esfahani" (The Seattle Times). The Irani-American harpsichordist, hailed by The Times as a "superstar," notable for his "musicianship, imagination, virtuosity, cultural breadth, and charisma," excels at this instrument's traditional repertoire while also working with today's leading composers. Esfahani performs a recital full of extraordinary color, vitality, and freshness.
"The ovation was intense and seemingly universal." – The New York Times
All ticketholders must be in compliance with our COVID-19 Safety policies, including being fully vaccinated and, if eligible, having received their booster dose. To learn more, please click here.
About the sponsor
Paul and Barbara Krieger, great lovers and players of early music, endowed this concert in 2003. Paul, a retired pathologist, has turned to another great love: the study of music theory. Barbara was the executive director of the Vineyard Theater, an off-Broadway theater that she founded in 1981 that garnered two Pulitzer Prizes among many other honors. Currently, she is the artistic director of New York City's Children's Theater, a family theater and education company that she founded in 2001. The Kriegers have a collection of historical keyboard, wind, and string instruments, all of which they enjoy playing together with their many musical friends.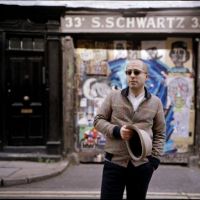 Mahan Esfahani
Mahan Esfahani has made it his life's mission to rehabilitate the harpsichord in the mainstream of concert instruments, and to that end his creative programming and work in commissioning new works have drawn the attention of critics and audiences across Europe, Asia, and North America. He was the first and only harpsichordist to be a BBC New Generation Artist (2008-2010), a Borletti-Buitoni prize winner (2009), and a nominee for Gramophone's Artist of the Year (2014, 2015, and 2017).
His work for the harpsichord has resulted in recitals in most of the major series and concert halls, amongst them London's Wigmore Hall, Carnegie Hall, Sydney Opera House, Melbourne Recital Centre, Berlin Konzerthaus, Zurich Tonhalle, Wiener Konzerthaus, Cologne Philharmonie, Edinburgh International Festival, and the Leipzig Bach Festival, and concerto appearances with the Chicago Symphony, Ensemble Modern, BBC Symphony, Royal Liverpool Philharmonic, Seattle Symphony, Melbourne Symphony, Auckland Philharmonia, Czech Radio Symphony, Orquesta de Navarra, Malta Philharmonic, Montreal's Les Violons du Roy, Hamburg Symphony, Munich Chamber Orchestra, Britten Sinfonia, the Royal Northern Sinfonia, and Los Angeles Chamber Orchestra, with whom he was an artistic partner for 2016-2018.
His discography includes recordings for Hyperion and Deutsche Grammophon – garnering one Gramophone award, two BBC Music Magazine Awards, a Diapason d'Or and 'Choc de Classica' in France, and an ICMA.Esfahani studied musicology and history at Stanford University, he studied harpsichord privately in Boston with Peter Watchorn before completing his formation under the celebrated Czech harpsichordist Zuzana Růžičková. He can be frequently heard as a commentator on BBC Radio 3 and Radio 4 and as a host for such programs as Record Review, Building a Library, and Sunday Feature where he is currently at work on his fourth radio documentary. Born in Tehran in 1984 and raised Potomac, Maryland, he now lives in Prague. Learn more at www.mahanesfahani.com.
"It would be hard not to be impressed by Iranian harpsichordist Mahan Esfahani. Young, suave, eloquent…he's an inquisitive mind…a phenomenally accomplished performance." – The Guardian
Luc Ferrari (1929-2005)
'Programme commun' for Harpsichord and Tape
Louis Andriessen (1939-2021)
Overture to 'Orpheus'
Works by BACH, PACHELBEL, SCARLATTI
Program Subject to Change Without Notice