Sunday, January 14, 2024 | 5:30 pm
Julia Bullock, soprano (Baltimore Recital Debut)
Bretton Brown, piano
The Mity Clarke Gann Memorial Concert
Location: Shriver Hall
"A musician who delights in making her own rules" (The New Yorker), soprano Julia Bullock presents a brilliantly wide-ranging program. She brings an arresting, often transformative emotional depth to songs both familiar and obscure with a voice that "rises with strength and focus like a cloud condensing into a thunderbolt, [breathing] both humanity and epic grace into the music" (New York Times).
"One of today's smartest, most arresting vocalists in any genre…." –NPR
About the sponsor
Florence Clarke Gann (1909-1995) was known as "Mity" because she was as small as a "mite." The moniker never fit. She had irrepressible energy and an extraordinary love for life. She had a quest for knowledge and enjoyed lively intellectual debate. She loved music, art, good books, and, at age 85, she was still working on her tennis game. Mity's love for music and her piano were important aspects of her life. She played chamber music and was still playing a few weeks before her death. She used to say, "Music is one of the things that always makes me feel good." Mity's legacy is surely one of love for life and for all the beautiful and interesting things in it. She is remembered by this gift of a concert in her memory made in 1996 by her family and friends.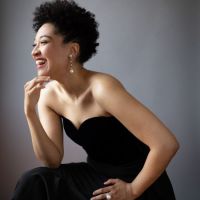 Julia Bullock
Honored as a 2021 Artist of the Year and "agent of change" by Musical America, Julia Bullock is an American classical singer who "communicates intense, authentic feeling, as if she were singing right from her soul" (Opera News). Combining versatile artistry with a probing intellect and commanding stage presence, she has headlined productions and concerts at preeminent arts institutions around the world. An innovative curator in high demand from a diverse group of arts presenters, museums and schools, she has held positions including collaborative partner of Esa-Pekka Salonen and 2019-20 Artist-in-Residence at the San Francisco Symphony, 2020–22 Artist-in-Residence of London's Guildhall School, and 2018-19 Artist-in-Residence at New York's Metropolitan Museum of Art. Vanity Fair notes she is "young, highly successful, [and] politically engaged," with the "ability to inject each note she sings with a sense of grace and urgency, lending her performances the feel of being both of the moment and incredibly timeless."
Bullock has held several important positions as a curator, including opera-programming host of the broadcast channel All Arts, and founding core member of the American Modern Opera Company (AMOC). As Artist-in-Residence of the Metropolitan Museum of Art, she curated five thought-provoking programs in some of the museum's most iconic spaces. She took part in the world premiere of Terence Blanchard's Fire Shut Up in My Bones at the Opera Theatre of Saint Louis, and reprised Dame Shirley, the leading role she created in Adams's Girls of the Golden West, for the opera's European premiere at Dutch National Opera. She also gave the Boston premiere of Perle Noire at Harvard's OBERON, made her Saint Paul Chamber Orchestra debut in Barber's Knoxville: Summer of 1915, and gave a North American recital tour with frequent piano partner John Arida.
In November 2022, she made her solo album debut on the Nonesuch label with Walking in the Dark. Combining Knoxville: Summer of 1915 with an aria from El Niño and songs by Oscar Brown Jr., Connie Converse, Sandy Denny and Billy Taylor, the record was featured in The New York Times' "Best Classical Music Tracks of 2022" and named one of the "Ten Best Classical Albums of 2022" by NPR. Selected as one of The New York Times' "25 Best Musical Tracks of 2018," her starring role in Adams' Doctor Atomic, recorded with the composer conducting the BBC Symphony Orchestra, was a nominee for the 2018 Grammy Award for Best Opera Recording. This marked Bullock's second appearance on a Grammy-nominated recording, following her live account of West Side Story with Tilson Thomas and the San Francisco Symphony, Grammy nominated for Best Musical Theater Album in 2014.
Julia Bullock was born in St. Louis, Missouri, where she joined the artist-in-training program at Opera Theatre of Saint Louis while in high school. She went on to earn her Bachelor's degree at the Eastman School of Music, Master's degree in Bard College's Graduate Vocal Arts Program, and Artist Diploma at The Juilliard School. Her website is juliabullock.com.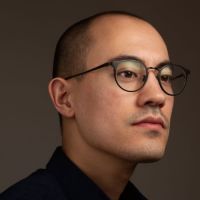 Bretton Brown
Raised in Murray, Kentucky, pianist Bretton Brown holds prizes for music and poetry from Yale University, where he received his bachelor's degree with distinction. He is the 2013 recipient of the Henri Kohn Memorial Award from the Tanglewood Music Center, where he served this summer as rehearsal pianist for the American premiere of George Benjamin's opera Written on Skin. Brown's recent engagements include recitals in Carmel, California; New York (Merkin Hall); and Paris, France, under the auspices of The Rothschild Foundation and The Juilliard School. Other past performance credits include a selection of Wesendonck Lieder in Alice Tully Hall as part of Juilliard's Wednesdays at One Series and Pierrot lunaire in Jordan Hall (Boston). Brown has previously collaborated with Tine Thing Helseth at The Apple Store SoHo and on Sirius XM, and his work has also been broadcast on WQXR-FM and YouTube, the latter in the first master class ever to be streamed live from Juilliard, featuring mezzo-soprano Joyce DiDonato.
Committed to classical-music outreach, Brown has participated in a weeklong residency in Lander, Wyoming, bringing classical music to local middle-school students, and is a member of The Juilliard School's Gluck Community Service Fellowship, which sponsors performances by the Juilliard community in health-care facilities throughout New York City. He holds a master's degree with academic honors from New England Conservatory and is currently a C. V. Starr Doctoral Fellow at Juilliard.
Franz Schubert (1797-1828)
"Rastlose Liebe," D. 138
Hugo Wolf (1860-1903)
"Im dem Schatten meiner Locken" from Spanisches Liederbuch
Hugo Wolf (1860-1903)
"Bedeckt mich mit Blumen" from Spanisches Liederbuch
Connie Converse (1924-1974)
"There is a Vine"
Connie Converse (1924-1974)
"One by One"
Kurt Weill (1900-1950)
"Lost in the Stars" from Lost in the Stars
Kurt Weill (1900-1950)
"Denn wie man sich bettet, so liegt man" from Rise and Fall of the City of Mahagonny
Kurt Weill (1900-1950)
"Wie lange noch?"
Kurt Weill (1900-1950)
"The Princess of Pure Delight" from Lady in the Dark
Luciano Berio (1925-2003)
Selections from Quattro canzoni popolari
Gioachino Rossini (1792-1868)
"Mi lagnerò tacendo, 'Stabat Mater'"
Gioachino Rossini (1792-1868)
"Mi lagnerò tacendo, 'Sorzico'"
John Cage (1912-1992)
"She is Asleep" for Voice and Prepared Piano
Spencer Williams (1880/89-1965) / Pat Castleton (? - 1993)
"Driftin' Tide"
Cora "Lovie" Austin (1887-1972) / Alberta Hunter (1895-1984)
"Downhearted Blues"
Cora "Lovie" Austin (1887-1972) / Alberta Hunter (1895-1984)
"Lovie Austin Tribute"
Billie Holiday (1915-1959) / Sonny White (1917-1971)
"Our Love Is Different"
Nina Simone (1933-2003) / Weldon Jonathan Irvine, Jr. (1943-2002)
"Revolution"
Nina Simone (1933-2003)
"Four Women"
Billy Taylor (1921-2010)
"I Wish I Knew How It Would Feel To Be Free"
Program Subject to Change Without Notice