Sunday, February 21, 2021 | 5:30 PM
Narek Hakhnazaryan, cello
Daniil Trifonov, piano
This concert is not available online. Please call 410.516.7164 for more information.
Location: Shriver Hall
The Piatigorsky Memorial Concert
The "dazzlingly brilliant" (The Strad) cellist Narek Hakhnazaryan is joined by Daniil Trifonov, "without question the most astounding pianist of our age" (The Times, London). Long-timefriends and fellow 2011 Tchaikovsky Competition winners, they perform a superb program of works by Pärt, Shostakovich, and Rachmaninoff.
"Nothing short of magnificent." —San Francisco Chronicle on Narek Hakhnazaryan
"[Trifonov] is, no other word, a phenomenon" —The Guardian
About the sponsor
The Piatigorsky Memorial Concert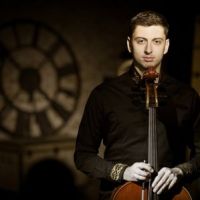 Narek Hakhnazaryan
Since winning the Cello First Prize and Gold Medal at the XIV International Tchaikovsky Competition in 2011 at the age of 22, Narek Hakhnazaryan has inspired audienceswith his artistry, securing a reputation as one of the world's foremost cellists. Hakhnazaryan has performed with orchestras across the globe, earning praise from critics as "dazzlingly brilliant" (The Strad) and "nothing short of magnificent" (San Francisco Chronicle). In 2014, Hakhnazaryan was named a BBC New Generation Artist, and, in August 2016, made his BBC Proms debut to critical acclaim.
The cellist's 2019-20 season features several notable debuts, including thePhilharmonia Zurich with Gianandrea Noseda, Pittsburgh Symphony Orchestra with Manfred Honeck, Antwerp Symphony with Kerem Hasan, and Australia's Melbourne and Queensland Symphony Orchestras with Vladimir Ashkenazy and Giancarlo Guerrero, respectively. Hakhnazaryan appears for the first time in Portugal, in a performance of Shostakovich's Cello Concerto No. 1 with the Portuguese Youth Symphony. Return engagements this season include Hong Kong Chamber Music Festival, BBC Scottish Symphony Orchestra, and Essen Philharmonic with Tomas Netopil. In Spring 2020, he embarks on a tour of China, performing the complete Beethoven cello sonatas in Shanghai and Guangzhu. Hakhnazaryan is honored toappear as a soloist at the finale concert of the renowned Piatigorsky International Cello Festivalin Los Angeles in March 2020.
Hakhnazaryan's commitment to new and rarely heard repertoire is evident in his European and American programs this season. In Warsaw, at the Eufonie Festival, he performsthe late Andrej Panufnik's Cello Concerto, and in Washington, DC, Hakhnazaryan appears with Post Classical Ensemble in fellow Armenian Vache Sharafyan's Cello Concerto No. 2, alongside acclaimed visual artist Kevork Mourad for Armenian Odyssey, a world premiere multimedia production in the Great Nave of the Washington National Cathedral.
As a recitalist, he performs at the University of Florida Performing Arts and at the Aspect Foundation in NYC. With the Z.E.N. Trio, joined by colleagues Zhou Zhang and Esther Yoo, Hakhnazaryan tours North America with stops at San Francisco's Herbst Theatre, the Vancouver Playhouse, UC Santa Barbara's Arts & Lectures Series, Boston's Harvard Music Society, Miami's Friends of Chamber Music, and Washington DC's Phillips Collection. The Z.E.N. Trio released their debut album in 2017 on the Deutsche Grammophon label, and have toured the UK,China, and Hong Kong.
Hakhnazaryan was previously named one of the Vienna Konzerthaus's Great Talents, and he has given performances in the Austrian capital with the Vienna Symphony Orchestra led by Jakub Hrůša, as well as at the Musikverein with Daniil Trifonov and Sergei Dogadin. Last summer, Hakhnazaryan performed Shostakovich and Rachmaninoff sonatas with Trifonov, a longtime collaborator, at the Verbier and Rheingau festivals. In 2018/19, Hakhnazaryan took part in a residency at Wigmore Hall, offering a series of fascinating programs of classic and lesser known solo repertoire. A distinguished international orchestral soloist, Hakhnazaryan has appeared with the Baltimore, St. Louis, Seattle, Toronto, London, WDR, Frankfurt Radio, Sydney, New Zealand, and NHK Symphony Orchestras; the Royal Stockholm, Czech, Seoul, Netherlands, and Rotterdam Philharmonics; the Utah Symphony; Los Angeles Chamber Orchestra; Orchestre de Paris; and the Teatro dell'Opera in Rome. He has collaborated with acclaimed conductors such as Alsop, Bělohlávek, Gergiev, Guerrero, Koopman, Hannu Lintu, Neeme Järvi, Pletnev, Robertson, Sarasate, Slatkin, and Sokhiev.
An eager chamber musician and recitalist, Hakhnazaryan has performed in New York's Carnegie Hall, San Francisco's Herbst Theatre, Washington DC's National Gallery of Art, the Concertgebouw Amsterdam, Salle Pleyel Paris, Berlin Konzerthaus, Oji Hall Tokyo, ShanghaiConcert Hall, and esteemed festivals such as Ravinia, Aspen, Piatigorsky, Mecklenburg-Vorpommern, Kissinger Sommer, Robeco Summer, Beethovenfest Bonn, Mikkeli, Pau Casals, Lucerne, and Verbier, among many others.
Hakhnazaryan has received scholarships from the Rostropovich Foundation and the Russian Performing Arts Fund, and won awards including First Prize in the 2006 Aram Khachaturian International Competition in Armenia and First Place in the 2006 Johansen International Competition for Young String Players. As First Prize winner in the 2008 Young Concert Artists International Auditions, Hakhnazaryan made his debuts at Carnegie's Zanke lHall and in Washington, DC. In 2017 he was made an Honored Artist of Armenia, by then-President Serzh Sargsyan.
Narek Hakhnazaryan was born in Yerevan, Armenia, into a family of musicians: his father is a violinist and his mother a pianist. Mentored by the late Rostropovich, Hakhnazaryan received an Artist Diploma from the New England Conservatory of Music in 2011 where hestudied with Lawrence Lesser, following studies at the Moscow Conservatory with Alexey Seleznyov and at the Sayat-Nova School of Music in Yerevan with Zareh Sarkisyan. Hakhnazaryan plays the 1707 Joseph Guarneri cello and F.X. Tourte and Benoit Rolland bows.
"He produces a powerful and colorful sound in all registers, nails every big shift and flashes all the virtuoso's tricks with insolent ease. He should have a stellar career." - The Washington Post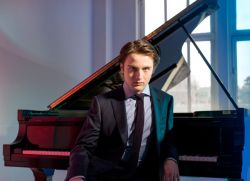 Daniil Trifonov
Russian pianist Daniil Trifonov has made a spectacular ascent in the world of classical music since winning First Prize at both the Tchaikovsky and Rubinstein competitions in 2011 at the age of 20. "He has everything and more … tenderness and also the demonic element. I never heard anything like that," stated pianist Martha Argerich.
The 2016-17 season brings the release of Transcendental, Trifonov's third title as an exclusive Deutsche Grammophon artist. In concert, the pianist—a recipient of Gramophone's 2016 Artist of the Year award—headlines the gala finale of the Chicago Symphony's 125th anniversary celebrations. Having scored his second Grammy Award nomination with Rachmaninoff Variations, he performed Rachmaninoff for his debut with the Berlin Philharmonic at its New Year's Eve concerts, which aired live in cinemas throughout Europe. He debuts with the Melbourne and Sydney symphonies, returns to the Los Angeles and the Royal Liverpool philharmonics, and headlines the Munich Philharmonic's "Rachmaninoff Cycle" tour with longtime collaborator Valery Gergiev. He also returns to the New York Philharmonic, Cleveland, and Philadelphia orchestras; performs a series of dates with the Staatskapelle Dresden at home, the Salzburg Festival, and London's BBC Proms; and tours with the La Scala and Mahler Chamber orchestras.
An accomplished composer, Trifonov reprised his own concerto in Kansas City. He makes recital debuts at London's Barbican and Melbourne's Recital Centre; appears in a series of European hotspots; and returns to Philadelphia, Baltimore, and—for the fourth consecutive year—the mainstage of New York's Carnegie Hall. He gives duo-recitals with his former teacher, pianist Sergei Babayan, and returns to the Tanglewood, Verbier, Baden-Baden, and Salzburg festivals.
Rachmaninoff was the focus of Trifonov's 2015-16 season, when he played complete concerto cycles at the New York Philharmonic's Rachmaninoff Festival and with London's Philharmonia Orchestra. He undertook residencies in Lugano and London, and headlined the prestigious Nobel Prize Concert.
In recent seasons, Trifonov has collaborated with the Cologne, Munich, London's Royal, Los Angeles, and New York philharmonics; the Cleveland, La Scala, London Symphony, and Philadelphia orchestras; the orchestres national de Lyon and France; and the symphonies of Boston, Chicago, San Francisco, and Washington. He has also toured Asia with the Czech Philharmonic and North America with the Montreal Symphony.
Since making solo recital debuts at Carnegie Hall, London's Wigmore Hall, Vienna's Musikverein, Japan's Suntory Hall, and Paris's Salle Pleyel in 2012-13, he has given recitals in Amsterdam, Barcelona, Berlin, Boston, Brussels, London, Lucerne, Munich, Paris, Seoul, Tokyo, Washington, D.C., and Zurich.
The 2013-14 season saw the release of Trifonov: The Carnegie Recital, the pianist's first recording as an exclusive Deutsche Grammophon artist; captured live at his 2013 Carnegie Hall recital debut. His discography also features a Chopin album for Decca and a recording with Gergiev and the Mariinsky Orchestra on the ensemble's own label.
Born in Nizhny Novgorod in 1991, Trifonov began his musical training at age five. He attended Moscow's Gnessin School of Music, before pursuing his piano studies with Sergei Babayan at the Cleveland Institute of Music. He has also studied composition, and continues to write for piano, chamber ensemble, and orchestra. Trifonov's website is daniiltrifonov.com.
"Few artists have burst onto the classical music scene in recent years with the incandescence of the pianist Daniil Trifonov" —The New York Times
Arvo Pärt (b. 1935)
Fratres for Cello and Piano
Dmitry Shostakovich (1906-1975)
Cello Sonata in D Minor, Op. 40
View Notes
Program notes coming soon - please check back!
Sergey Rachmaninoff (1873-1943)
Sonata for Cello and Piano in G minor, Op. 19
View Notes
Like his earlier Op. 2 pieces for cello and piano, Rachmaninoff's Sonata for Cello and Piano, Op. 19, was composed for his friend Anatoli Brandukov. The work was completed in November 1901 and premiered in Moscow the next month, with Brandukov playing cello and the composer tackling the fiendishly difficult piano part. Rachmaninoff made some small tweaks to the score soon after the first performance, and the work was published the following year in 1902. Close friends as well as musical collaborators, Brandukov served as "best man" at Rachmaninoff's wedding only a few months later.
Tchaikovsky's preferred cellist, Brandukov had premiered many of the older composer's works and was renowned for his refined playing and expressive tone. It was these qualities that Rachmaninoff hoped to exploit in his Sonata. He was composing to Brandukov's strengths.
Though Rachmaninoff may not have known it at the time, this Sonata was the last chamber piece he would ever write. After its completion, he concentrated almost exclusively on solo piano works and large-scale symphonic and choral compositions.
The Sonata was considered a success at the time of its premiere, though its reputation was overshadowed by the debut of Rachmaninoff's monumental Piano Concerto No. 2 only a few weeks earlier. Indeed, the Sonata and the Concerto are musically related, coming from the same period in Rachmaninoff's career. Echoes of the Concerto resonate throughout the Sonata's four movements, and, although there are no direct quotations of Russian folk tunes or Orthodox hymns in the sonata, the flavor of Russian culture suffuses the work's melodies.
Rachmaninoff preferred not to call this piece a Cello Sonata as such. He thought of it as being more equally balanced between the two instruments—a true partnership—rather than a work for cello with piano accompaniment, and so he referred to the work repeatedly as a Sonata for Cello and Piano. Throughout the work, the piano presents most of the main themes, which are then embellished and developed by the cello.
Some have identified in this work a kind of programmatic parallel with the previous five years of Rachmaninoff's career: the breakdown and crisis of confidence in 1897 after the failure of his First Symphony, the dark period that followed, the struggle to regain his compositional footing, and the success of his Second Piano Concerto. Though there is no documentary evidence to support this interpretation, the Sonata does clearly traverse a journey from trouble to triumph.
The first movement opens with a slow, hesitating introduction. When the Allegro proper begins, the cello presents a beautiful, impassioned theme that develops some of the seemingly-incidental motifs heard in the introduction. The piano introduces a more reflective, second theme in D major, very much in the Rachmaninoff family of melodies, before the cello embellishes it further. Clearly related to corresponding passages in the Piano Concerto, these ideas bear the hallmark both of the composer's pianism and his ear for contrapuntal interplay. The triplet-infused development section leads into a kind of short cadenza for solo piano before moving into the recapitulation and a short coda.
A Scherzo follows, in the form of a devilish tarantella in C minor. Lyrical episodes led by the piano (and again, referencing the composer's piano-concerto style) intervene periodically in this rondo-like formal structure, but it is the downward-leaping motif that leads the scherzo to its final perdendo finish.
The slow movement is regarded by many as the Sonata's strongest. The piano leads with a bittersweet theme that plays on major/minor harmonies while remaining peacefully in E-flat major. The solo piano also presents the second theme, marked by two-against-three cross-rhythms, developing an internal anxiety that is only relieved by the return of the main theme, ornamented and varied, before the closing cadence brings complete repose.
As dark and despairing as the Scherzo was, the finale is equally triumphant, and with triplets throughout the common meter helping to create a parallel metric and rhythmically sound world. Descending scales are turned around into fanfare figures and, even in the more restrained second theme, there is a palpably energized confidence. In the development section, reminiscences of the first movement and scherzo act as reminders of the darker past, but the recapitulation and coda return to confirm the victory over past trials.
—Luke Howard, © 2017
Program Subject to Change Without Notice