Saturday, January 20, 2024 | 3:00 pm
Brandon Patrick George, flute (Baltimore Debut)
Parker Ramsay, harp (Baltimore Debut)
Location: University of Maryland Baltimore County
Elegant flutist Brandon Patrick George, a "knockout musician with a gorgeous sound" (Philadelphia Inquirer) is joined by harpist Parker Ramsay, hailed as "remarkably special" (Gramophone) with an artistry that is "marked by a keen musical intelligence" (Wall Street Journal) for an unforgettable duo recital. Together they perform a lyrical program spanning centuries and continents.
Venue: University of Maryland Baltimore County
Suggested Donation: $10; General Seating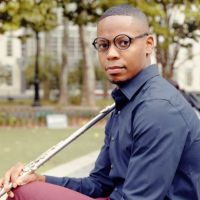 Brandon Patrick George (Baltimore Debut)
Brandon Patrick George is a leading flute soloist and Grammy-nominated chamber musician whose repertoire extends from the Baroque era to today. He is the flutist of Imani Winds and has appeared as a soloist with the Atlanta, Baltimore, and Albany symphonies, American Composers Orchestra, and the Orchestra of St. Luke's, among others. He has been praised as "elegant" by The New York Times, as a "virtuoso" by The Washington Post, and as a "knockout musician with a gorgeous sound" by The Philadelphia Inquirer. His debut album was released by Haenssler Classics in September 2020; The New York Times has described it as "a program that showcases the flute in all its wit, warmth and brilliance."
George has performed at the Elbphilharmonie, the Kennedy Center, the Dresden Music Festival, and the Prague Spring Festival. In addition to his work with Imani Winds, Brandon's solo performances include appearances at Lincoln Center, the Metropolitan Museum of Art, 92nd Street Y, Tippet Rise, and Maverick Concerts. His current collaborations include touring projects with harpsichordist Mahan Esfahani, pianist Aaron Diehl, and harpist Parker Ramsay. In 2021, George was part of the inaugural class of WQXR's Artist Propulsion Lab, a program designed to advance the careers of early and mid-career artists and support the future of classical music. During his yearlong residency at WQXR, Brandon guest hosted Evening Music, interviewed Ford Foundation president Darren Walker about diversity and equity in the performing arts, and recorded with pianist Aaron Diehl and harpist June Han.
Prior to his solo career, George performed as a guest with many of the world's leading ensembles including the Los Angeles Philharmonic, the Pittsburgh Symphony Orchestra, the Orpheus Chamber Orchestra, and the International Contemporary Ensemble (ICE). With the Los Angeles Philharmonic, he performed at Walt Disney Concert Hall and at the Hollywood Bowl with music Director Gustavo Dudamel. His ensemble work allowed him to work closely with some of the foremost composers of our time including John Adams, Louis Andriessen, Tania León, Steve Reich, and George Lewis.
Raised by a single mother in Dayton, OH, Brandon Patrick George is the proud product of public arts education. He draws on his personal experiences in his commitment to educating the next generation, performing countless outreach concerts for school children every year, and mentoring young conservatory musicians of color embarking on performance careers. He trained at the Oberlin Conservatory of Music, the Conservatoire de Paris, and the Manhattan School of Music. He serves on the faculty of the Curtis Institute and the Banff Centre for Arts and Creativity, and his website is www.brandonpatrickgeorge.com.
"A knockout musician with a gorgeous sound" —The Philadelphia Inquirer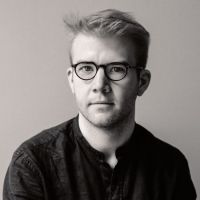 Parker Ramsay (Baltimore Debut)
Harpist Parker Ramsay's career, unique in its integration of contemporary music and historical performance, defies easy categorization. Equally at home on modern and period harps, Ramsay is dedicated to invigorating the existing canon while delving into new and underperformed works. In 2020, the recording of his transcription of Bach's Goldberg Variations for the King's College, Cambridge label was praised as "remarkably special" (Gramophone), "nuanced and insightful" (BBC Music Magazine), "relentlessly beautiful" (WQXR), "marked by keen musical intelligence" (The Wall Street Journal), and "a resounding success" (The Independent). His essay on the transcription process, "Is Bach Better on Harp?" was published in The New York Times.
A native of Nashville, TN, Ramsay began harp studies with his mother at a young age before moving to the UK at age 16. He was awarded the undergraduate organ scholarship at King's College, Cambridge where he served under the direction of Stephen Cleobury. His tenure with the Choir of King's College, Cambridge included performing for the Festival of Nine Lessons and Carols in 2012, as well as six international tours and four recordings. Ramsay has performed at the Concertgebouw in (Amsterdam), the Royal Albert Hall (London), the Musée d'Orsay (Paris), the National Center for the Performing Arts in (Beijing), Sejong Center for the Performing Arts (Seoul), Verizon Hall in (Philadelphia), and Alice Tully Hall (New York City).
Ramsay is co-director of A Golden Wire, a period instrument ensemble devoted to French and English music from the 17th century. He has appeared with the Shanghai Camerata, the Academy of Sacred Drama, Ruckus, Teatro Nuovo and Apollo's Fire. Upcoming projects include collaborations with composers Tom Morrison, Michael Seltenreich, David Fulmer, Saad Haddad, Josh Levine, Nico Muhly, and Marcos Balter.
After receiving his bachelor's degree in history at Cambridge, he pursued graduate studies in historical keyboards at Oberlin Conservatory. In 2014, he was awarded First Prize at the Sweelinck International Organ Competition. He then studied modern harp at The Juilliard School, under the tutelage of Nancy Allen. He is a regular contributor for VAN Magazine, and his writing has appeared in Cleveland Classical, The New York Times, and The Washington Post. He lives in New York City. His website is parkerramsay.com.
Johann Sebastian Bach (1685-1750)
Sonata in E minor, BWV 1034
Camille Saint-Saëns (1835-1921)
Fantaisie, Op. 124
Francis Poulenc (1899-1963)
Flute Sonata
Toru Takemitsu (1930-1996)
Toward the Sea III
Astor Piazzolla (1921-1992)
Cafe 1930 from Histoire du Tango
Manuel De Falla (1876-1946)
Selections from Siete canciones populares españolas
Béla Bartók (1881-1945)
Romanian Folk Dances
Program Subject to Change Without Notice