Sunday, February 04, 2024 | 5:30 PM
Garrick Ohlsson, piano
The Zarelda Fambrough Memorial Concert
Location: Shriver Hall
The Zarelda Fambrough Memorial Concert
Ohlsson is a pianist of magisterial interpretive and technical prowess. Renowned as a leading exponent of the music of Frédéric Chopin, he commands an enormous repertoire and is known for "incredible technique with razor-sharp accuracy, producing a sound so lush it almost glistens" (Seattle Times). He performs an unforgettable program of Beethoven, Chopin, and Mamlok, plus Schubert's "Wanderer" fantasy, and energetic tour-de-force that soars with symphonic power.
"a vigorous, crisp and clear performance without a trace of Romantic excess" –The New York Times
About the sponsor
Zarelda Fambrough, known as "Zee" to all, is remembered as a quietly enthusiastic and caring person, known for her support of the arts, for her love of nature (for many years she chaired of the Science Department at St. Paul's School for Girls), and for her work with adult literacy. She and her husband, Dr. Douglas Fambrough, a retired Professor of Biology at The Johns Hopkins University and amateur pianist, supported Shriver Hall Concert Series for decades, with Doug serving on the Board of Directors from 1986 to 2010. Doug and Zee endowed this annual concert in 2000 with the hope of inspiring others to support SHCS through major donations and planned gifts; Doug dedicated it to Zee's memory in 2017.​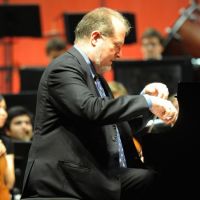 Garrick Ohlsson
Pianist Garrick Ohlsson has established himself worldwide as a musician of magisterial interpretive and technical prowess. Although long regarded as one of the world's leading exponents of the music of Chopin, Ohlsson commands an enormous repertoire ranging over the entire piano literature and he has come to be noted for his masterly performances of the works of Mozart, Beethoven and Schubert, as well as the Romantic repertoire. To date, he has at his command more than 80 concertos, ranging from Haydn and Mozart to works of the 21st century.
A frequent guest with the orchestras in New Zealand and Australia, Ohlsson accomplished a seven-city recital tour across Australia just prior to the closure of the concert world due to COVID-19. Since that time and as a faculty member of San Francisco Conservatory of Music he kept music alive for a number of organizations with live or recorded recital streams and since the re-opening of concert activity in summer 2021 has appeared with the Indianapolis, Atlanta, Dallas, Seattle, Toronto and Cleveland orchestras, in recital in San Francisco, Los Angeles, Houston; Ravinia and Tanglewood summer festivals and a tour in the US with colleague Kirill Gerstein. The 2022-23 season includes orchestras in Boston, Detroit, Minneapolis, San Diego, Spain, Poland and Czech Republic.
An avid chamber musician, Ohlsson has collaborated with the Cleveland, Emerson, Tokyo and Takacs string quartets and begins the 2022-23 season with a US tour with Poland's Apollon Musagete Quartet. Together with violinist Jorja Fleezanis and cellist Michael Grebanier, he is a founding member of the San Francisco-based FOG Trio. Passionate about singing and singers, Ohlsson has appeared in recital with such legendary artists as Magda Olivero, Jessye Norman, and Ewa Podleś. Ohlsson can be heard on the Arabesque, RCA Victor Red Seal, Angel, BMG, Delos, Hänssler, Nonesuch, Telarc, Hyperion and Virgin Classics labels.
A native of White Plains, NY, Garrick Ohlsson began his piano studies at the age of 8, at the Westchester Conservatory of Music; at 13 he entered The Juilliard School, in New York City. He has been awarded first prizes in the Busoni and Montreal Piano competitions, the Gold Medal at the International Chopin Competition in Warsaw (1970), the Avery Fisher Prize (1994), the University Musical Society Distinguished Artist Award in Ann Arbor, MI (1998), the Jean Gimbel Lane Prize in Piano Performance from the Northwestern University Bienen School of Music (2014), and the Gloria Artis Gold Medal for cultural merit from the Polish Deputy Culture Minister. His website is garrickohlsson.com.
"By almost any measure, Ohlsson is one of the great American pianists." —The Washington Post
Ludwig van Beethoven (1770-1827)
Sonata in F major, Op. 10, No. 2
Ursula Mamlok (1923-2016)
Two Thousand Notes
Franz Schubert (1797-1828)
Fantasy in C major, D. 760, "Wanderer "
Frédéric Chopin (1810-1849)
Impromptu in F-sharp major, Op. 36
Frédéric Chopin (1810-1849)
Barcarolle in F-sharp major, Op. 60
Frédéric Chopin (1810-1849)
Fantasy in F minor, Op. 49
Frédéric Chopin (1810-1849)
Scherzo in C-sharp minor, Op. 39
Program Subject to Change Without Notice