Sunday, February 04, 2024 | 5:30 pm
Garrick Ohlsson, piano
The Zarelda Fambrough Memorial Concert
Location: Shriver Hall
The Zarelda Fambrough Memorial Concert
Ohlsson is a pianist of magisterial interpretive and technical prowess. Renowned as a leading exponent of the music of Frédéric Chopin, he commands an enormous repertoire and is known for "incredible technique with razor-sharp accuracy, producing a sound so lush it almost glistens" (Seattle Times). He performs an unforgettable program of Beethoven, Chopin, and Mamlok, plus Schubert's "Wanderer" fantasy, and energetic tour-de-force that soars with symphonic power.
"a vigorous, crisp and clear performance without a trace of Romantic excess" –The New York Times
About the sponsor
Zarelda Fambrough, known as "Zee" to all, is remembered as a quietly enthusiastic and caring person, known for her support of the arts, for her love of nature (for many years she chaired of the Science Department at St. Paul's School for Girls), and for her work with adult literacy. She and her husband, Dr. Douglas Fambrough, a retired Professor of Biology at The Johns Hopkins University and amateur pianist, supported Shriver Hall Concert Series for decades, with Doug serving on the Board of Directors from 1986 to 2010. Doug and Zee endowed this annual concert in 2000 with the hope of inspiring others to support SHCS through major donations and planned gifts; Doug dedicated it to Zee's memory in 2017.​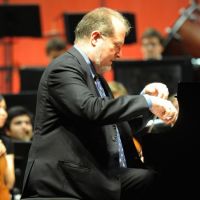 Garrick Ohlsson
Pianist Garrick Ohlsson has established himself worldwide as a musician of magisterial interpretive and technical prowess. Although long regarded as one of the world's leading exponents of the music of Chopin, Ohlsson commands an enormous repertoire ranging over the entire piano literature and he has come to be noted for his masterly performances of the works of Mozart, Beethoven, and Schubert, as well as the Romantic repertoire. To date, he has at his command more than 80 concertos, ranging from Haydn and Mozart to works of the 21st century.
In the 2018/19 season, he launched an ambitious project spread over two seasons exploring the complete solo piano works of Brahms in four different programs. The cycle will be heard in New York, San Francisco, Montreal, Los Angeles, London, and a number of cities across North America, culminating in Tanglewood, summer 2020. In concerto repertoire ranging from Mozart and Beethoven to Brahms and Barber, he will return to the Nashville, Oregon, Dallas, Detroit, and Colorado Symphonies, concluding the 2019/20 season in Bellingham Festival of Music with all Beethoven concerti programmed over the course of three performances. Internationally he can be heard with orchestras in Seoul, Helsinki, Zagreb, Tallinn, Manchester, London, and Australia.
An avid chamber musician, Ohlsson has collaborated with the Cleveland, Emerson, Tokyo, and Takács string quartets, including most recently Boston Chamber Players on tour in Europe. Together with violinist Jorja Fleezanis and cellist Michael Grebanier, he is a founding member of the San Francisco-based FOG Trio. Passionate about singing and singers, Ohlsson has appeared in recital with such legendary artists as Magda Olivero, Jessye Norman, and Ewa Podleś. Ohlsson can be heard on the Arabesque, RCA Victor Red Seal, Angel, BMG, Delos, Hänssler, Nonesuch, Telarc, Hyperion, and Virgin Classics labels.
A native of White Plains, N.Y., Garrick Ohlsson began his piano studies at the age of 8, at the Westchester Conservatory of Music; at 13 he entered The Juilliard School, in New York City. He has been awarded first prizes in the Busoni and Montreal Piano competitions, the Gold Medal at the International Chopin Competition in Warsaw (1970), the Avery Fisher Prize (1994), the University Musical Society Distinguished Artist Award in Ann Arbor, MI (1998), the Jean Gimbel Lane Prize in Piano Performance from the Northwestern University Bienen School of Music (2014), and the Gloria Artis Gold Medal for cultural merit from the Polish Deputy Culture Minister.
Garrick Ohlsson's website is garrickohlsson.com.
"By almost any measure, Ohlsson is one of the great American pianists." —The Washington Post
Ludwig van Beethoven (1770-1827)
Sonata in F major, Op. 10, No. 2
View Notes
The three sonatas that comprise Beethoven's Op. 10, published in 1798, reflect his ripening genius in their vivid contrasts, innovative formal structures, dynamic energy, and concentrated intensity of thematic development. The set is dedicated to Countess Anna Margarete von Browne. She and her husband, a Russian nobleman who moved to Vienna in the mid-1790s, were among Beethoven's earliest patrons; the composer affectionately dubbed the count "the first Maecenas of my muse." The couple reciprocated by admitting Beethoven to their household as a family friend. The countess once playfully chastised him for flubbing a note in his own "Tempest" Sonata, whereupon the notoriously thin-skinned composer laughed and obligingly started over from the beginning.
Having made the Adagio the expressive heart and soul of the Sonata in C minor, Op. 10, No. 1, Beethoven proceeded in its sequel to dispense with a slow movement altogether. As a result, the contrasts among the three fast movements of the F-major Sonata are defined less by tempo and rhythmic impulse than by character and style. In some respects the Sonata bears a strong family resemblance to a number of other works that Beethoven composed around the same time: the two Cello Sonatas, Op. 5, in each of which two fast movements are preceded by a slow introduction; the three sparkling String Trios, Op. 9; the Piano Trio in B-flat major, Op. 11, with its zesty finale based on a popular operatic aria; and the lighthearted Quintet in E-flat major for Piano and Winds, Op. 16.
The Allegro starts tentatively, almost coyly, with two repetitions of a quiet, questioning motive that blossoms into a soaring, lightly syncopated melody. In the course of the movement Beethoven expands and elaborates on these two basic ideas, to which he adds a third—an equally compact three-note descending figure—in the development section before retracing his steps by way of a brief, unexpected detour in the remote key of D major. Further surprises lie in store in the Allegretto, a lilting, minuet-like interlude in three-quarter time with a contrasting Trio section in the middle, replete with unsettling accents and unexpected harmonic twists and turns. In the final Presto, Beethoven launches what at first sounds like a fugue, with the right hand following the left in strict imitation, but quickly turns into a free-wheeling and bracingly virtuosic romp.

© Harry Haskell, 2023
Ursula Mamlok (1923-2016)
Two Thousand Notes
View Notes
As a 17-year-old refugee from Nazi Germany, Ursula Mamlok (née Lewy) migrated to New York in 1940 to study at the Mannes School of Music. Four years later, she won a scholarship to attend a session at Black Mountain College in North Carolina, a rural outpost of the artistic avant-garde inspired by the Bauhaus. It was there that the fledgling composer discovered twelve-tone technique and began her metamorphosis into a committed modernist, a career path confirmed by her subsequent studies with Stefan Wolpe and Ralph Shapey. Although Mamluk identified herself as a follower of Arnold Schoenberg, she was always careful to add that "my music sounds quite different from Schoenberg's music." The sound world of Two Thousand Notes resembles that of Schoenberg's pupil Anton Webern in its subtle timbral nuances and concentrated concision (the four movements last only about seven minutes).
The work's title is something of a red herring, suggesting (in addition to its year of composition) a coolly mathematical precision that was foreign to Mamluk's artistic persona. In fact, the effect of Two Thousand Notes is one of meticulously plotted spontaneity, a kind of steely delicacy. Dissonant but never abrasive, the music beguiles the ear with its sonorous resonances, melodic musings, and sharply incised (usually irregular) rhythms. Mamluk described her style as "basically lyrical, but also maybe dramatic," qualities that are reflected in her broad palette of contrasting timbres. The affinity to Webern's characteristic "tone-color melodies" is even more pronounced in the transcription of Two Thousand Notes for xylophone, glockenspiel, vibraphone, and marimbaphone that the composer made shortly before her death in 2016.

© Harry Haskell, 2023
Franz Schubert (1797-1828)
Fantasy in C major, D. 760, "Wanderer "
View Notes
Unlike the great composer-pianists of the 19th century, Schubert was by all accounts a middling keyboard player. There seems no reason to question the verdict of the contemporary composer (and virtuoso pianist) Ferdinand Hiller that he "had but little technique." On the other hand, his brother Ferdinand testified that "although Schubert never represented himself as a virtuoso, any connoisseur who had the chance of hearing him in private circles will nevertheless attest that he knew how to treat the instrument with mastery and in a quite peculiar manner, so that a great specialist in music, to whom he once played his last sonatas, exclaimed: 'Schubert, I almost admire your playing even more than your compositions!'"
Despite these limitations, Schubert pushed the envelope of keyboard sound and technique in works like the majestic "Wanderer" Fantasy of 1822. (Ironically, the music was too difficult for Schubert himself. A close friend recalled a private performance in which the frustrated composer, having come to grief in the last movement, "sprang up from his seat with the words: 'Let the devil play the stuff!'") This boldly imaginative work takes its name from Schubert's song "Der Wanderer" (The Wanderer), whose trudging theme underlies a set of elaborate variations in the Fantasy's dark, brooding Adagio. The four movements, analogous to those of a Classical symphony, are separated by brief pauses rather than full stops. The seamless transitions highlight the work's cyclical structure, with the finale recalling both the tonality and the thematic material of the first movement.
The thunderous C-major chords that open the Allegro con fuoco introduce a short figure in dactylic rhythm (long-short-short), which will recur throughout the Fantasy as a unifying motif. Later in the movement, Schubert reverses the pattern (short-short-long) in a winsome countermelody. Modulating to the remote key of C-sharp minor for the Adagio, he further transforms it into a slow dirge and then, switching from duple to triple meter, into a propulsive long-short-long figure in the scherzo-like Presto in A-flat major. In the final Allegro, the motif returns in its original key and rhythm, this time as the subject of a strenuous fugato that steadily gathers momentum on its inexorable course toward a breathtaking, no-holds-barred climax of Lisztian splendor.

© Harry Haskell, 2023
Frédéric Chopin (1810-1849)
Impromptu in F-sharp major, Op. 36
View Notes
Just as Chopin's virtuosity defined a new school of Romantic pianism, so the unprecedented poetic depth of his mazurkas, waltzes, nocturnes, and other solo piano pieces gave new meaning to the term "salon music," the lightweight fare popular in mid-19th-century Parisian drawing rooms. Chopin's four Impromptus date from the mid-1830s to the early 1840s, a period when he was extending the scope of his art in a series of formally ambitious works. Like his Preludes and Etudes, which rise far above the level of student pieces, the Impromptus are fully developed conceptions masquerading as spur-of-the-moment improvisations. Witness the free-flowing, episodic structure of the Impromptu in F-sharp minor: a graceful, simply harmonized melody gives way first to a strutting march in crisp dotted rhythm, and then to a rushing cataract of 32nd notes.

© Harry Haskell, 2023

Frédéric Chopin (1810-1849)
Barcarolle in F-sharp major, Op. 60
View Notes
Of Venice's many cultural associations, none is more evocative than the barcarolle, the song traditionally sung by gondoliers as they steered their long, flat-bottomed boats through the city's byzantine network of canals and lagoons. Chopin's piece belongs to a long line of concert-hall barcarolles by composers as diverse as Schubert, Offenbach, Bartók, and Bernstein. The music's lilting 12/8 rhythm imitates the repetitive motion of the boatmen's oars, but Chopin ingeniously varies the pattern so that it never becomes monotonous. Above the rocking bass line he gives free rein to his melodic and harmonic invention, embellishing the texture with double trills and other virtuosic devices. Toward the end, the music cuts loose from its rhythmic moorings and floats free in a fantasy of rippling passagework.

© Harry Haskell, 2023
Frédéric Chopin (1810-1849)
Fantasy in F minor, Op. 49
View Notes
The 21-year-old Chopin took Paris by storm when he arrived from his native Poland in 1831. By the time he wrote the F-minor Fantasy ten years later, his mastery of both compositional and keyboard technique was the envy of his peers. As its name implies, the Fantasy is free in form and features a plethora of themes. The ominous, downward-marching theme in octaves heard at the beginning alternates with a surging melody built on the same dotted rhythm. Later, a series of dreamy arabesques pick up speed and morph into torrential roulades. A lightly syncopated, Schumannesque theme gives way to another march, this time jaunty and four-square. Just as all passion seems to be spent, a quiet interlude in B major is interrupted by a burst of Lisztian fireworks.

© Harry Haskell, 2023
Frédéric Chopin (1810-1849)
Scherzo in C-sharp minor, Op. 39
View Notes
In the four Scherzos he composed between about 1835 and 1843, Chopin set out to work on a grander scale than in his earlier salon pieces. Belying the playful connotation of the genre, the Scherzos illustrate both his innovative approach to the keyboard and the extraordinary range and subtlety of his musical language. The four pieces have many elements in common, including their triple meter and rounded forms featuring two or three main themes. To construct these large-scale edifices, Chopin used the basic tools of repetition and contrast, supplemented by his phenomenal command of harmony, texture, and figuration. The Scherzo in C-sharp minor opens ambiguously, with chromatic harmonies and four notes shoehorned into the space of three; a barrage of hurtling octaves belatedly establishes the 3/4 time signature.

© Harry Haskell, 2023
Program Subject to Change Without Notice