Saturday, April 24, 2021 | 3:00 PM
Tabea Debus, recorder
Alon Sariel, lute and mandolin
Available on demand through Sat, May 1, 11:59pm EST.
Location: Online
Hailed as "a charismatic virtuoso" by The Times (London) and "one of the most exciting young musicians in the early music world" by Classic FM, recorder virtuoso Tabea Debus makes her Baltimore Debut in a performance with lutenist Alon Sariel pre-recorded at the Lauderdale House in London. They perform a program titled "Ohrworm" (Earworm), exploring how tunes and dances wormed their way into many aspects of music-making in the 17th- and 18th-century Europe.
"Only very rarely do we get the chance to encounter musicians in full artistic control and bestowed with a technical ability that makes you sit and listen in awe." —Early Music Review
Questions about streaming? Streaming Guide
FREE; Suggested Donation: $15
By making a reservation for this event, you ensure that you will receive all communications and updates about this concert. It also helps us track information required by grant applications and reports. That said, the event will be available to all for streaming on this site, regardless of reservation status.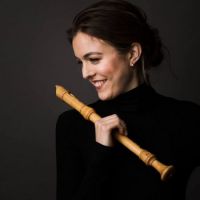 Tabea Debus
Over the last year Tabea has won the Soloists Prize at the Festspiele Mecklenburg-Vorpommern in Germany, a Concert Artists Guild prize in New York and 1st Prize in the Society of Recorder Players, Moeck Competition.
Described by The Times as a 'charismatic virtuoso' Tabea is much sought after as soloist, collaborator, teacher and communicator. Current projects include the development of an animated story-game for children, funded by a 2020 CAG / Richard S. Weinert Innovation Award; and a series of music and puppetry videos for primary school children.
This season Tabea gives recitals across the USA including the Phillips Collection in Washington D.C., Morgan Library (New York), UChicago series, and takes part in the Spoleto (Charleston), Bay Chamber (Maine) and San Francisco Early Music Festivals.
She returns to Wigmore Hall as soloist with La Serenissima, and to Festspiele Mecklenburg-Vorpommern, and makes her debut at the Berlin Konzerthaus. Her recording for Delphian, "Ohrwurm" (in partnership with YCAT). will be released in 2020.
Tabea was a prize winner at the 2018 YCAT International Auditions and the Concert Artists Guild International Competition. She is represented by Concert Artists Guild. Her website is tabeadebus.com.

"Her eloquence of phrasing and unfailingly intelligent musicianship, together with a charismatic virtuosity…brings life to all of this music, whatever its epoch, whatever the approach. She is a deeply gifted artist. —Recorder Magazine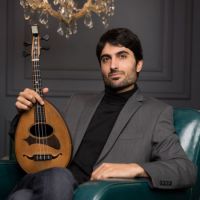 Alon Sariel
As a mandolinist and lutenist and conductor, Alon Sariel is at home in the fields of early and new music, having premiered dozens of works dedicated to him. He has appeared at festivals such as the Salzburger Biennale for New Music and the Early Music Festival in Utrecht. He has performed in halls such as the Berliner Philharmonie and Sala São Paulo in Brazil.
Musical roads have taken Sariel to many different genres, from folk to the avant-garde, leading him to collaborations with a bright spectrum of first-class artists such as soprano Dame Emma Kirkby, countertenor Andreas Scholl, trumpeter and intuitive-music artist Markus Stockhausen, violinist Jean-Christophe Spinosi, accordionist and banjo player Stian Carstensen, and clarinetist David Krakauer.
A winner of numerous international competitions, prizes, and awards, Sariel has also been actively engaged in several sociopolitical musical projects, including Live Music Now (Yehudi Menuhin), Rhapsody in School (Lars Vogt), and West-Eastern Divan (Daniel Barenboim).
As a soloist and member of different ensembles, Sariel has toured throughout Europe, the United States, Mexico, South America, South Africa, the Middle East, and Asia. He has given masterclasses for the Classical Mandolin Society of America and universities such as Trinity College of Music (London), Lilla Akademien (Stockholm), the conservatories of Kazan (Russia), and ZUŠ Nová Paka (Czech Republic), and Celaya (Mexico). Sariel's playing has been heard via radio stations worldwide, including Arte, Bayerischer Rundfunk, WDR3, P2, Klassiskt, Kol HaMusika, WQXR, and WNYC, among others.
Sariel currently resides in Hanover, where he is the musical director of the international Baroque orchestra Concerto Foscari and founding member of PRISMA. He was awarded the first prize at the International Biber Competition in Austria in 2015. Recent engagements as Munich Chamber Orchestra, Jerusalem Radio Symphony, Sofia Philharmonic, Tel Aviv Soloists, Camerata Tinta Barocca (Cape Town), and Barokksolistene (Norway).
Among diverse recording productions with different ensembles, Alon Sariel is signed on several world premiere recordings such as the trios for plucked instruments by Paul Ben-Haim (for Albany Records) and by Yehezkel Braun (for IMI), as well as Nedudim for mandolin and string orchestra by Gilad Hochman (with Deutsches Kammerorchester Berlin for Neue Meister). His recording Paisiello in Vienna, marking the 200th anniversary of the composer's passing, was released by Brilliant Classics to wide critical acclaim. Sariel's last recording Telemandolin (Berlin Classics), was awarded the Golden Label by Klassiek Centraal (Belgium) and the prestigious OPUS KLASSIK (Germany).
2019 saw the release of Sariel's album Rembrandt (querstand) as a lutenist, featuring music of the Dutch Golden Age; and Bach in the White City (Sheva Collection), an homage to Bauhaus Centenary, bridging elegantly between Weimar and Tel Aviv. Furthermore, he has recorded Beethoven's mandolin literature on historical instruments for the 2020 NAXOS Classics Beethoven complete works CD box set.
Program Notes by Tabea Debus
View Notes
Writing in 1668, Samuel Pepys describes something that we all know too well—the tendency for music to "get stuck" in our minds: "I was unable to think of any thing, but remained all night transported, so as I could not believe that ever any musick hath that real command over the soul of a man as this did upon me."
Such tunes, so-called earworms, are known to most of us. They go round and round in our heads; sometimes we can literally feel them burrowing deeper and deeper, as if our minds were made of soil. And while this might suggest some sort of transhistorical closeness to Pepys, the concept of earworms can perhaps freshly illuminate our understanding of music publishing, memory, and repetitive musical structures in a historical period far from our own. In other words, what are the traces of earworms in musical practices? This program explores how tunes and dances wormed their way into many aspects of music-making in 17th- and 18th-century Europe.
Music manuscripts from the 17th century suggest that regular exposure to songs and dances made some of them "stick." Perhaps it was not only the minds of listeners in which music got stuck, but also their dancing limbs. In the absence of sung text, the repetition of an ostinato bass line, harmonic progression, or melodic pattern in works such as the Ciaconna or the Spagnoletta imbued music with a mesmerizing rhythmic quality that almost seemed to possess the bodies of performers and listeners.
In some cases, it was the combination of melody and text that caused music to stick in minds. Songs resurface throughout Renaissance music compilations with adapted or translated texts, as well as lines of added ornamentation. This layering seems to attest to a repurposing of the earworm through time that made simple tunes both "stretch further" as well as embed themselves deeper into the cultural memory. John Dowland's Lachrimae pavane was (and still is) known around the globe—a fact proven by this beautifully embellished version of German composer Johann Schop. It conveys the fluid transformation of a madrigal consort piece into a lute song; indeed, it was published in both forms, first as an instrumental pavan, and later as the lute song "Flow my tears" in Dowland's Second Book of Songs and Ayres (1600). Another lute song by Dowland, "Can she excuse my wrongs" from his First Book of Songs and Ayres (1597), was later re-published in Lachrimae, or Seven Tears as "Earl of Essex Galliard" for five-part viol consort and lute.
In traversing the centuries, one might think that we have little in common with these brain-burrowing tunes and the modes and methods in keeping them alive. But this contemporary recorder solo testifies to the earworm's secured place in modern life. Gareth Moorcraft's Diaries of the Early Worm (winner of the 2020 Ivors Acacdemy Award in the solo/duo category) is based on fragments from medieval troubadour songs. The piece takes us on a journey from the early stages of an earworm, charting its increasing intrusiveness and finally our liberation from it.
Naturally, musical earworms of the past and present mirror the listener's and performer's tastes and preferences—which is why this program features two sets of personal favorites by Alon Sariel and Tabea Debus. The name Johann Sebastian Bach will inevitably come up when sharing earworms, and his Third Violin Partita (BWV 1006) seems to have followed Bach throughout his own career. After composing the solo violin version in 1720, Bach repurposed the material for his cantatas Herr Gott, Beherrscher aller Dinge (BWV 120a) and Wir danken dir, Gott, wir danken dir (BWV 29). The fact that he also arranged the partita for another instrument, possibly the lute, inspired Sariel to create this version for recorder and an added basso continuo part for the lute.
An autodidact on many instruments himself, Georg Philipp Telemann often adapted his compositions to suit various instruments and to appeal his large audience of amateur and professional musicians. Taking this into account, the humorous character of Telemann's Intrada Suite from Gulliver's Travels (based on the original story by Jonathan Swift) is enhanced in this version for recorder and mandolin. We have interspersed it with extracts from Telemann's Fantasia for solo flute (TWV 40:8) and an arrangement of his solo violin Fantasia (TWV 40:23) for solo mandolin.
© Tabea Debus and Mark Seow, 2020

Tabea Debus (b. 1991)
Ciaconna (after Antonio Bertali, Tarquinio Merula, Claudio Monteverdi)
Johann Sebastian Bach (1685-1750)
Selections from Partita for Violin No. 3, BWV 1006
Gavotte en Rondeau
Menuet 1 and 2
Bourrée
Gigue
Gareth Moorcraft (b. 1990)
Diaries of the Early Worm
Johann Schop (1590-1667)
Lachrimae pavane
Georg Philipp Telemann (1681-1767)
Spirituoso from Intrada-Suite, Gullivers Reisen (TWV 40:108)
Georg Philipp Telemann (1681-1767)
Alla francese from Fantasia for solo flute (TWV 40:8)
Georg Philipp Telemann (1681-1767)
Reverie der Liliputaner, nebst ihren Aufweckern from Intrada-Suite, Guillvers Reisen
Georg Philipp Telemann (1681-1767)
Allegro from Fantasia for Solo Violin (arr. Mandolin, TWV 40:23)
Georg Philipp Telemann (1681-1767)
Lilipputsche Chaccone from Intrada-Suite, Guillivers Reisen (TWV 40:108)
Pierre-Francisque Carroubel (1556-1611/15)
Spagnolette from Terpischore, Musarum Aoniarum (Michael Pratorius, 1612)
Program Subject to Change Without Notice