Sunday, January 23, 2022 | 5:30 PM
Danish String Quartet
The Howard Family Concert; The Reiko T. and Yuan C. Lee Fund for Outstanding String Performers
Location: Shriver Hall
The Danish String Quartet's joy for music-making and "rampaging energy" (The New Yorker) is entirely infectious. The dazzling Grammy-nominated group – three Danes and a Norwegian – perform Britten's extroverted Divertimenti, a uniquely curated suite of dances, and Schubert's thrilling Death and the Maiden quartet, one of the pillars of the repertoire.
"I can't imagine a more involving performance." – The New York Times
To learn more about our COVID-19 Safety policies, please click here.
About the sponsor
A member of Shriver Hall Concert Series' Board of Directors from 1987 to 2012, Dr. J. Woodford Howard, Jr. is the Thomas P. Stran Professor Emeritus at The Johns Hopkins University where he taught in and chaired the Department of Political Science. At SHCS, Dr. Howard, or "Woody," was for many years Chair of the Music Committee. In his capacity as Chair, Woody used his encyclopedic knowledge of chamber music to help select artists and repertoire. Mrs. Howard has also assumed an active role in volunteering for many SHCS projects. The Howard Family concert, established in 2001 by Woody and Jane, with their daughter and son-in-law, Elaine and Jeffrey Christ, is designated for performances by string quartets.
Drs. Reiko T. and Yuan C. ("Ed") Lee, faculty in The Johns Hopkins University Department of Biology endowed this annual concert in 2005. Biochemists and amateur string players, the Lees have been subscribers since SHCS's first season. The Lee fund supports concerts by the world's greatest string players. The first concert supported by this gift was the 2005-06 appearance by Pinchas Zukerman and was dedicated to Reiko's father, Tomotake Takasaka, Professor of Agricultural Engineering at National Taiwan University and an avid self-taught amateur string player. He was also one of the first musicians to bring western music to Taiwan. Reiko's father initially enticed her into playing violin and put the same energy into promoting student activities and amateur musicianship. He held weekly gatherings of chamber music lovers at his home, and it was at one of these that Reiko and Ed, who played viola, met. They came to the U.S. in 1958, earning their PhDs in biochemistry at the University of Iowa. After three years at U.C. Berkeley, they arrived in Baltimore in 1965 to start their Hopkins-and Shriver Hall Concert Series-careers.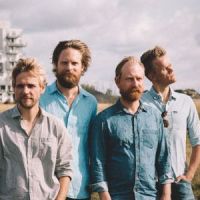 Danish String Quartet
Frederik Øland, violin
Rune Tonsgaard Sørensen, violin
Asbjørn Nørgaard, viola
Fredrik Schøyen Sjölin, cello
Among today's many exceptional chamber music groups, the Grammy nominated Danish String Quartet continuously asserts its preeminence. The Quartet's playing reflects impeccable musicianship, sophisticated artistry, exquisite clarity of ensemble, and, above all, an expressivity inextricably bound to the music. The recipient of many awards and prestigious appointments, including Musical America's 2020 Ensemble of the Year and the Borletti-Buitoni Trust, the Danish String Quartet was named in 2013 as BBC Radio 3 New Generation Artists and appointed to the The Bowers Program (formerly CMS Two).
In 2021-2022, the Danish String Quartet introduce DOPPELGÄNGER, an ambitious 4-year international commissioning project. DOPPELGÄNGER pairs world premieres from four renowned composers—Bent Sørensen, Lotta Wennäkoski, Anna Thorvaldsdottir, and Thomas Adès—with four major works from the masterful chamber music repertoire of Schubert. The first commission, composed by Bent Sørensen and inspired by Schubert's Quartet in G Major (D.887), is scheduled to premiere in 2021.
In addition to performances of DOPPELGÄNGER, the Danish String Quartet gives over 20 performances throughout North America in the 2021-2022 season. Highlights include debuts at the University of Georgia, Virginia Tech's Moss Arts Center, Shriver Hall, and Virginia Arts Festival, return trips to Boston's Celebrity Series, Philadelphia Chamber Music Society, Ensemble Music Society of Indianapolis, Chamber Music Cincinnati, and University of Washington's Meany Hall, and a tour of Florida. European highlights include tours of Denmark, France, Germany, and Amsterdam.
Violinists Frederik Øland and Rune Tonsgaard Sørenson and violist Asbjørn Nørgaard met as children at a music summer camp where they played soccer and made music together. In 2008, the three Danes were joined by Norwegian cellist Fredrik Schøyen Sjölin. Their latest album, Prism III (ECM)—featuring Beethoven's String Quartet No. 13, Op. 131, Bartók's String Quartet No. 1, and Bach's Fugue in C-sharp minor, BWV 849 from The Well-Tempered Clavier—was released in March 2021. Learn more at www.danishquartet.com.
"They could be grounded in their tone or mystical. They allowed time to stand still, and they could assume the pose of excitingly aggressive rockers. They did it all." —The Los Angeles Times
Benjamin Britten (1913-1976)
Three Divertimenti
'An Alleged Suite', A Curated Suite of Dances
Prelude, CHARPENTIER: Prelude
Allemande, JOHN ADAMS: Pavane: She's so fine
Courante Trad. Polska
Sarabande, BLUMENFELD: Sarabande
Gavotte, JOHN ADAMS: Stubble Crotchet
Gigue 1, CHARPENTIER: Gigue française
Gigue 2, JOHN ADAMS: Toot Nipple
Franz Schubert (1797-1828)
String Quartet No. 14 in D minor, D. 810 "Death and the Maiden"
Program Subject to Change Without Notice