Sunday, May 02, 2021 | 5:30 PM
Calidore Quartet
Available on demand through Sun, May 10, 11:59pm EST.
Location: Online
The Howard Family Concert and The David & Barbara Rodbell Kornblatt Commissioning Fund
The Calidore Quartet's balance of "intellect and expression" (Los Angeles Times) has won it international acclaim. The ensemble, an alum of SHCS's Discovery Series, returns to Baltimore with the world premiere of a performance pre-recorded in New York City in a private home. The concert features the world streaming premiere of a new quartet by Hannah Lash, as well as Schubert's transcendent final quartet and Dvořák's "American" Quartet, an ebullient work of joyous lyricism.
The performance will be followed by an Artist Q&A.
Questions about Streaming? Streaming Guide
Please note that this concert's broadcast premiere is on Sun, May 3 at 5:30pm EST, followed by on-demand access through Sun, May 10 at 11:59pm EST.
The exclusive streaming link will be emailed to all advance ticketholders on Sun, May 3 by 1pm EST. All ticket orders placed by 5pm EST will receive the streaming link in time for the concert premiere at 5:30pm EST. Purchases made after 5pm EST will receive the streaming link as soon as the order is processed by SHCS staff.
About the sponsor
The Howard Family Concert
The David & Barbara Rodbell Kornblatt Commissioning Fund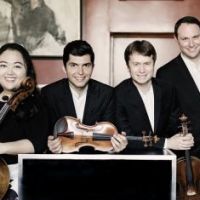 Calidore Quartet
Jeffrey Myers, violin
Ryan Meehan, violin
Jeremy Berry, viola
Estelle Choi, cello
The Calidore String Quartet has been praised by The New York Times for its "deep reserves of virtuosity and irrepressible dramatic instinct" and by The Los Angeles Times for its balance of "intellectand expression." The Washington Post has said that "Four more individual musicians are unimaginable, yet these speak, breathe, think, and feel as one."
Recipient of a 2018 Avery Fisher Career Grant, and the 2017 Lincoln Center Emerging Artist Award, the Calidore String Quartet first made international headlines as winner of the $100,000 Grand-Prize of the 2016 M-Prize International Chamber Music Competition. The quartet was the first North American ensemble to win the Borletti-Buitoni Trust Fellowship, was a BBC Radio 3 New Generation Artist and just completed its third year in residence with the Chamber Music Society of Lincoln Center's Bowers Program (formerly CMS Two).
In the 2019-20 season, the Calidore String Quartet celebrates its tenth anniversary and the 250th anniversary of Beethoven's birth by presenting cycles of the Beethoven String Quartets in New York, Los Angeles, Buffalo, Toronto, the University of Delaware, Antwerp and Dresden. Additionally, the Calidore will premiere a new work by composer Anna Clyne inspired by Beethoven's Grosse Fuge and commissioned by Music Accord in performances at Lincoln Center, Princeton, Penn State, Caramoor, San Francisco Performances and Boston's Celebrity Series. The Quartet will also make their debuts at Strathmore and with the Kansas City Friends of Chamber Music. In Europe, the Calidore perform on important series in the Netherlands, Belgium, Germany, Italy, Denmark, Poland, Spain and Switzerland. The Quartet will continue to collaborate with artists such as the pianists Marc-Andre Hamelin, Pavel Kolesnikov, Yeol Eum Son, Sophiko Simisive and Henry Kramer, violists Lawrence Power and Matthew Lipman, cellist Clive Greensmith, bassist Xavier Foley, guitarist Sharon Isbin, and oboist Cristina Gómez Godoy.
Highlights of recent seasons have included performances in major venues throughout North America, Europe and Asia such as Carnegie Hall, Wigmore Hall, Kennedy Center, Berlin Konzerthaus, Brussels BOZAR, Cologne Philharmonie, Seoul's Kumho Arts Hall and at significant festivals, including the BBC Proms, Verbier, Ravinia, Mostly Mozart, Music@Menlo, Rheingau, East Neuk and Festspiele Mecklenburg-Vorpommern.
On Resilience, the Calidore String Quartet's 2018 Signum release, the Calidore "present an impressive sense of ensemble" in a "cleverly devised selection of quartets" (Strad) by Mendelssohn, Prokofiev, Janáček and Golijov. The Calidore's other commercial recordings include two albums recorded live in concert at the Music@Menlo Festival; Serenade: Music from the Great War, featuring music for String Quartet by Hindemith, Milhaud and Stravinsky, Ernst Toch and Jacques de la Presle on the French label Editions Hortus; and the quartet's 2015 debut recording of quartets by Mendelssohn and Haydn which prompted Gramophone to dub the Calidore String Quartet "the epitome of confidence and finesse." The Calidore were featured as Young Artists-in-Residence on American Public Media's Performance Today and their performances have been broadcast on NPR, BBC, CBC, SiriusXM Satellite Radio, Korean Broadcasting Corporation, Bayerischer Rundfunk (Munich), Norddeutscher Rundfunk (Hamburg), and were featured on German national television as part of a documentary produced by ARD public broadcasting.
The Calidore have given world-premieres of works by Caroline Shaw, Hannah Lash, Mark Anthony Turnage and Benjamin Dean Taylor. The Calidore has collaborated with many esteemed artists and ensembles, including Jean-Yves Thibaudet, Joshua Bell, David Shifrin, Inon Barnatan, Paul Coletti, David Finckel, Wu Han, Paul Neubauer, Ronald Leonard, Paul Watkins, and the Emerson and Ebène Quartets, among others. The Calidore has studied closely with such luminaries as the Emerson Quartet, David Finckel, Andre Roy, Arnold Steinhardt, Günther Pichler, Guillaume Sutre, Paul Coletti, Ronald Leonard and the Quatuor Ebène.
As a passionate supporter of music education, the Calidore String Quartet is committed to mentoring and educating young musicians, students and audiences. The Calidore serves as Quartet-in-Residence at the University of Delaware and the University of Toronto. The Calidore has conducted master classes and residencies at Princeton, Stanford, University of Michigan, the Colburn School, Stony Brook University, UCLA and Mercer University.
The Calidore String Quartet was founded at the Colburn School in Los Angeles in 2010. Within two years the Quartet won grand prizes in virtually all the major U.S. chamber music competitions, including the Fischoff, Coleman, Chesapeake, and Yellow Springs competitions and captured top prizes at the 2012 ARD Munich International String Quartet Competition and Hamburg International Chamber Music Competition. Using an amalgamation of "California" and "doré" (French for "golden"), the ensemble's name represents a reverence for the diversity of culture and the strong support it received from its home of origin, Los Angeles, California, the "golden state."
"Synergistic brilliance and ferocious commitment." —The New York Times
Antonin Dvořák (1841-1904)
String Quartet No. 12 in F major, Op. 96. "American"
I. Allegro ma non troppo
II. Lento'
III. Molto vivace
IV. Finale: vivace ma non troppo
Hannah Lash (b. 1981)
New work (World Streaming Premiere)
View Notes
"String Quartet No. 1 is my most ambitious string quartet to date, and therefore seemed worthy of being numbered as such. In four movements, this piece seeks to place itself within the context of large string quartets, while simultaneously breaking from the genre altogether in the third movement. There is a song in the third movement, sung by the cellist. Suddenly lyrics come into play: language within an otherwise wordless context. It arrives in the final portion of this expansive movement, presented in the simplest possible manner with sparse accompaniment and a featured vocal line, appearing suddenly—something of a pop song—rupturing the surrounding music, and then disappearing as quickly as it appeared as the fourth movement begins.
The four movement form plays with the idea of thematic interconnectedness, though each movement presents its own unique character within the whole. Certain motivic mutations become obsessions. To me, building the piece felt akin to building a symphony. The ambition of the form, however, aims not at technical bravura, but deep, sometimes wrenching expressivity—a song at the heart of the entire piece."
—Hannah Lash

Hannah Lash's String Quartet No. 1 is commissioned for the Calidore Quartet by Elizabeth and Justus Schlichting for Segerstrom Center for the Arts' Chamber Music Series, by the Shriver Hall Concert Series, and by the Fonds Kleine Zaal of the Royal Concertgebouw, a fund which is managed by Het Concertgebouw Fonds.
Segerstrom Center for the Arts is the lead commissioner and co-presenter of Hannah Lash's String Quartet No. 1 and will present the live performance world premiere in February 2022.
Franz Schubert (1797-1828)
String Quartet No. 15 in G major, D. 887
I. Allegro molto moderato
II. Andante un poco moto
III. Scherzo: Allegro vivace with trio: Allegretto
IV. Allegro assai
Program Subject to Change Without Notice