Sunday, May 02, 2021 | 5:30 PM
Calidore Quartet
Available on demand through Sun, May 10, 11:59pm EST.
Location: Online
The Howard Family Concert and The David & Barbara Rodbell Kornblatt Commissioning Fund
The Calidore Quartet's balance of "intellect and expression" (Los Angeles Times) has won it international acclaim. The ensemble, an alum of SHCS's Discovery Series, returns to Baltimore with the world premiere of a performance pre-recorded in New York City in a private home. The concert features the world streaming premiere of a new quartet by Hannah Lash, as well as Schubert's transcendent final quartet and Dvořák's "American" Quartet, an ebullient work of joyous lyricism.
The performance will be followed by an Artist Q&A.
Questions about Streaming? Streaming Guide
Please note that this concert's broadcast premiere is on Sun, May 3 at 5:30pm EST, followed by on-demand access through Sun, May 10 at 11:59pm EST.
The exclusive streaming link will be emailed to all advance ticketholders on Sun, May 3 by 1pm EST. All ticket orders placed by 5pm EST will receive the streaming link in time for the concert premiere at 5:30pm EST. Purchases made after 5pm EST will receive the streaming link as soon as the order is processed by SHCS staff.
About the sponsor
The Howard Family Concert
The David & Barbara Rodbell Kornblatt Commissioning Fund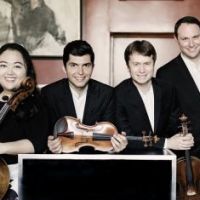 Calidore Quartet
Jeffrey Myers, violin
Ryan Meehan, violin
Jeremy Berry, viola
Estelle Choi, cello
The Calidore String Quartet has been praised by The New York Times for its "deep reserves of virtuosity and irrepressible dramatic instinct" and by The Los Angeles Times for its balance of "intellectand expression." The Washington Post has said that "Four more individual musicians are unimaginable, yet these speak, breathe, think, and feel as one."
Recipient of a 2018 Avery Fisher Career Grant, and the 2017 Lincoln Center Emerging Artist Award, the Calidore String Quartet first made international headlines as winner of the $100,000 Grand-Prize of the 2016 M-Prize International Chamber Music Competition. The quartet was the first North American ensemble to win the Borletti-Buitoni Trust Fellowship, was a BBC Radio 3 New Generation Artist and just completed its third year in residence with the Chamber Music Society of Lincoln Center's Bowers Program (formerly CMS Two).
In the 2019-20 season, the Calidore String Quartet celebrates its tenth anniversary and the 250th anniversary of Beethoven's birth by presenting cycles of the Beethoven String Quartets in New York, Los Angeles, Buffalo, Toronto, the University of Delaware, Antwerp and Dresden. Additionally, the Calidore will premiere a new work by composer Anna Clyne inspired by Beethoven's Grosse Fuge and commissioned by Music Accord in performances at Lincoln Center, Princeton, Penn State, Caramoor, San Francisco Performances and Boston's Celebrity Series. The Quartet will also make their debuts at Strathmore and with the Kansas City Friends of Chamber Music. In Europe, the Calidore perform on important series in the Netherlands, Belgium, Germany, Italy, Denmark, Poland, Spain and Switzerland. The Quartet will continue to collaborate with artists such as the pianists Marc-Andre Hamelin, Pavel Kolesnikov, Yeol Eum Son, Sophiko Simisive and Henry Kramer, violists Lawrence Power and Matthew Lipman, cellist Clive Greensmith, bassist Xavier Foley, guitarist Sharon Isbin, and oboist Cristina Gómez Godoy.
Highlights of recent seasons have included performances in major venues throughout North America, Europe and Asia such as Carnegie Hall, Wigmore Hall, Kennedy Center, Berlin Konzerthaus, Brussels BOZAR, Cologne Philharmonie, Seoul's Kumho Arts Hall and at significant festivals, including the BBC Proms, Verbier, Ravinia, Mostly Mozart, Music@Menlo, Rheingau, East Neuk and Festspiele Mecklenburg-Vorpommern.
On Resilience, the Calidore String Quartet's 2018 Signum release, the Calidore "present an impressive sense of ensemble" in a "cleverly devised selection of quartets" (Strad) by Mendelssohn, Prokofiev, Janáček and Golijov. The Calidore's other commercial recordings include two albums recorded live in concert at the Music@Menlo Festival; Serenade: Music from the Great War, featuring music for String Quartet by Hindemith, Milhaud and Stravinsky, Ernst Toch and Jacques de la Presle on the French label Editions Hortus; and the quartet's 2015 debut recording of quartets by Mendelssohn and Haydn which prompted Gramophone to dub the Calidore String Quartet "the epitome of confidence and finesse." The Calidore were featured as Young Artists-in-Residence on American Public Media's Performance Today and their performances have been broadcast on NPR, BBC, CBC, SiriusXM Satellite Radio, Korean Broadcasting Corporation, Bayerischer Rundfunk (Munich), Norddeutscher Rundfunk (Hamburg), and were featured on German national television as part of a documentary produced by ARD public broadcasting.
The Calidore have given world-premieres of works by Caroline Shaw, Hannah Lash, Mark Anthony Turnage and Benjamin Dean Taylor. The Calidore has collaborated with many esteemed artists and ensembles, including Jean-Yves Thibaudet, Joshua Bell, David Shifrin, Inon Barnatan, Paul Coletti, David Finckel, Wu Han, Paul Neubauer, Ronald Leonard, Paul Watkins, and the Emerson and Ebène Quartets, among others. The Calidore has studied closely with such luminaries as the Emerson Quartet, David Finckel, Andre Roy, Arnold Steinhardt, Günther Pichler, Guillaume Sutre, Paul Coletti, Ronald Leonard and the Quatuor Ebène.
As a passionate supporter of music education, the Calidore String Quartet is committed to mentoring and educating young musicians, students and audiences. The Calidore serves as Quartet-in-Residence at the University of Delaware and the University of Toronto. The Calidore has conducted master classes and residencies at Princeton, Stanford, University of Michigan, the Colburn School, Stony Brook University, UCLA and Mercer University.
The Calidore String Quartet was founded at the Colburn School in Los Angeles in 2010. Within two years the Quartet won grand prizes in virtually all the major U.S. chamber music competitions, including the Fischoff, Coleman, Chesapeake, and Yellow Springs competitions and captured top prizes at the 2012 ARD Munich International String Quartet Competition and Hamburg International Chamber Music Competition. Using an amalgamation of "California" and "doré" (French for "golden"), the ensemble's name represents a reverence for the diversity of culture and the strong support it received from its home of origin, Los Angeles, California, the "golden state."
"Synergistic brilliance and ferocious commitment." —The New York Times
Antonin Dvořák (1841-1904)
String Quartet No. 12 in F major, Op. 96. "American"
I. Allegro ma non troppo
II. Lento
III. Molto vivace
IV. Finale: vivace ma non troppo
View Notes
A comparatively late bloomer, Dvořák was already in his early thirties when he first made his mark as a composer in his native Bohemia. He lost no time in turning out a string of highly accomplished works in sundry genres that were not only technically masterful but enormously popular. By the mid-1880s his international reputation was spreading by leaps and bounds, with major publishers bidding for the privilege of advertising his newest works in their catalogues. The period during and after Dvořák's three-year residency in the U.S., from 1892 to 1895, was especially happy and productive. The popular success of his two "American" chamber works—the String Quartet, Op. 96, and the String Quintet, Op. 97, both dating from 1893—inspired him to write two more string quartets in quick succession after returning to Prague in 1895.
As director of the newly founded National Conservatory of Music, Dvořák devoted much of his first year in New York to composing his "New World" Symphony and advocating for the development of an indigenously American classical music. In the summer of 1893, he took his family on vacation to the Midwest, in part so that they could attend "Bohemian Day" at the World's Columbian Exhibition in Chicago. They spent several weeks among the small community of Czech immigrants in Spillville, Iowa, and it was there that Dvořák composed the F-major Quartet in a burst of concentrated inspiration over a period of 15 days in June. "Thanks be to God," he wrote on the manuscript. "I am satisfied; it went quickly." The composer himself played the first violin in a run-through of the quartet with local musicians at the family home of his secretary, J. J. Kovařík. The celebrated Kneisel Quartet gave the first public performance in Boston on New Year's Day 1894 and repeated it on January 12 in New York's Carnegie Hall.
The shortest of Dvořák's 14 string quartets, the "American" is among his most accessible works, despite its formal and thematic compression. "I wanted for once to write something very melodious and simple, and I always kept Papa Haydn before my eyes," the composer told a friend back home in Bohemia. The germ of the quartet seems to have been the song of a scarlet tanager that Dvořák heard while walking one day along the banks of the Turkey River in Spillville. The bird's distinctive U-shaped contour, coupling a rising second with a rising third, is embedded in the themes of three of the quartet's four movements, most transparently in the crisp, brightly chirping melody that opens the scherzo-like Molto vivace. Only the plangent and darkly expressive slow movement lacks its bright splash of sonic color. Dvořák's bottomless fund of melody is matched by the variety of his textures; throughout the work the instruments weave a rich tapestry, often by playing four different rhythmic patterns simultaneously.
© 2021 Harry Haskell
Hannah Lash (b. 1981)
String Quartet No. 1 (World Streaming Premiere)
View Notes
The sources of Hannah Lash's fertile inspiration range from medieval tapestries to Beauty and the Beast, and from Purcell chaconnes to the minimalist soundscapes of Steve Reich. "Time is mutable to [contemporary musicians] in a way it never was before," the 39-year-old composer once told an interviewer. "We have immediate access to anything we want to hear. We can invite any music we like to our table, and welcome what it brings to the dinner, gaining as much nourishment from 18th-century counterpoint as we might from [Reich's] Music for Eighteen." Lash's musical guest list is impressively diverse, as her extensive catalogue of works in sundry genres attests, but to call her style eclectic misses the point. In fact, her music speaks with a remarkably consistent and distinctive voice, characterized by multilayered textures, sonic haloes, dynamic pulses, and imaginative colors and sonorities that reflect her parallel career as a concert harpist. The composer Martin Bresnick, Lash's one-time mentor at Yale, describes her work as "a single and direct expression of one's soul" that is "almost Puritan" in its intensity.
Since the premiere of her first string quartet, Four Still, in 2004, Lash has featured the traditional foursome in a number of small-scale works, including a pair of chamber operas. But she considers the String Quartet No. 1 her "most ambitious string quartet to date," hence "worthy of being numbered as such." Despite their disparate characters, the four untitled movements are linked by thematic reminiscences: for instance, the fluttery, three-note "firefly" motif introduced early in the first movement returns in the finale, along with the second movement's throbbing double-stops in open fifths and giddily careening up-and-down lines. Lash's ever-present lyrical impulse comes to the fore in the third movement, in which the cellist drops out of the ensemble and sings a tender, mournful song about "dark times" and "forget-me-nots," accompanied by strummed chords and undulating arpeggios. (The text, uncredited in the score, is presumably by Lash, who writes her own libretti.) Here's how the composer describes her new work:
"In four movements, this piece seeks to place itself within the context of large string quartets, while simultaneously breaking from the genre altogether in the third movement. There is a song in the third movement, sung by the cellist. Suddenly lyrics come into play: language within an otherwise wordless context. It arrives in the final portion of this expansive movement, presented in the simplest possible manner with sparse accompaniment and a featured vocal line, appearing suddenly—something of a pop song—rupturing the surrounding music, and then disappearing as quickly as it appeared as the fourth movement begins. The four-movement form plays with the idea of thematic interconnectedness, though each movement presents its own unique character within the whole. Certain motivic mutations become obsessions. To me, building the piece felt akin to building a symphony. The ambition of the form, however, aims not at technical bravura, but at deep, sometimes wrenching expressivity—a song at the heart of the entire piece."
© 2021 Harry Haskell
Hannah Lash's String Quartet No. 1 is commissioned for the Calidore Quartet by Elizabeth and Justus Schlichting for Segerstrom Center for the Arts' Chamber Music Series, by the Shriver Hall Concert Series, and by the Fonds Kleine Zaal of the Royal Concertgebouw, a fund which is managed by Het Concertgebouw Fonds.
Segerstrom Center for the Arts is the lead commissioner and co-presenter of Hannah Lash's String Quartet No. 1 and will present the live performance world premiere in February 2022.
Franz Schubert (1797-1828)
String Quartet No. 15 in G major, D. 887
I. Allegro molto moderato
II. Andante un poco moto
III. Scherzo: Allegro vivace with trio: Allegretto
IV. Allegro assai
View Notes
By the time he reached his late twenties, Schubert had moved far beyond the prodigious facility of his teenage years. Toward the end of his short life, he became fixated on the idea of writing a "grand symphony" on the scale of Beethoven's Ninth. Although that ambitious project never got off the drawing board, he hinted at its nature in the three great string quartets that he produced between 1824 and 1826. The G-major Quartet, like its two companions—D. 804 in A minor ("Rosamunde") and D. 810 in D minor ("Death and the Maiden")—is a work of majestic proportions, elaborate thematic development, and considerable emotional complexity. Clearly, Schubert's capacity for work and concentrated inspiration remained undiminished, in spite of the deteriorating health, debilitating bouts of depression, and financial worries that had plagued him since he contracted syphilis in late 1822.
The Quartet in G major is the last of Schubert's 15 string quartets, and arguably the greatest. In its epic proportions and intensity of expression, it stands in the rarefied company of Beethoven's contemporaneous late-period quartets. Ironically, most music-lovers of Schubert's day found the work too challenging—or perhaps simply too exhausting—for their taste. Amazingly, the composer was unable to find a publisher for D. 887, and only the first of the four movements was performed in public during his lifetime. Not until 1850, nearly a quarter-century after it was composed, did this late masterpiece receive its long-overdue premiere.
Clocking in at nearly 45 minutes (closer to an hour, if the conventional repeat of the first-movement exposition section is observed), the G-major Quartet does indeed demand considerable stamina on the part of both players and listeners. To modern ears, however, the music is hardly "difficult" in the same sense as, say, Beethoven's knotty C-sharp-minor Quartet, Op. 131, also written in 1826. Schubert's unflagging melodic genius and the supple piquancy of his harmonies never fail to leave one hankering for more. It is true that a tendency to latch onto a musical idea and repeat it at "heavenly length," with only subtle variations, was one of Schubert's shortcomings as a composer of large-scale works. Yet his ideas are so inspired that they rarely become stale with repetition. And the G-major Quartet has more than its share of inspired ideas. In the Allegro molto moderato, for example, the jaunty dotted rhythms of the opening bars are seamlessly absorbed into the first violin's gently insistent tune, wafted above the shimmering tremolos in the lower voices. Fluid oscillation between major and minor modes—one of Schubert's stylistic trademarks—enhances the sense of drama and tension within a fundamentally lyrical framework. The slow movement, with its plangent E-minor theme introduced by the cello, is even more intensely dramatic. After a helter-skelter Scherzo, with a waltz-like Trio section inserted by way of contrast, the quartet culminates in a brilliant finale characterized by nervously propulsive triplet rhythms.
© 2021 Harry Haskell
Program Subject to Change Without Notice