Pianist Conrad Tao on 'Summer Nights with SHCS on WBJC' this Sat, Aug 15
Aug 12, 2020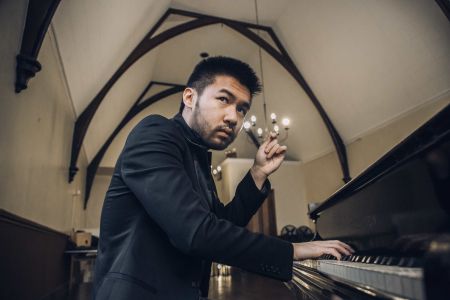 Just 25 years old, Conrad Tao has appeared worldwide as a pianist and composer, and has been dubbed a musician of "probing intellect and open-hearted vision" by The New York Times. A recipient of the prestigious Avery Fisher Career Grant and Gilmore Young Artist Award, he made his Baltimore Recital Debut on Shriver Hall Concert Series' stage on April 7, 2019. An electrifying performance, he dazzled the audience with his remarkable musicianship and surprised them with his bare feet! Read more about him in The New York Times' profile a few months after this concert.
JASON ECKHARDT: Echoes' White Veil
BEETHOVEN: Sonata No. 17 in D minor, Op. 31, No.2, "Tempest"
CONRAD TAO: All I had forgotten or tried to (Baltimore premiere)
BEETHOVEN: Sonata No. 18 in E-flat major, Op. 31, No. 3, "Hunt"
CHOPIN: Prelude in D-flat major, Op. 28, No. 15, "Raindrop"
CHOPIN: Prelude in B-flat major, Op. 28, No. 16, "Hades"
***Recorded live at Shriver Hall on April 7, 2019.***
Tune in this Saturday, August 15, at 6pm to 91.5 FM or listen online at WBJC.com!
Artist Biography
Conrad Tao has appeared worldwide as a pianist and composer, and has been dubbed a musician of "probing intellect and open-hearted vision" by The New York Times, who also cited him "one of five classical music faces to watch" in the 2018-19 season. Tao is a recipient of the prestigious Avery Fisher Career Grant, and was named a Gilmore Young Artist—an honor awarded every two years highlighting the most promising American pianists of the new generation. At the 2019 New York Dance and Performance Award ("Bessies"), Tao was the recipient of the award for Outstanding Sound Design / Music Composition, for his work on More Forever, his collaboration with Caleb Teicher.
Tao's 2018-19 season began with the New York Philharmonic's world premiere of their commission Everything Must Go, and the inaugural concert of their curated late-night concert series Nightcap. He also made his LA Opera debut in the West Coast premiere of David Lang's adaptation of Thomas Bernhard's the loser, and made his Los Angeles Philharmonic debut performing Beethoven's Piano Concerto No. 1, alongside summer debuts with The Cleveland Orchestra, New York Philharmonic, and Boston Symphony. In Europe he was presented by the Swedish Radio Symphony in recital and in Andrew Norman's Suspend alongside Susanna Mälkki; he also returned to the Orchestra dell'Accademia Nazionale di Santa Cecilia, performing with Antonio Pappano.
In the 2019-20 season, Tao was presented in recital by Carnegie Hall, performing works by David Lang, Bach, Julia Wolfe, Jason Eckhardt, Carter, Rachmaninoff, and Schumann. He debuted in recital at Walt Disney Hall, where the LA Phil presented him in works by Copland and Frederic Rzewski. Following his debut at Blossom, The Cleveland Orchestra presented Tao in Severance Hall in a special program featuring music by Mary Lou Williams and Ligeti, and improvisation alongside pianist Aaron Diehl. Concerto highlights in the season include performances of his own work for piano and orchestra, The Oneiroi in New York, with the Seattle Symphony, as well as performances with the Baltimore, Charlotte, and Pacific Symphonies. He also performed The Oneiroi alongside Galina Ustvolskaya's Piano Concerto with the Phoenix Symphony. In March 2020, Tao's piece Everything Must Go received its European premiere with the Antwerp Symphony Orchestra and conductor Edo de Waart.
In addition to concert halls, he also toured to college campuses, including the University of Notre Dame, UC Berkeley, Humboldt State University, Oregon State University, and Princeton University. Tao's acclaimed evening-length collaboration with choreographer Caleb Teicher, More Forever, was presented by Celebrity Series of Boston, and made its west coast premiere at Segerstrom Hall in Orange County, CA. His ongoing electroacoustic collaboration with improviser and vocalist Charmaine Lee continued with an opening-night performance at the 2019 Resonant Bodies Festival in New York. In the spring, Tao toured with the Junction Trio — his ensemble with violinist Stefan Jackiw and cellist Jay Campbell — to Massachusetts, Washington D.C., Ohio, Texas, and New Mexico. He also celebrated Stephen Sondheim's 90th birthday at 92Y with Anthony de Mare, premiering a new two-piano take on "Move On," from Sunday in the Park with George.
As a curator and producer, Tao presented the UNPLAY Festival in June 2013 at the powerHouse Arena in Brooklyn. The festival, hailed by The New York Times for its "clever organization" and "endlessly engaging" performances, featured Tao with guest artists performing a wide variety of new works. Across three nights encompassing electroacoustic music, performance art, youth ensembles, and much more, UNPLAY explored the fleeting ephemera of the Internet, the notion of canonization in the 21st century, and the role music plays in social activism and critique.
A Warner Classics recording artist, Tao's debut disc Voyages was declared a "spiky debut" by The New Yorker's Alex Ross. Of the album, NPR wrote: "Tao proves himself to be a musician of deep intellectual and emotional means – as the thoughtful programming on this album…proclaims." His next album, Pictures, with works by David Lang, Toru Takemitsu, Elliott Carter, Mussorgsky, and Tao himself, was hailed by The New York Times as "a fascinating album [by] a thoughtful artist and dynamic performer…played with enormous imagination, color and command." His third album, entitled Compassion, will be released in Fall 2019 and will feature works by Julia Wolfe, Frederic Rzewski and Aaron Copland.
Program Notes
JASON ECKARDT (b. 1971)
Echoes' White Veil
Composed in 1996
As a guitarist playing in a heavy-metal band in the 1980s, Jason Eckhardt says he spent most of his teenage years "trying to be a rock star." The pursuit of that elusive dream eventually took him to Boston's Berklee College of Music, where he discovered the spare, radically compressed music of the early 20th century modernist Anton Webern. By his own account, it was Webern's Five Movements for String Quartet—with its haunting quietude, pointillistic textures, and kaleidoscopic colors—that inspired him to become a composer. Yet that unexpected epiphany didn't diminish Eckhardt's youthful enthusiasm for rock music and free jazz. Instead, he set out to combine elements of all three styles in a hybrid language that marks what he considers his "core musical identity."
Composed in 1996, Echoes' White Veil exemplifies this stylistic synthesis in its engaging blend of high-powered virtuosity, extended instrumental techniques, innovative sonorities, and improvisatory-sounding gestures. In reality, the score is meticulously notated, leaving nothing to chance and little (other than pedal effects) to the discretion of the performer. In its sheer density, of both sound and ideas, Eckhardt's 11-minute composition relates to the so-called New Complexity movement that arose in the 1980s, partly in reaction to the reductive language of minimalism. Its legacy is a body of works characterized by multilayered textures, dissonant harmonies, fiercely complicated rhythms, and ultrafine gradations of timbres and dynamics. Eckhardt acknowledges the influence of movement-oriented composers like Brian Ferneyhough and Karlheinz Stockhausen, but his music is equally beholden to the likes of John Coltrane and Led Zeppelin.
The 48-year-old New Jersey native likens the genesis of his works to "being in a landscape during an evening thunderstorm. There is darkness, then a flash of lightning that illuminates the surroundings. For that fraction of a second I can 'see' everything I need to begin the piece. What follows is a painstaking reconstruction of that moment." In the case of Echoes' White Veil, that lightning flash came in the form of a prose poem titled "Echoes" by the late W.S. Merwin. A meditation on the interpenetration of past, present, and future–on "the echoes pouring through us out of the past" and the "sounds that rush away from us: echoes of future words"–Merwin's poem culminates in the image of a child sitting beside a lake at nightfall, calling out into the silence and watching the sound of his embodied voice "running away from me over the water in her white veil."
Eckhardt's music captures that multilayered poetic imagery in an analogous complex of sound and silence, movement and stasis. His sound world recalls Jay Parini's description of Merwin's poetry as a "kind of free verse" in which "he layered image upon bright image, allowing the lines to hang in space, largely without punctuation, without rhymes . . . with a kind of graceful urgency." Notated without barlines, Echoes' White Veil might be called the musical equivalent of free verse. Sonic images pile on top of one another in tightly packed, asynchronous layers, and spare, spectral sonorities are left hanging in space. Eckhardt's music ranges across a vast expanse of register, from stratospheric heights to stygian depths. Yet for all its uncompromising modernity, Echoes' White Veil recalls both the textures and the melodic contours of Chopin's B-flat-minor Prelude, which concludes tonight's program.
LUDWIG VAN BEETHOVEN (1770-1827)
Sonata No. 17 in D minor, Op. 31, No. 2, "Tempest"
Composed in 1802
The Beethoven who arrived in Vienna in late 1792, a few short months after Mozart's untimely death, was a cocky young tyro bursting with talent, confidence, and ambition. It was as a barn-storming pianist that the 20-something up-and-comer first riveted the attention of audiences in the Austrian capital. But his rapid maturation as a composer was no less phenomenal. The three piano trios of 1795, which he designated his Opus 1, established Haydn's protégé as a star of the first magnitude. By his 30th birthday, Beethoven had to his credit a clutch of masterpieces–including three piano concertos, six string quartets, and one symphony–that would have done any composer proud. Over the next dozen years, his worsening deafness notwithstanding, a stream of ambitious and formally innovative works flowed from the composer's pen, among them the opera Fidelio, the "Eroica" Symphony and three sequels, the D-Major Violin Concerto, the three "Razumovsky" string quartets, and the three piano sonatas of Opus 31.
Commissioned in 1802 by the Swiss publisher Hans Georg Nägeli, the Op. 31 Sonatas mark a watershed between the polished Classicism of Beethoven's early works and the rawer, more elemental Romanticism of his so-called middle period. As he slowly but surely transformed himself from a fire-breathing keyboard virtuoso to a no less boldly impetuous creative artist, Beethoven became increasingly adventurous in his handling of harmony, rhythm, structure, and thematic development. The famous "Tempest" Sonata is one of many works that both captivated and perplexed contemporary listeners with their concentrated economy of expression and often explosively dramatic character.
According to his secretary Anton Schindler, the composer himself was indirectly responsible for the popular nicknames that soon became attached to the D-minor Sonata, Op. 31, No. 2, and the "Appassionata" Sonata, Op. 57, of 1804-05. Intrigued by the "poetic ideas" that Beethoven expressed in his music, Schindler asked him to provide interpretive "keys" to the two works. "Read Shakespeare's Tempest," was the composer's terse and cryptic reply. Although the veracity of Schindler's account is open to question, Beethoven was one of many 19th-century composers who responded to what they perceived as Shakespeare's embryonic "romanticism." Nor is there any mistaking the "Tempest" Sonata's intrinsically stormy character. The work's distinctive arpeggios, fantasia-like episodes, and moodily atmospheric harmonies mark it as a close companion to the "Moonlight" Sonata of 1801.
The Sonata in D minor opens with a slowly unfurling arpeggio, pregnant with possibility, followed by a shower of dancing eighth notes, like raindrops pelting the ground. These two contrasting thematic ideas generate much of the first movement's dynamic energy. There is a magical moment in the development section when Beethoven reprises the opening arpeggios, this time with plaintive, recitative-like elaborations, before bolting off into wild and uncharted harmonic regions. Another rolled chord heralds the beginning of the Adagio, in B-flat major, an incandescent rainbow emerging from the Allegro's darkling clouds. Both here and in the finale, Beethoven explores wide expanses of register, from gruff, subterranean bass to celestial treble. The concluding Allegretto features syncopated rhythms and rippling arpeggios in interlocking configurations that recall the sonata's earlier movements.
CONRAD TAO (b. 1994)
All I had forgotten or tried to (Baltimore premiere)
Composed in 2017
In addition to his busy performing schedule, Conrad Tao has pursued a parallel career as a composer. Over the past decade he's turned out a small but steady stream of works for solo piano, various chamber ensembles, and orchestra–most recently Everything Must Go, commissioned by the New York Philharmonic as a short curtain-raiser for Bruckner's Eighth Symphony and premiered last September. All I had forgotten or tried to was designed for a somewhat similar purpose. In Tao's words, "Two summers ago I was asked if I might play a piece of mine for an encore. I didn't have any three-minute pieces lying around, so I wrote one. The piece gets its title from a passage in Impossible Princess, a book by the New Narrative writer Kevin Killian. Impossible Princess is a collection of short stories, poetry, and erotica that takes its title from the Kylie Minogue album of the same name."
Killian and other gay writers associated with the New Narrative movement are known for their unfiltered subjectivity, raw physicality, and sexual explicitness. Tao doesn't explain what direct connection, if any, there may be between this body of erotic literature and his three-minute-long encore piece, but the sensuous beauty of his music speaks for itself. A slow, plaintively lyrical cantilena cast in ABA song form, All I had forgotten or tried to traces an expressive arc from tender nostalgia to impassioned climax to resigned lassitude. The score is lightly tinged with exoticism, as when the pianist dampers or strikes the strings inside the instrument with his free hand.
BEETHOVEN
Sonata No. 18 in E-flat major, Op. 31, No. 3, "The Hunt"
Composed in 1802
Like its immediate predecessor, the 18th of Beethoven's 32 piano sonatas plays fast and loose with convention, testing the performer's agility, both mental and physical, and thwarting the listener's expectations at every turn. (Either carelessly, or because the music was so unconventional in its sound and structure, the Swiss publisher of Opus 31 infuriated Beethoven by inserting four extra measures in the first of the three sonatas.) In contrast to its tempestuous predecessor, however, the high-spirited "Hunt" Sonata is notable for its good-natured rambunctiousness. By turns playful and heroic, dramatic and lyrical, its four movements highlight the sharply contrasting aspects of Beethoven's persona as both composer and pianist.
Beethoven's unbridled energy at the keyboard and his formidable powers as an improviser are the stuff of legend. He dazzled audiences at the turn of the 19th century with his no-holds-barred approach to the keyboard, which wreaked havoc on the light-framed Viennese fortepianos of the day. Anton Reicha bore witness to his elemental force when he assisted Beethoven at a performance of a Mozart concerto in the late 1790s. "He asked me to turn pages for him," the Czech composer recalled. "But I was mostly occupied in wrenching the strings of the pianoforte which snapped, while the hammers stuck among the broken strings. Beethoven insisted on finishing the concerto, and so back and forth I leaped, jerking out a string, disentangling a hammer, turning a page, and I worked harder than Beethoven."Yet there was a tender, poetic side to Beethoven's pianism as well. Comparing him to another celebrated pyrotechnician of the day, the amateur composer Carl Ludwig Junker wrote that Beethoven had "greater eloquence, weightier ideas, and is more expressive–in short, he is more for the heart." That spontaneity of feeling and expression would make Beethoven a role model for later composer-pianists in the Romantic era. Testimony abounds to his prowess as an improviser–a key test of musicianship in the 18th and 19th centuries, and a vital element in Beethoven's creative process. His rival virtuoso Joseph Gelinek reportedly exclaimed: "I have never heard anyone play like that! He improvised on a subject that I had given him in a manner that I have not heard even from Mozart." The Sonata in E-flat major may have been dubbed "The Hunt" on account of the horncall-like theme that Beethoven introduces in the finale. But the sobriquet seems equally appropriate in light of the work's teasingly suspenseful beginning. Entering on catlike tread, the Allegro stealthily creeps up on the listener, as if waiting to pounce. Beethoven slyly delays stating the tonic chord of E-flat major for a full eight measures, by which time the first movement's cheerfully wayward, capricious character is firmly established. The playful mood carries over into the A-flat-major Scherzo, with its crisp, springy rhythms in 2/4 time and a mock-heroic theme that returns periodically throughout the movement, rondo style. Omitting the customary slow movement, Beethoven proceeds to a warmly lyrical Menuetto featuring a dotted upbeat figure that can be heard as a more relaxed version of the Allegro's "pouncing" motif, in vivid contrast to the madly galloping triplets of the final Presto con fuoco.

FRÉDÉRIC CHOPIN (1810-1849)
Prelude in D-flat major, Op. 28, No. 15, "Raindrop"
Prelude in B-flat minor, Op. 28, No. 16, "Hades"
Composed 1838-39
Chopin is so closely associated with the culture and society of mid-19th-century Paris that it's easy to forget he lived there, on and off, for less than two decades. Born in 1810, he graduated at age 19 from Warsaw's High School of Music. Eager to make his mark, and buoyed by his teachers' praise of his "musical genius," he struck out to conquer Europe and eventually landed in the French capital, where he would make his home for the rest of his days. He threw himself into the city's glittering social and musical life, turning out dozens of waltzes, mazurkas, nocturnes, and other solo piano pieces that gave new meaning to the term "salon music," the lightweight fare popular in Parisian drawing rooms of the 1830s and 40s. In an age replete with keyboard virtuosos, Chopin's combination of bravura technique and poetic feeling defined a new school of Romantic pianism.
But Chopin's dozens of Preludes and Etudes rise far above the level of didactic student pieces to explore uncharted realms of musical expression and pianistic technique. The Op. 28 Preludes descend more or less directly from Bach's Well-Tempered Clavier; indeed, Chopin often warmed up before concerts by playing the Baroque master's intricately contrapuntal preludes and fugues. Like Bach's works, Chopin's 24 Preludes traversed the gamut of the major and minor keys. The resemblance is heightened by the organic structure of Op. 28, each prelude in a major key being followed by one in the relative minor, the next pair a perfect fifth higher, and so on.
Within this schematic framework, Chopin rings an astonishing variety of changes. Some of the Preludes seem to be over almost before they begin, while others plumb musical and emotional depths that belie their brevity. In each piece, Chopin goes straight to the heart of the matter, forgoing extraneous preliminaries or musical filler. The development of his ideas is radically compressed, yet each of these jewel-like miniatures contains a world of meaning. Small wonder that one of their greatest interpreters, the pianist Hans von Bülow, felt justified in inventing detailed dramatic "programs" for the Op. 28 Preludes. Thus the D-flat-major Prelude's steadily pulsing eighth notes evoked the pattering of raindrops, now soothing, now menacing, while the fiery brilliance of the Prelude in B-flat minor, with its seething torrents of chromatic passagework, put Bülow in mind of the ancient Greek god of the underworld. The French pianist Alfred Cortot described Chopin's sixteenth Prelude in similar terms as a "race to the abyss."
Notes by Harry Haskell, © 2019