Jerusalem Quartet on 'Summer Nights with SHCS on WBJC' this Sat, Aug 29
Aug 25, 2020
Over the past two decades, the Jerusalem Quartet has consistently garnered accolades and acclaim for its "passion, precision, warmth, a gold blend" (The Times, London). This masterful performance opens with works by Haydn and the 20th-century master Shostakovich, and concludes with Brahms' intense and restless first quartet. This Saturday's broadcast also includes a never before heard interview with violist Ori Kam and Jonathan Palvesky.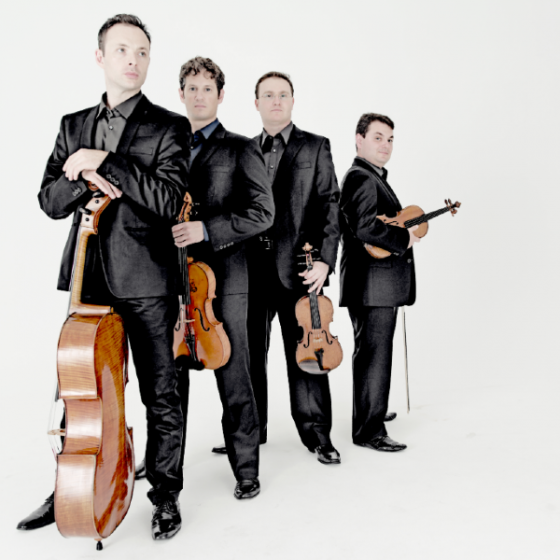 Alexander Pavlovsky violin
Sergei Bresler violin
Ori Kam viola
Kyril Zlotnikov cello
Over the past two decades, the Jerusalem Quartet has consistently garnered accolades and acclaim for its "passion, precision, warmth, a gold blend" (The Times, London). This masterful performance opens with works by Haydn and the 20th-century master Shostakovich, and concludes with Brahms' intense and restless first quartet. This Saturday's broadcast also includes a never before heard interview violist Ori Kam and Jonathan Palvesky.
HAYDN: String Quartet in D minor, Op. 76, No. 2, "Fifths"
SHOSTAKOVICH: String Quartet No. 9 in E-flat major, Op. 117
BRAHMS: String Quartet in C minor, Op. 51, No. 1
***Recorded live at Shriver Hall on October 20, 2019.***
Tune in this Saturday, August 29, at 6pm to 91.5 FM or listen online at WBJC.com!
Artist Biography
"Passion, precision, warmth, a gold blend: these are the trademarks of this excellent Israeli string quartet."
– The Times
Such was the New York Times' impression of the Jerusalem Quartet. Since the ensemble's founding in 1993 and subsequent 1996 debut, the four Israeli musicians have embarked on a journey of growth and maturation. This journey has resulted in a wide repertoire and stunning depth of expression, which carries on the string quartet tradition in a unique manner. The ensemble has found its core in a warm, full, human sound and an egalitarian balance between high and low voices. This approach allows the quartet to maintain a healthy relationship between individual expression and a transparent and respectful presentation of the composer's work. It is also the drive and motivation for the continuing refinement of its interpretations of the classical repertoire as well as exploration of new epochs.
The Jerusalem Quartet is a regular and beloved guest on the world's great concert stages. With regular bi-annual visits to North America, the quartet has performed in cities such as New York, Chicago, Los Angeles, Philadelphia, Washington, and Cleveland as well as in the Ravinia Festival. In Europe, the quartet enjoys an enthusiastic reception with regular appearances in London's Wigmore hall, Tonhalle Zürich, Munich Herkulessaal, Theatre des Champs-Elysées, as well as special guest performances at the Auditorium du Louvre Paris, the Elbphilharmonie Hamburg and festivals such as Salzburg, Verbier, Schleswig-Holstein, Schubertiade Schwarzenberg, Rheingau, Saint Petersburg white Nights and many others.
The Jerusalem Quartet records exclusively for Harmonia Mundi. The quartet's recordings, particularly the albums featuring Haydn's string quartets and Schubert's "Death and the Maiden", have been honored with numerous awards such as the Diapason d'Or and the BBC Music Magazine Award for chamber music. In 2018, the quartet released two albums, an album of Dvorak's String Quintet Op.97 and Sextet Op.48, and a much-awaited recording of the celebrated quartets by Ravel and Debussy. In the spring of 2019, the quartet will release a unique album exploring Jewish music in Central Europe between the wars and its far-reaching influence. Israeli Soprano Hila Baggio will join the quartet to perform a collection of Yiddish Cabaret songs from Warsaw in the 1920s. The quartet has commissioned composer Leonid Desyatnikov to arrange these songs, which will be sung in Yiddish. Schulhoff's Five Pieces (1924), a collection of short and light cabaret-like pieces, and Korngold's Quartet No.2 (1937) will complete the program.
Alongside its regular programs, the 2018/19 season will open with a premiere of its new Yiddish program. In October the quartet will be joined by Pinchas Zukerman and Amanda Forsyth for a US tour featuring string sextets by Strauss, Schoenberg and Tchaikovsky. March will include a return of the Brahms project featuring quartets, sonatas and quintets together with clarinetist Sharon Kam and pianist Matan Porat. After a second US tour in April, Bartok's 6 string quartets will be presented at London's Wigmore hall in May and then combined with Beethoven and performed in various venues in Bavaria.

Program Notes
JOSEPH HAYDN
String Quartet in D minor, Op. 76, No. 2, "Fifths"
Composed 1796-97
Charles Burney, an industrious chronicler of 18th-century music, praised Haydn's six Op. 76 quartets in a letter he in 1799 from London sent to the composer in Vienna: "I had the pleasure of hearing your new quartetti (opera 76) well performed before I went out of town, and never received more pleasure from instrumental music: they are full of invention, fire, good taste, and new effects, and seem the production, not of a sublime genius who has written so much and so well already, but of one of highly cultivated talents, who had expended none of his fire before." By the time the Op. 76 set was published that year, such tributes to Haydn's seemingly inexhaustible creativity were common. After the death of his long-time patron, Prince Nicolaus Esterházy, in 1790, the composer began to write in a more extroverted, crowd-pleasing style that reflected the growing public demand for his music. Nonetheless, "Papa" Haydn was beginning to slow down as he approached his seventh decade. "Every day the world compliments me on the fire of my recent works," he remarked to his publisher, "but no one will believe the strain and effort it costs me to produce them."
Composed in 1796-97, the Op. 76 quartets are contemporaneous with Haydn's oratorio The Creation. Like that late-blooming masterpiece, these works are notably adventurous in their handling of thematic material, harmony, texture, and timbre. As for the good taste to which Burney referred, that had been a hallmark of Haydn's work from the earliest stage of his long career. (The affectionate reverence he inspired in his contemporaries is reflected in the engraving that adorns the title page of the first edition of the Op. 76 quartets: it depicts the venerable composer consorting in the heavens with a pair of angels, one of whom is holding a laurel-wreath halo above his head.) Poised between the Baroque exuberance of Bach and Vivaldi—both of whom were still going strong when Haydn was born in 1732—and the nascent Romanticism of his pupil Beethoven, Haydn's music reflects the Classical virtues of equilibrium, clarity, and seriousness of purpose, tempered with a high-spirited and often earthy sense of humor that has delighted audiences and players for more than two centuries.
The D-minor Quartet takes its nickname, "Fifths," from the first violin's boldly striding open fifths (A to D and E to A) in the opening bars. This simple two-note motto—sometimes widened to the interval of a sixth or octave—pervades the entire Allegro: listen for it, for instance, in the lower voices as they accompany the brightly lyrical second theme in D major. All four instruments converse in the intricate development section, written in Haydn's most engagingly sophisticated style. The first violin returns to center stage in the limber, lighthearted Andante. Open fifths again feature prominently in the central Trio section of the vigorously canonic Menuet (sometimes called the "Witches' Minuet"), and the quartet ends with a zestful Finale whose skipping, playfully syncopated theme bears a faint family resemblance to music we've heard in the first movement.
Haydn composed with equal aplomb for amateurs and professional-caliber musicians alike. The blend of wit, playfulness and profundity that characterizes his 68 string quartets indicated a similarly broad-spirited personality. The Swedish diplomat Fredrik Samuel Silverstolpe, who befriended Haydn in Vienna in 1797, recorded a conversation they had about The Creation. "I discovered in Haydn as it were two physiognomies," Silverstolpe wrote. "The one was penetrating and serious, when he talked about anything exalted, and only the expression 'exalted' was enough to show him visibly moved. In the next moment this atmosphere of exaltation was chased away, quick as lightning, from his every-day expression, and he became jovial with a force that showed on his features and which then passed into waggishness. This was his usual physiognomy; the other one had to be induced."


DMITRI SHOSTAKOVICH
String Quartet No. 9 in E-flat major, Op. 117
Composed in 1964
Throughout his career Shostakovich was alternately lionized and demonized by the Soviet Union's cultural apparatchiks. So it's small wonder that his music careens wildly among mordent satire (exemplified by the opera The Nose and the ballet The Golden Age), patriotic bombast (the Second Symphony and the symphonic poem October, both eulogizing the 1917 Russian Revolution), and bleak alienation (almost any of his 15 string quartets). Shostakovich came of age in the 1920s, during the brief halcyon period of the workers' state. But his incorrigible political cynicism, and his contempt for the proletarian pap produced under the banner of Socialist Realism, repeatedly drew censure from the authorities. The international success of the "Leningrad" Symphony, composed during the Nazi siege of Leningrad and widely hailed as a symbol of heroic Russian resistance, finally brought the highly strung composer a measure of security, if not serenity. In the last two decades of his life Shostakovich traveled abroad, established contacts with Benjamin Britten and other Western composers, and achieved performances of works that had long been banned or suppressed. With acute misgivings, he also accepted a number of official posts, becoming secretary of the state-run composers' union and belatedly joining the Communist Party.
By the early 1960s, the fragile internal détente in the USSR led to performances of Shostakovich's 30-year-old opera Lady Macbeth of the Mtsensk District (disguised under a new title, Katerina Izmaylova), as well the controversial Thirteenth Symphony, "Babi Yar," a courageous indictment of official Soviet anti-Semitism set to texts by the dissident poet Yevgeny Yevtushenko.
Composed in 1964, Shostakovich's Quartet No. 9 in E-flat major replaced an earlier quartet score that Shostakovich had destroyed in what he described as "an attack of healthy self-criticism." According to the composer, the original version of the work was "a children's piece, about toys and going out to play." If so, it bore no apparent relation either to the transparently autobiographical Quartet No. 8 of 1960, which is steeped in reminiscences of Shostakovich's earlier music, or to the existing score of Quartet No. 9. The latter was dedicated to his third wife, Irina, a much younger woman whom he had married in 1962. "He started to write it almost the moment I appeared in his apartment," she recalled years later, "and he said my image was reflected in it. But he didn't say how. I didn't go that deeply into it. Maybe he was just happy that things were going well—not to be alone in this life, and that he felt safer."
The Ninth Quartet was unveiled in Moscow on November 20, 1964, by the Beethoven Quartet, the celebrated ensemble that premiered all but two of Shostakovich's quartets. Like the Eighth Quartet, the Ninth is laid out in five movements, alternating fast and slow tempos and played without interruption. The listener is thus invited to experience the half-hour-long work as a monumental single span whose clearly articulated structure is built around carefully planned key relationships, moods, and recurring thematic material.
The first and last movements hew closely to the home key of E-flat major, while the second and third movements center on F-sharp, and the fourth—a brief but mighty sea-swell of an Adagio—undulates queasily between E-flat minor and major. Like much of Shostakovich's music, the Quartet veers from morbid brooding to raucous high spirits and grotesque sarcasm. (Listen for the sardonic polka in the central Allegretto.) The massive final Allegro savagely combines themes heard earlier in the Quartet.
JOHANNES BRAHMS
String Quartet in C minor, Op. 51, No. 1
Composed 1865–73
In an 1853 journal article titled "New Paths," Robert Schumann lauded 20-year-old Johannes Brahms, whom he had just met for the first time in Düsseldorf, as a genius who had sprung forth "like Minerva fully armed from the head of Jove." As Brahms played a string of works in progress at the piano for Schumann and his wife Clara, Schumann found himself "drawn into ever deeper circles of enchantment. . . . There were sonatas, rather veiled symphonies—songs, whose poetry one could understand without knowing the words . . . single pianoforte pieces, partly demoniacal, of the most graceful form—then sonatas for violin and piano—quartets for strings—and every one so different from the rest that each seemed to flow from a separate source." We may never know anything about the early string quartets that worked their magic on Schumann, all of which Brahms destroyed. In fact, by the time he began work on his C-minor Quartet in the mid- to late 1860s, Brahms had by his own count written and discarded no fewer than 20 quartets.
Brahms was paralyzed, as when later contemplating his First Symphony, by the thought of courting comparison with Beethoven, especially at a time when the string quartet had fallen out of favor among contemporary composers in Germany. "You don't know what it's like for the likes of us to hear that giant's footsteps . . . marching behind," he said. Well-meaning friends were forever asking when his first quartet would be ready, and Brahms persisted in putting them off. "It took Mozart a lot of trouble to compose six early quartets," he good-naturedly reminded his publisher, Fritz Simrock, in 1869, "so I will try my hardest to turn out a couple fairly well done. They should not fail you, but if I were a publisher I should not be in such a hurry." Simrock was the soul of patience; four years later he was still waiting for Brahms to deliver when he received a letter containing further discouraging news: "I give myself the greatest trouble and keep on hoping that something really great and difficult will occur to me, and they turn out mean and paltry!" A few weeks later Brahms finally admitted to himself that he would never be fully satisfied and shipped the two Op. 51 quartets off to Simrock.
Whatever misgivings he may have felt about their quality, ingratiating himself with the public clearly was not uppermost in Brahms's mind. The Op. 51 quartets are among his most severe and uncompromising chamber works. The urgently rising motif that opens the C-minor Quartet, like a tightly coiled spring, generates a tension that doesn't unwind until a few bars before the final C major cadence. (The same motif recurs at the beginning of the fourth movement, illustrating Brahms' growing concern with large-scale thematic unity.) The two inner movements provide an interlude of bittersweet introspection, but the dark, intense drama of the opening Allegro reemerges in the finale, a sustained burst of energy characterized by restless cross-rhythms and intricate part writing.
Brahms dedicated the Op. 51 quartets to his surgeon friend Theodor Billroth, a sophisticated connoisseur and accomplished amateur pianist and string player. "It is not merely the affectionate thought of you and your friendship that prompts me to put your name at the head of the first one," the composer wrote to Billroth in July 1873 from his summer getaway in the German Alps. "I just like to think of you, and with such special plaisir, as violin and 'sextet-player.' You would doubtless accept a volume of enormously difficult piano variations more kindly and would find it more befitting your attainments? There's no help for it, you just have to put up with the dedication even with the droll little ulterior motive." Billroth knew better than to take the composer's habitual self-deprecation at face value. "These dedications will keep our names known longer than our best work," he sagely predicted to a fellow dedicatee.
Arnold Schoenberg, in an essay titled "Brahms the Progressive," singled the two quartets out as illustrations of Brahms' innovations in harmony and thematic development, innovations that had enabled composers like himself to fashion an "unrestricted musical language" free of Classical and Romantic conventions. "It is important to realize," Schoenberg wrote, "that at a time when all believed in 'expression,' Brahms, without renouncing beauty and emotion, proved to be a progressive in a field which had not been cultivated for half a century. He would have been a pioneer if he had simply returned to Mozart. But he did not live on inherited fortune; he made one of his own."
Notes by Harry Haskell, © 2019