Alban Gerhardt and Cecile Licad on 'Summer Nights with SHCS on WBJC' this Sat, Sep 12
Sep 09, 2020
Alban Gerhardt has, for 25 years, made a unique impact on audiences worldwide with his intense musicality, compelling stage presence, and insatiable artistic curiosity. He was joined by longtime recital partner pianist Cecile Licad. Acclaimed as "a particularly fine duo, working emotionally in unison" (The Telegraph, London), they performed a program of Bach, Beethoven, Debussy, and Franck's luminous sonata in Shriver Hall on November 10, 2019.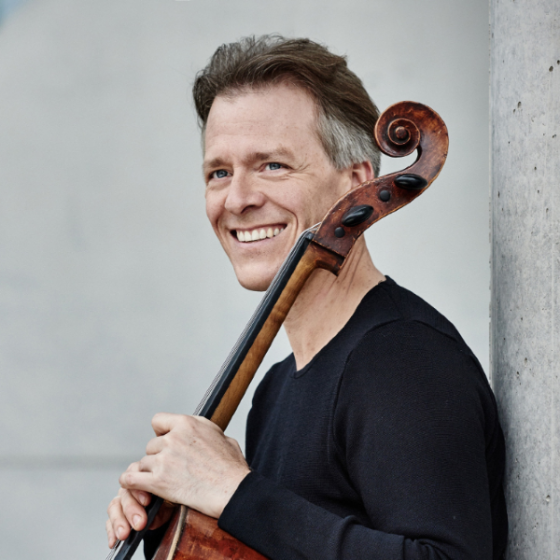 "One of the finest cellists around–expressive, unshowy, and infinitely classy."
—The Guardian on Alban Gerhardt
"A top-notch artist."
—The Daily Telegram (London) on Cecile Licad
BACH: Suite for Solo Cello in C minor, BWV 1011
BEETHOVEN: Cello Sonata in G minor, Op. 5, No. 2
DEBUSSY: Cello Sonata
FRANCK: Cello Sonata in A major
CASSADO: Requiebros
***Recorded live at Shriver Hall on November 10, 2019.***
Artist Biographies
Alban Gerhardt, cello
Having launched his career with the Berliner Philharmoniker and Semyon Bychkov in 1991, Alban Gerhardt has since gained recognition as one of the most versatile cellists, highly regarded for his performances, from solo Bach through the classical and romantic canon to collaborations with several contemporary composers.
Gerhardt has, for nearly 30 years, made a unique impact on audiences worldwide with his intense musicality, compelling stage presence and insatiable artistic curiosity. His gift for shedding fresh light on familiar scores, along with his appetite for investigating new repertoire from centuries past and present, truly set him apart from his peers.
Gerhardt recently premiered a new cello concerto by Julian Anderson with Orchestre National du France, following on from the success of his performances of Brett Dean's concerto premiered with Sydney Symphony and Berliner Philharmoniker and played with Minnesota Orchestra, New York Philharmonic and Swedish Radio Symphony last season. This upcoming season Gerhardt gives further performances of the concerto with Boston Symphony and Klaus Mäkelä, Baltimore Symphony and Marin Alsop, Finnish Radio Symphony and Sakari Oramo and London Philharmonic and Edward Gardner. Other symphonic engagements in Europe include concerts with Swedish Chamber Orchestra, Scottish Chamber Orchestra, Orchestre Chambre de Lausanne and Deutsches Sinfonie Orchester Berlin.
Gerhardt has won several awards, and his recording of Unsuk Chin's Cello Concerto, released by Deutsche Grammophon, won the BBC Music Magazine Award and was shortlisted for a Gramophone Award in 2015. Gerhardt has recorded extensively for Hyperion; his recording of complete Bach suites was released in 2019 and was one of the Sunday Times top 100 CDs of the year (all genres included).
He is a keen chamber musician; his regular performance partners include Steven Osborne and Cecile Licad. Most recently he has collaborated on a new artistic project 'Love in Fragments' with violinist Gergana Gergova, choreographer Sommer Ulrickson, and sculptor Alexander Polzin. A poetic union of music, movement, sculpture and the spoken word, the project successfully premiered at 92nd Street Y in New York.
Gerhardt is passionate about sharing his discoveries with audiences far beyond the traditional concert hall: outreach projects undertaken in Europe and the US have involved performances and workshops, not only in schools and hospitals, but also pioneering sessions in public spaces and young offender institutions.
He plays a Matteo Gofriller cello dating from 1710.
Gerhardt's website is albangerhardt.com.
Cecile Licad, piano
Cecile Licad has been described by The New Yorker as "a pianist's pianist." Of her performance of Rachmaninoff's Piano Concerto No. 2 with the Seattle Symphony, the critic of the Seattle Times wrote, "Licad played the popular concerto with extraordinary clarity and power….The surging romanticism of the score was evident in every line of her performance, and the audience made their delight clear with a lengthy standing ovation."
Licad's 2019-20 engagements included Saint-Saëns' Piano Concerto No. 2 with Fresno Philharmonic, a recital with Danbury Concert Association, a joint recital with cellist Alban Gerhardt with Shriver Hall Concert Series in Baltimore, Mozart's Piano Concerto No. 21 with Springfield Symphony Orchestra, and Brahms' Piano Concerto No. 1 with Maryland Lyric Opera Orchestra. She is also recording the complete Gershwin works for piano and orchestra under the baton of Gerard Salonga. Her notable previous engagements include a private recital of Chopin and Buencamino at The Kennedy Center for the US-Philippines Society, marking the 121st anniversary of the Proclamation of Philippine Independence; Tchaikovsky's Piano Concerto No. 1 with the Nashville Symphony; Liszt's Piano Concerto No. 1 and Totentanz at the Cultural Center of the Philippines with the ABS-CBN Symphony; a recital at the Husum Rare Music Festival in Germany, as well as at Festival Miami; Rachmaninoff's Piano Concerto No. 2 with San Antonio Symphony under Sebastian Lang-Lessing; Bartók's Piano Concerto No. 1 with Spokane Symphony; Rachmaninoff's Piano Concerto No. 2 with Philippine Philharmonic Orchestra at Carnegie Hall; Saint-Saëns' Piano Concerto No. 2 with the Stamford Symphony; Chopin's Piano Concerto No. 1, Shostakovich's Piano Concerto No. 1, and Saint-Saëns' Piano Concerto No. 2 with the Vallejo Symphony; Rachmaninoff's Rhapsody on a Theme of Paganini with Rhode Island Philharmonic Orchestra, under Lawrence Rachleff; and recitals at Boston's Isabella Gardner Museum and the Harvard Musical Association.
As an orchestral soloist, Licad has appeared throughout North America and Europe with orchestras such as Chicago, Boston, National, and London symphony orchestras, the Philadelphia Orchestra, and the New York, Los Angeles, and London philharmonics. In Asia, she has performed with Hong Kong, New Japan, and her native Philippine philharmonic orchestras, as well as the New Japan Philharmonic. Among the conductors with whom she has collaborated are Andrew Davis, Zubin Mehta, Seiji Ozawa, Gerard Schwarz, Michael Tilson-Thomas, David Zinman, Claudio Abbado, and André Previn.
Licad has performed in recital with Murray Perahia, Peter Serkin, Alban Gerhardt, and Nadja Salerno-Sonnenberg, at such venues as Lincoln Center, Chicago's Orchestra Hall, and The Kennedy Center. She has performed regularly with ensembles such as Chamber Music Society of Lincoln Center, Musicians from Marlboro, Guarneri Quartet, Takács Quartet, St. Paul Chamber Orchestra, and New York Chamber Symphony.
Licad can be heard in the recently released album titled American Landscapes (Danacord), which was named "Classical New Release Of The Month" for March 2019 by 90.5FM WKAR Classical of Michigan State University. The album is the third volume of her critically acclaimed Anthology of American Piano Music, which explores lesser played music of American composers. Her many other recordings include the Rachmaninoff Concerto No. 2 and Paganini Variations with the Chicago Symphony Orchestra; Chopin No. 2 and Liszt No. 2 with the London Symphony Orchestra (winner of the Grand Prix du Disque Frédéric Chopin); violin and piano sonatas by Franck and Brahms with Nadja Salerno-Sonnenberg, and an album of Louis Moreau Gottschalk works on Naxos in addition to the Danacord American music Volumes I and II.
Program Notes
JOHANN SEBASTIAN BACH
Suite for Solo Cello in C minor, BWV 1011
Composed c. 1720
Bach was in his early thirties and already enjoyed considerable renown as an organ virtuoso when he accepted an appointment as Kappellmeister, or director of music, to Prince Leopold of Anhalt-Cöthen in 1717. The young composer counted himself fortunate to work for "a gracious Prince who both loved and knew music." It was during his six happy years in Cöthen that Bach composed much of his most beloved instrumental music, including the six "Brandenburg" concertos, the first book of The Well-Tempered Clavier, the six sonatas for violin and harpsichord, the six sonatas and partitas for unaccompanied violin, and the six suites for solo cello, BWV 1007-1012, which were likely written for one of the cellists in Prince Leopold's excellent court orchestra.
Unlike Bach's works for unaccompanied violin, which were known and performed in the 19th century, the cello suites were all but forgotten until the great Catalan cellist Pablo Casals rediscovered them in the early 1900s and made them part of the instrument's core repertoire. Bach was a highly proficient string player, and both the violin and cello collections combine art with instruction. C.P.E. Bach told his father's biographer, Johann Nikolaus Forkel, that Bach "understood to perfection the possibilities of all stringed instruments…. One of the greatest violinists told me once that he had seen nothing more perfect for learning to be a good violinist, and could suggest nothing better to anyone eager to learn, than the said violin solos without bass."
Bach's cello suites (similarly designated "without bass" on the manuscript title page) conform to the classical pattern of the multi-movement instrumental dance suite as it evolved in France, Germany, and elsewhere in the late 17th and early 18th centuries. A fantasia-like prelude serves to introduce a varied set of courtly dances, typically including a stately allemande, a vivacious courante, a lyrical sarabande, and an energetic gigue. To these basic ingredients Bach adds a sprinkling of other dances, both newer and traditional, as well as movements of a less dance-like character. In the C-minor Suite, for example, the Sarabande is followed by a pair of contrasting Gavottes, played da capo fashion, with the first repeated after the second. In other suites Bach varies the mix by inserting minuets and bourrées.
The majestic Prélude that opens the C-minor Suite is exceptional both in its two-part format and in the rich, chordal sonorities that impart a tragic pathos to the movement's slow introductory section. (Bach's music sounds even darker in the original scordatura notation, with the cello's A string tuned down to G.) The ensuing fugue, by contrast, consists almost entirely of a single melodic line. Although from time to time the cellist is called upon to play double and triple stops, the harmonies are for the most part implied rather than expressed. As in his solo violin music, Bach ingeniously manipulates the cello's essentially monophonic character to conjure an illusion of polyphonic complexity. As Johann Nikolaus Forkel observed of the solo violin works in 1802, Bach "has so combined in a single part all the notes required to make the modulations complete that a second part is neither necessary nor desirable."
LUDWIG VAN BEETHOVEN
Sonata for Cello and Piano in G minor, Op. 5, No. 2
Composed in 1796
Beethoven first captured the imagination of Viennese audiences in the 1790s as a barn-storming pianist. The keyboard virtuoso Wenzel Tomaschek was so dazzled by his playing that he refused to touch his own instrument for days. Yet Beethoven's rapid maturation as a composer was equally impressive. His two Op. 5 cello sonatas of 1796 stand on the threshold between Mozartean classicism and the muscular idiom of his so-called middle period. We can forget how early, and how resolutely, the ambitious young composer put the 18th century and his years of apprenticeship behind him. In his first published opus, the three piano trios of 1795, Beethoven openly sought to ingratiate himself with his aristocratic patrons and the notoriously demanding Viennese public. The first three of his 32 piano sonatas, which were published the following year, were a different story: although Beethoven dedicated the Op. 2 sonatas to his teacher, Haydn, he proudly refused to identify himself as the older man's pupil on the title page. Indeed, in both the Op. 2 set and the Op. 5 cello sonatas, he almost flaunts his determination to chart an independent course.
Although Beethoven wrote only half as many sonatas for the cello as for the violin, they are no less central to the instrument's repertory. String sonatas were a novelty at the turn of the 19th century, in part because composers were still wrestling with the problem of combining the often brittle brilliance of the contemporary fortepiano with the mellower, more singing voices of the cello and violin. Unlike the ten violin sonatas, all but one of which were written between 1797 and 1803, Beethoven's five cello sonatas are spread out over the nearly two decades.
In the late spring of 1796, Beethoven embarked on a concert tour that took him to Berlin. There he met the French cellist Jean-Louis Duport, who had fled his homeland after the Revolution and was now serving as principal cellist in the opera orchestra at the court of the cello-playing Prussian king Friedrich Wilhelm II. After hearing a command performance of Beethoven's two new sonatas, the monarch presented the 26-year-old composer with a gold snuffbox filled with coins—a gift, Beethoven boasted to his friends, more fit for an ambassador than a mere musician.
The sonatas' exuberance played to Beethoven's strengths as a pianist, as well as to Duport's virtuosity. The Sonata in G minor opens with a slow, spacious introduction that combines intense pathos and high drama. The soaring, long-breathed melodic line finally comes to rest on a series of harmonically unstable chords preceded by a short, sharp upbeat. Beethoven then takes this "ta-DA" figure, smooths it out, and incorporates it in the theme of the ensuing triple-time Allegro, which moves at a clip of one beat to a bar, propelled by rippling passagework and sharp syncopations. The final Rondo unexpectedly transports the listener into the sunny realm of G major as the cello and piano take turns presenting the three main themes—the first crisp and martial in character, the second flowing and sweetly lyrical, the third bouncing with joy.
CLAUDE DEBUSSY
Sonata for Cello and Piano
Composed in 1915
Debussy rebelled against the French Wagner cult and the academic leanings of establishment composers like Saint-Saëns and d'Indy. At the same time, he urged his compatriots to return to the "pure French tradition" exemplified by the Baroque master Jean-Philippe Rameau. Debussy made his first mark in the early 1890s with a series of boldly unconventional masterpieces, such as the emotionally turbulent String Quartet; La damoiselle élue (The Blessed Damozel), a Wagnerian "lyric poem" for women's voices and orchestra; and the tone poem Prélude à l'après-midi d'un faune (Prelude to "The Afternoon of a Faun"). By the time Debussy published his first book of Images for solo piano in 1905, the composer and his aesthetic principles—loosely known as "Debussyism"—had attracted both praise and censure. Together with the symbolist opera Pelléas et Mélisande, Debussy's great piano and orchestral pieces came to define musical impressionism. Although many critics associated Debussy with painters like Manet and Whistler, he maintained that his music depicted not superficial impressions but essential realities. Musicians alone, he declared, enjoyed "the privilege of being able to convey all the poetry of the night and the day," whereas painters could "recapture only one of her aspects at a time."
Composed in the summer of 1915, the Sonata for Cello and Piano was the first of six projected sonatas for various instrumental ensembles, of which only two more—one scored for flute, viola, and harp, another for violin and piano—would be realized before the composer's death in 1918. The Sonata signaled Debussy's emergence from a prolonged depression, exacerbated by cancer and the onset of war, during which he had felt incapable of producing music. "I've almost had to relearn" how to compose, he told the Italian conductor Bernardo Molinari. "It was like a rediscovery and it's seemed to me more beautiful than ever! Is it because I was deprived of it for so long? I don't know. What beauties there are in music 'by itself,' with no axe to grind or new inventions to amaze the so-called dilettanti." The freshness and spontaneity of the Sonata may owe something as well to the therapeutic landscape of the Normandy coast, where Debussy had sought refuge from the tense atmosphere of wartime Paris.
True to his patriotic credo, Debussy proudly styles himself musicien français on the title pages of his three sonatas. The Cello Sonata, in three short movements, illustrates the clarity of expression and "precision and compactness of form" that the composer considered to be the hallmarks of the French style. Debussy's music, predominantly spare and delicate, has an almost Neoclassical transparency. Despite the piano's grandiose opening, the cello's graceful arabesques and tenderly swooning melody set the tone for the Prologue. The Sérénade, fantastical and rhapsodic in character, is marked by crisp staccato accents, quirky, free-flowing rhythmic patterns, and subtle chromatic harmonies. The movement comes to rest on a quietly sustained A, then pivots without pausing for breath into the buoyant, lighthearted Finale.
CÉSAR FRANCK
Sonata for Cello and Piano in A major (arr. Alban Gerhardt)
Composed in 1886
Franck wasn't precisely a late bloomer—by his early twenties he had written several widely acclaimed works—but he was slow to win recognition as a central figure of the French Romantic school. Groomed by his overbearing father for a career as a concert pianist, he spent much of his early life in pursuit of a prize that stubbornly eluded him, despite his acknowledged brilliance as an improviser on the keyboard. Not until his fiftieth year did he achieve the equivalent of a tenured position as professor of organ at the prestigious Paris Conservatoire, where he would count Debussy, Bizet, and Louis Vierne among his pupils. Virtually all of the music on which Franck's reputation rests dates from the last dozen or so years of his life: the ebullient Variations symphoniques for piano and orchestra, the Lisztian symphonic poem Le chasseur maudit, the majestic Symphony in D minor, and the abundantly melodious Violin Sonata in A major.
Franck's chamber works from early and late in his career include some of his greatest and most characteristic creations. By the time he wrote the A-major Sonata in 1886, he was firmly under the spell of Wagner and Liszt, whose harmonic innovations he absorbed, along with the technique of generating large-scale works from a few germinal motifs. Franck not only dedicated his sonata to the great Belgian virtuoso Eugène Ysaÿe, one of his most stalwart champions, but presented the manuscript to the violinist as a wedding present. (Ysaÿe was also a close friend of Debussy and the dedicatee of his 1893 String Quartet.) Franck's Sonata proved so popular with performers and public alike that it was soon transcribed for cello, viola, and flute, becoming one of the most frequently heard works in the recital repertoire. The sonata figures memorably in literature, too: in John Galsworthy's Forsyte Saga, Irene's playing of Franck's "divine third movement" triggers Young Jolyon's decision to tell his son about the tragedy that has loomed over their family since before his birth.
The A-major Sonata pays homage to Ysaÿe, who was known as a performer for his purity of tone, liquid phrasing, and tasteful reticence. After hearing the violinist read through the first movement, Franck adjusted the tempo marking to a livelier Allegretto ben moderato, imparting a fresh undercurrent of urgency to the gently undulating principal theme. For all its chromaticism and lush textures, the Sonata has a clarity that runs through even the restless second-movement Allegro. The work lacks a true slow movement. In its place, Franck created a spacious minor-mode meditation that revisits earlier thematic material in the manner of Liszt. Freely declamatory in style, the Recitativo—Fantasia mediates between the lyricism of the first two movements and the disciplined canonic writing of the final Allegretto poco mosso. In its blend of vehemence and restraint, intense emotion and scintillating showmanship, Franck's Sonata epitomizes the spirit of French Romanticism.
Notes by Harry Haskell, © 2019