STUDENT TICKETS & ENGAGEMENT
Shriver Hall Concert Series offers $10 Student Tickets to all Subscription Series concerts. Students are welcome to purchase tickets here on our website or by calling our Box Office at (410) 516-7164. All Student Tickets are held at the Box Office and students can pick up their tickets by presenting their valid student photo ID (one ticket per Valid Student ID). If students wish to livestream concerts, a photo of valid student photo ID must be emailed to info@shriverconcerts.org to receive the concert's streaming link. Seating location is at the discretion of Management and Student Tickets are subject to availability.

Shriver Hall Concert Series is committed to serving students in the greater Baltimore community. Each season, Shriver Hall Concert Series partners with multiple schools in Baltimore and the surrounding counties to offer access to concerts and specialized programming to students. We are eager to connect with more schools and students. All teachers and administrators who are interested in discussing the educational opportunities that Shriver Hall Concert Series can offer should call (410) 516-7164.


2021-22 STUDENT USHERS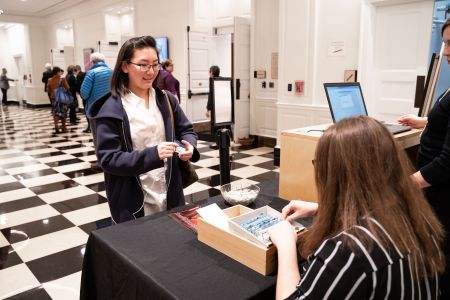 Description:
Under the direction of the house manager on duty, student ushers ensure that patrons have the best possible experience at SHCS. In addition to directing patrons to their seats, stuffing inserts in programs, and assisting to seat late patrons, ushers serve as ticket-takers, program handlers, lobby attendants, and help clean the concert hall after the performance. Most importantly, student ushers create a safe, friendly, and welcoming atmosphere for all patrons attending performances. Orientation is required for all student ushers. Compensation is $60/concert.
**Please note that all SHCS ushers must be vaccinated against COVID-19**

Responsibilities:
• Ticket Taker: A Ticket Taker stands by the point of entry and collects tickets for admittance to the hall.
• Seaters: Seaters escort guests as to their seats. They alert the House Manager if there are any seating problems.
• Door Greeters: A door greeter welcomes patrons to the show, distributes programs, and helps direct them to the Box Office, bathrooms, etc.
• Stage Guards: A stage guards stands by the stage and ensures that no patron walks up or places an item on the stage.
• Backstage Guards: A backstage guard protects designated backstage areas and prevents audience members from entering unauthorized areas.

Requirements:
Ushers must be 18 years old, enrolled in an undergraduate or graduate program, or a recent graduate. Ushers must also be available from 3:30pm - 8:00/8:30pm for one or more of the following dates:

November 14, 2021 - Miró Quartet
December 5, 2021 - Paul Lewis, piano
January 23, 2022 - Danish String Quartet
February 13, 2022 - Junction Trio
March 6, 2022 - Sasha Cooke, mezzo-soprano & Kirill Kuzmin, piano
May 1, 2022 - Sheku Kanneh-Mason, cello & Isata Kanneh-Mason, piano
May 15, 2022 - Pacifica Quartet & Karen Slack, soprano
June 12, 2022 - Mahan Esfahani, harpsichord
(All concerts start at 5:30pm)

To apply:
Applications are accepted on an ongoing basis. Please send cover letter and resume to SHCS Operations Manager, Zoe Fried, at zfried@shriverconcerts.org with the subject line, "Student Usher 2021-22".
2021-22 JUNIOR BOARD

Description:
Shriver Hall Concert Series offers students the opportunity to serve as Junior Board members and learn from SHCS's Board of Directors and staff how a non-profit concert series operates. Students are immersed in our organization and culture, have sustained contact with Board members and staff, and learn about arts administration and non-profit board leadership. Junior Board membership is a one-year non-voting position, with the option for a second year. Junior Board members receive complimentary tickets to all SHCS concerts upon request (schedule at shriverconcerts.org) and are encouraged to attend as many performances as possible.

Requirements:
Be an enrolled student in an undergraduate or graduate program studying or engaged in music, business, or arts administration.

Attend the 2021-22 Board meetings on Dec 14, Feb 22, and May 24 at 5pm.

Act as an ambassador for SHCS in the student community.

Keep confidential all plans about future programming and organizational matters.

To Apply:
Please send resume and responses to the two following questions (max two pages) to info@shriverconcerts.org with the subject line "SHCS Junior Board".

1)Please tell us why the opportunity to be a member of the Junior Board interests you and what you are hoping to gain from this experience.
2)SHCS has a long and successful history of presenting the world's great chamber ensembles and classical music artists. Given the ever expanding diversity of the region it serves, what are your thoughts about future programming and outreach possibilities for SHCS